The best NEST BOXes for chickens
by Jennifer Behm – Chicken farmer| Last Updated– 10 January 2021
Hens will always seek out dark, quiet and secluded places to lay their eggs. By providing a suitable nest box within the coop, you can provide your hens with their ideal laying environment and space where you know their eggs will be clean and protected and easy for you to find! Many traditional wooden hen houses have the nest box protruding at the side and access via a top locking lid, so you can open it and collect eggs with minimal disturbance to the hen-house as a whole. If you use this traditional layout always ensure that the nest box is kept locked or the lid is very heavy, as this is an unprotected outside area, it is easy for foxes to gain access to the house this way.
A nest box should be just a little larger than a crouching bird, around 12 inches square and about 9 inches high. Giving more height to a nest box is counterproductive, as the hen will try to sleep there and scratch around, potentially damaging the eggs. They will also foul the nest box more, meaning more work for you.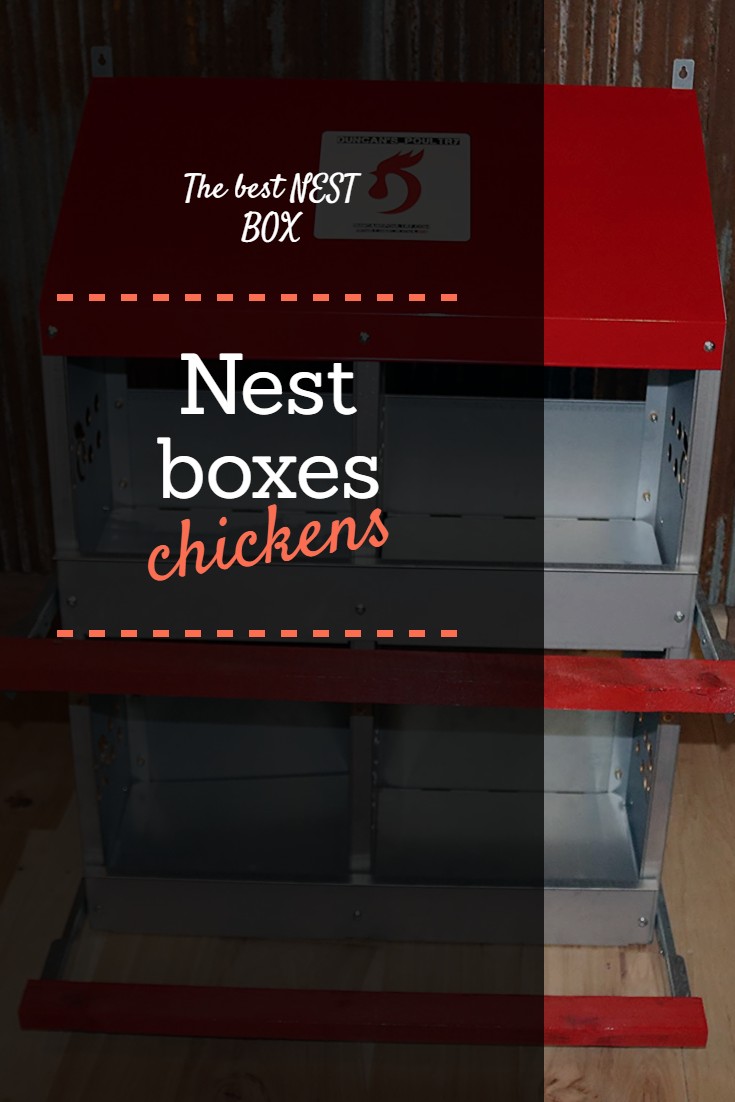 Nest boxes should be lined with soft dry litter, (which should be changed regularly) and raised from the ground, but ideally never higher than the perches. You just need to ensure that the bedding is sufficient and that it is comfortable for the chicken. Up to three hens will share one nesting box happily, but if you have three hens, two nest boxes will be better. Greater consideration should of course be given to the comfort of the box if the hen is to raise chicks rather than just use the box as a laying area.
Image
Product
Top rated

10 holes in 2 tiers; 50-60 hen capacity




Poultry Nest

High quality galvanized steel construction; All exposed edges folded to prevent injury
Ventilation holes in partitions for fresh air flow
Nests can be staggered back to back to prevent hens from passing between tiers


Check Price

Duncan's Poultry 4 Hole




Standard Chicken Nest

Highest Quality Materials
Easiest Assembly of any Nest
Removable Metal bottoms for easy Cleaning


Check Price

Harris Farms 2 Hole for chickens




Nesting Box for Chickens

Folded Edges and Ventilation Holes
Features a Hinged Perch to Allow Closing
Bottom Metal Inserts are Easily Removed for Cleaning


Check Price

Nest Box with Perch




Plastic Nesting Box

This nesting box is made of high density, impact-resistant polyethylene.
This smooth plastic surface is easy to keep clean and does not get as cold as metal
It can be securely mounted vertically or side by side.


Check Price

nesting boxes for chicken




Nesting Box

For Use In or Out of Coops
Helps Eliminate Nest Sharing
Single, Double, & Triple nesting boxes are available


Check Price
Read More from prestigequeen.com :