The best Automatic Chicken Waterer
by Jennifer Behm – Chicken farmer| Last Updated– 10 January 2021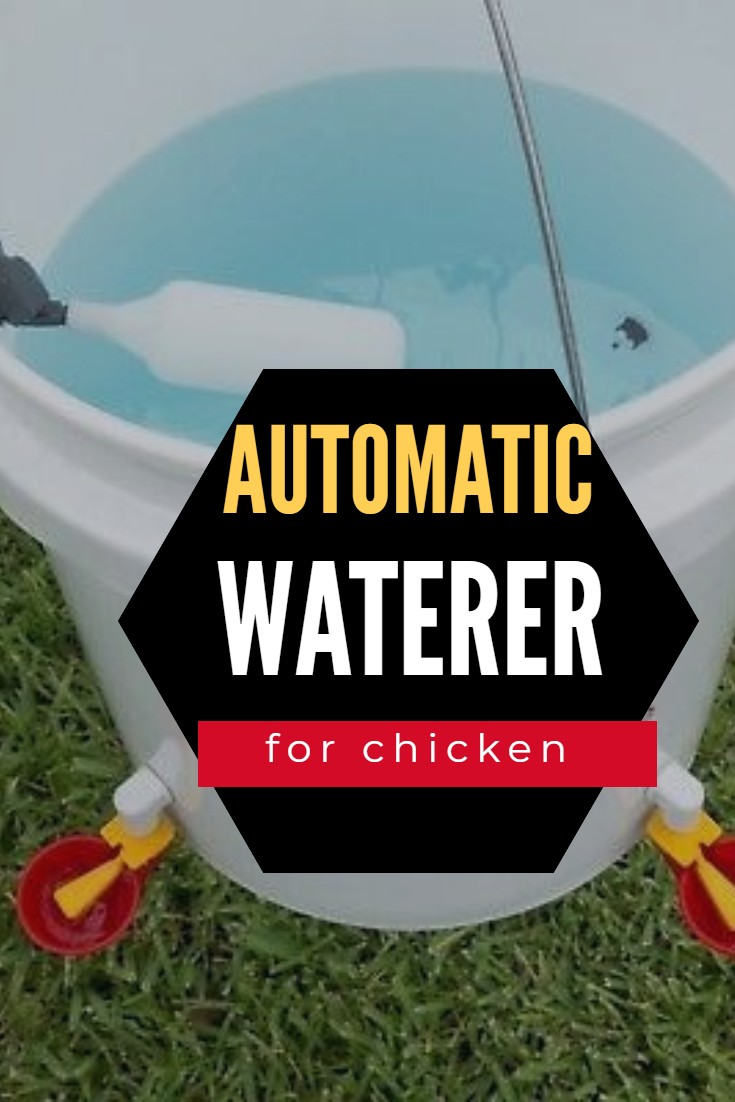 Making sure that your chickens have enough clean water during the day is one of the most important factors in keeping them healthy. But constantly monitoring, re-filling and changing the water in the chicken coop can be a difficult task, especially if you have a job and other obligations in your everyday life outside of the chicken coop. That being said, you may want to consider purchasing a waterer for your chickens.
Chicken waterers are responsible for providing your chickens with a steady flow of clean water throughout the day. Not only that, but some of them even have a heater element that can make sure the water stays the right temperature for your chickens. There are a variety of methods in which waterers can operate, but the majority of them are capable of automatically dispersing clean water at certain times throughout the day. This helps to make sure that your chickens have enough clean water, even when you're not around.
Chicken waterers take away the burden of having the obligation to change the containers of water throughout the day and even through the night. Since there are so many different kinds of chicken waterers on the market, it can be difficult to choose the best one for your specific needs. Here is a guide to help you choose the best automatic chicken waterer as well as the best-heated chicken waterer by giving you product reviews in addition to some helpful information to reference.
Read on:
Top Automatic Waterer in 2021 Review
Best Automatic Chicken Waterer Float Valve
Chicken Culture Kit waterer with float
For those of you that already have a bucket and are simply looking for a way to convert it into a waterer, you may want to consider purchasing this automatic waterer kit from Chicken Culture. This kit includes four individual cups that you can install onto a bucket or other plastic container that you already have.
Additionally, it also comes with all of the mounting hardware that you need to assemble everything, and it includes a patented float valve, a garden hose adaptor and even a 90-degree elbow. The float valve helps to keep the bucket filling the cups automatically throughout the day.
Design & Materials
In addition to that, the True Float Tab helps to a constant water supply available for your chickens continuously. And the right-angle elbow can be used to relieve any strain that your hose experiences.
Due to the various technical features that this hose comes with in addition to the economical design that you can create with this waterer kit, it's most recommended to anyone that wants to use some of the resources that they have at home to make an efficient chicken waterer. That being said, it's the best automatic chicken waterer for people on a budget.
Pros:
Includes everything needed for an effective installation
Affordable
Most economical waterer kit
Cons:
Doesn't come with a bucket, so you'll need to either use one of yours or purchase one separately
Best Chicken Gallon Bucket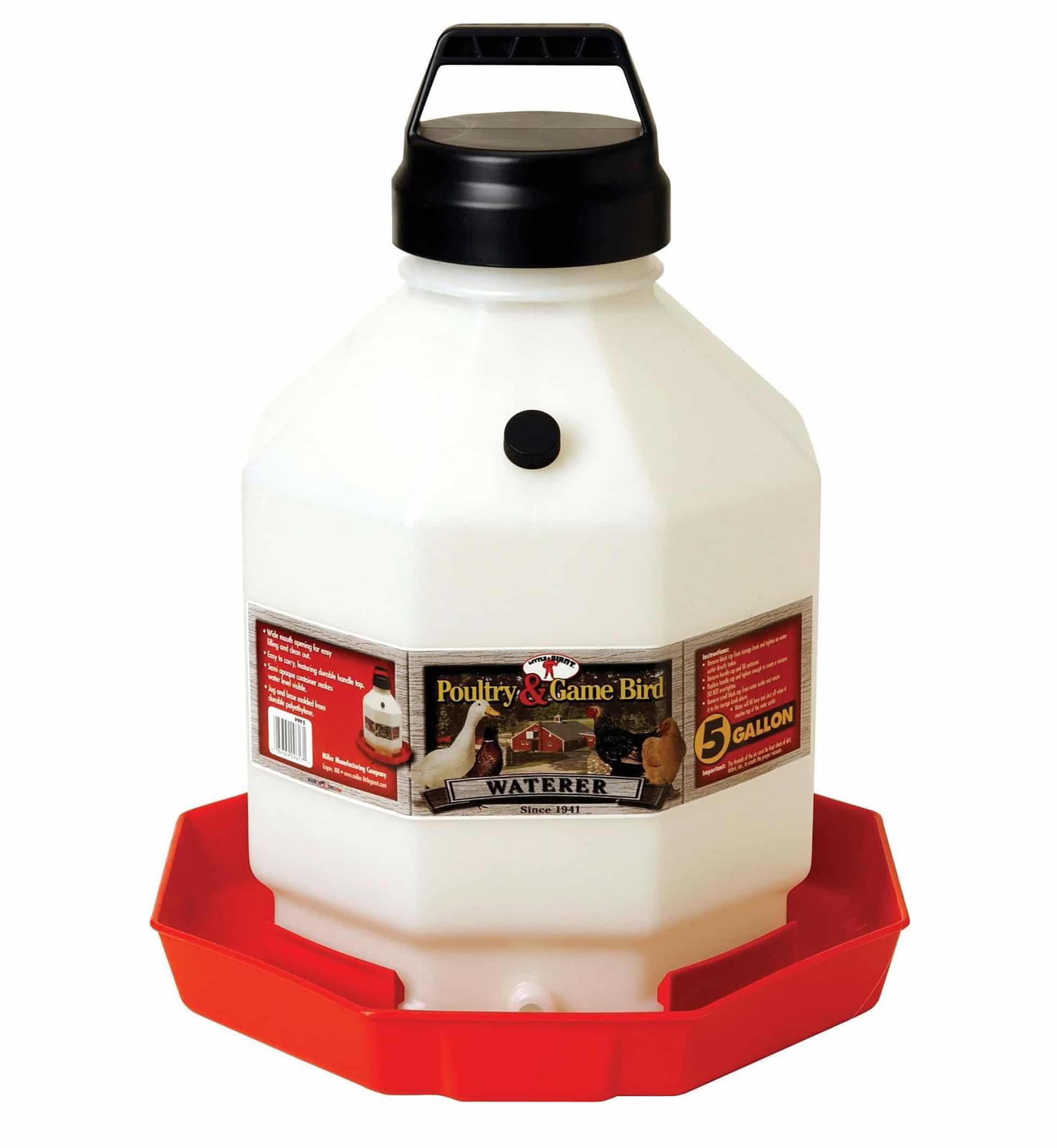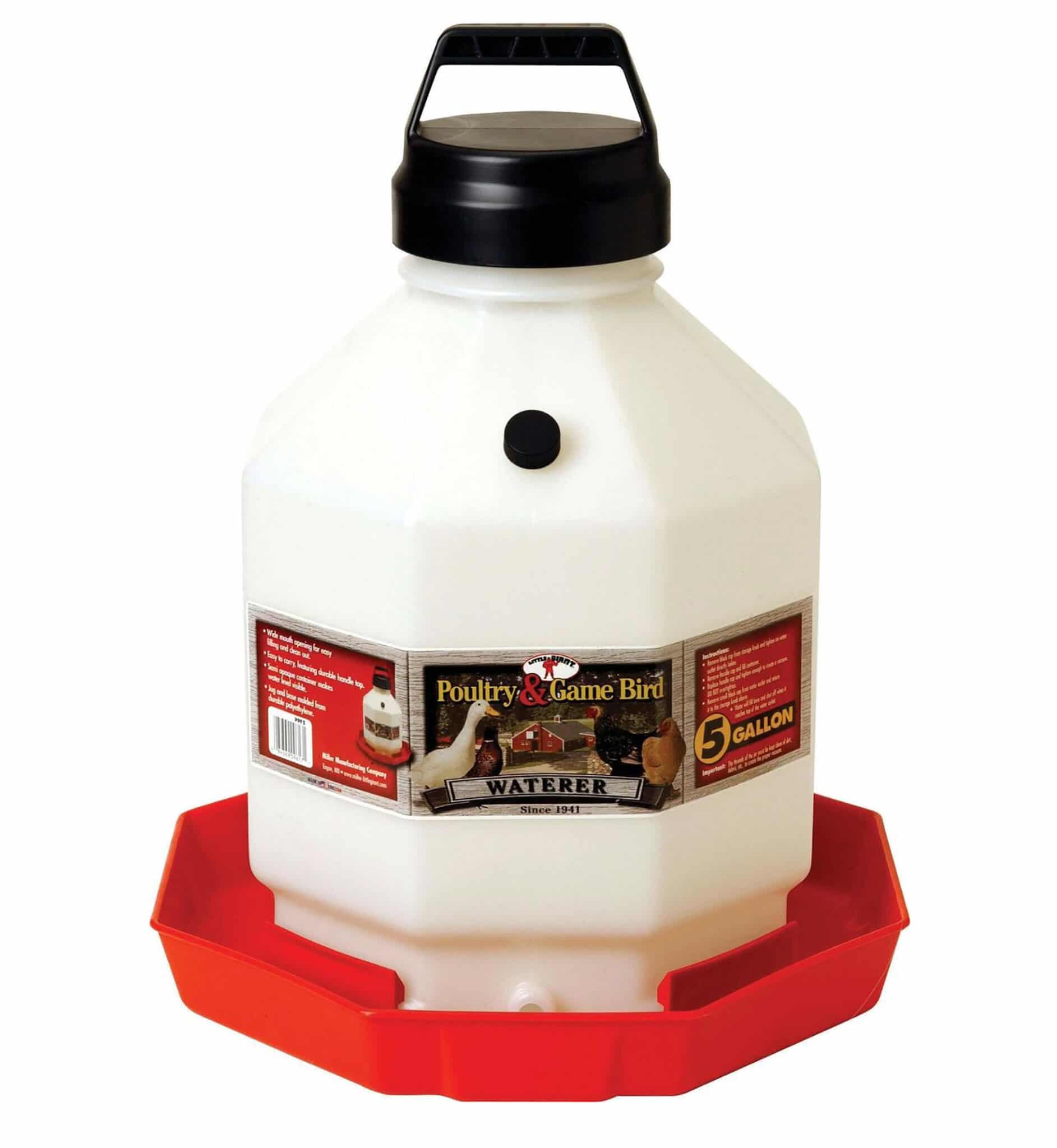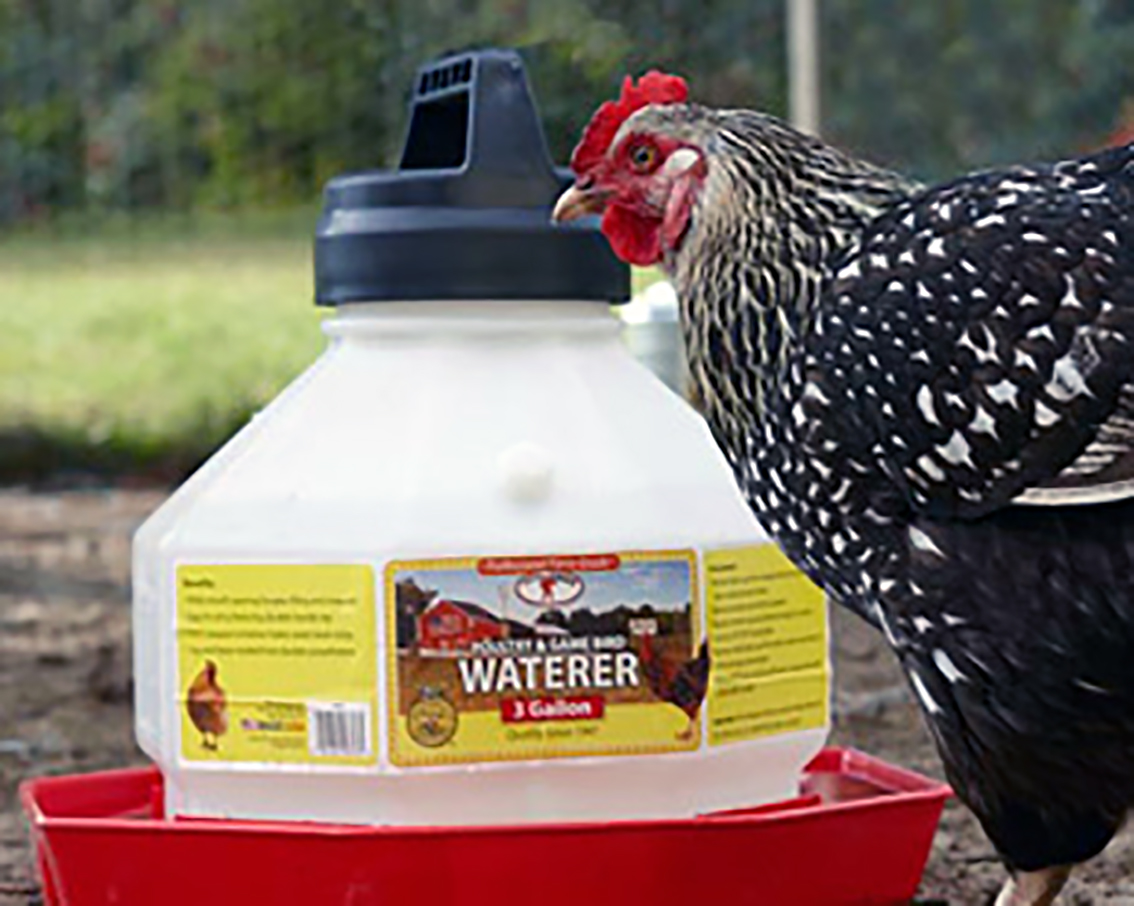 The best Automatic Chicken Waterer is Miller Little Giant Plastic Poultry Waterer
Similar to the previous product, Miller Little Giant focuses on high-quality and versatility when making their devices. This poultry drinker in particular stands out from the rest because of its ability to water up to 50 birds at a time. It's capable of carrying up to 5 gallons (or 3) of water, and it only weighs 3 pounds.
The bucket itself is easy-to-fill, and it can also be cleaned by simply removing the lid and hosing it down. Because it's made with a durable BPA-free plastic material, it's great for either indoor or outdoor use
Design & Materials
The bucket also represents a bright green color that can make it easy to find in the chicken pen. That being said, you don't have to worry about all of the chickens struggling to find out where the water is and suffering because of it.
This waterer, unfortunately, doesn't come with a heater, so it's not recommended for use during colder months. But the high water capacity and durable plastic design still make it highly recommended for those with large numbers of birds at home.
Pros:
The plastic is heavy duty and high quality
Easy to refill and clean
Great for indoor or outdoor use
Cons:
Features a vacuum sealing O-ring cap that creates
Automatic Feeder and Waterer for Chickens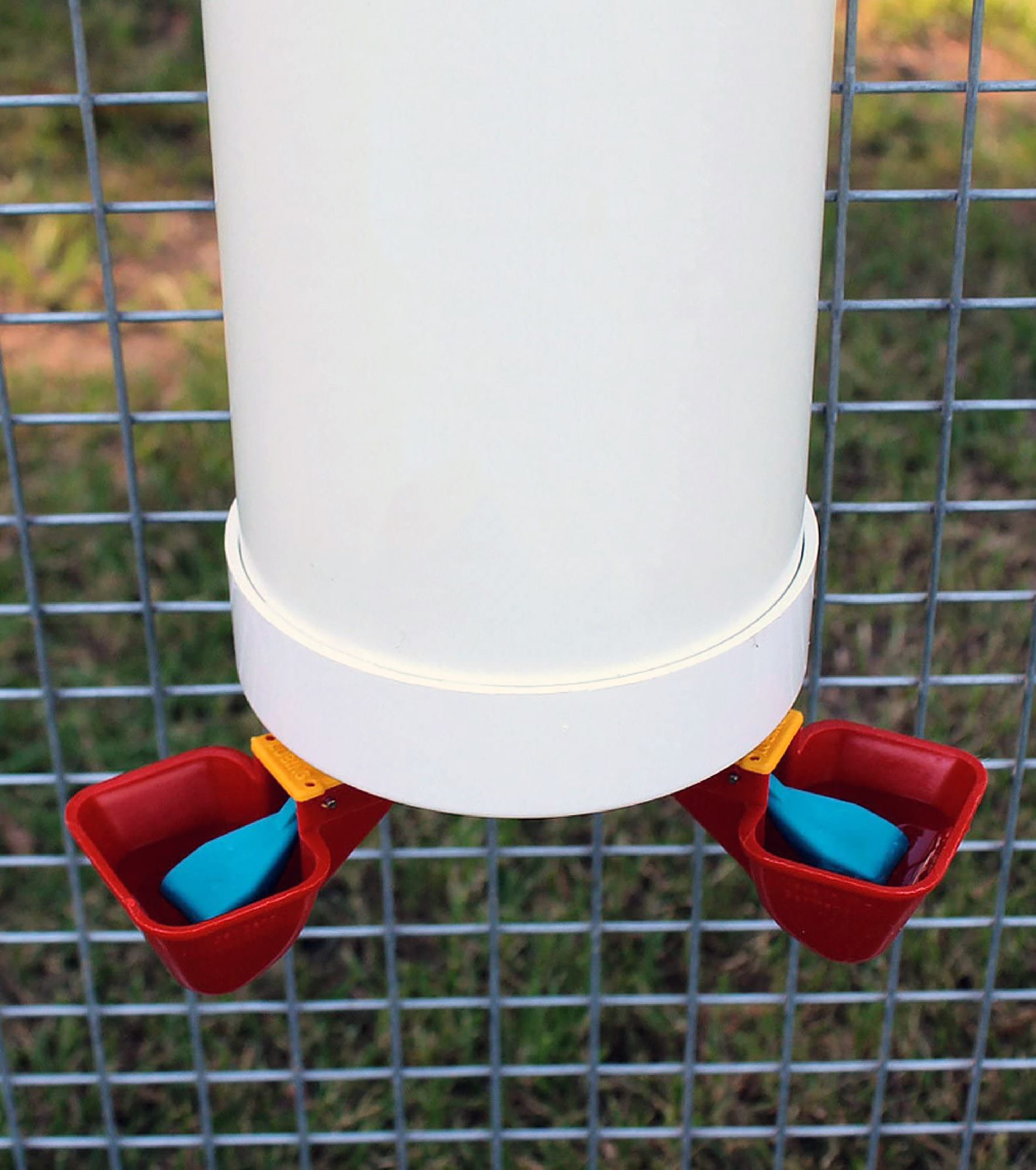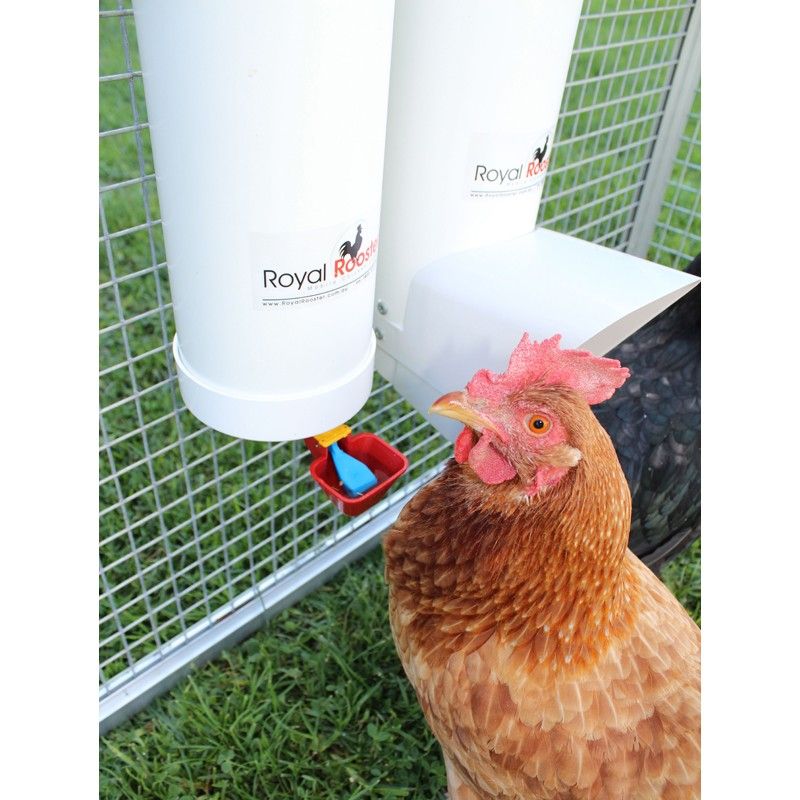 Royal Rooster Twin Cup Drinker & Feeder Set – 6.5lbs /1 gal
The Royal Rooster Twin Cup Drinker & Feeder Set is classified as the best overall chicken waterer on this list because it comes as a kit that can both feed and hydrate your chickens. Both the feeder and the waterer have a capacity of one gallon, which is lesser than other waterers on this list.
But it shouldn't be a problem if you're planning on checking up on your chickens at least once a day. Not only that, but this feeder and drinker set is easy to assemble, since they come with everything needed for assembly, like the rear hooks and the screws.
Design & Materials
Both the feeder and drinker are 20 inches tall, and they have two valves for operation. The feeder even has a rain cover that can prevent the food from getting wet from the rainwater. And they have two ergonomic lids as well as aluminum brackets for safety measures.
Because this Royal Rooster product is available as a feeder and drinker set, it's most recommended for those of you that want to purchase the two together. They're also only suitable for those that are planning on checking up on their birds at least once a day to re-stock the food and water.
Pros:
Available as a feeder and drinker set
Easy to assemble with the installation hardware
User-friendly
Cons:
The most expensive product on this list
Best Small Chick Waterer Cups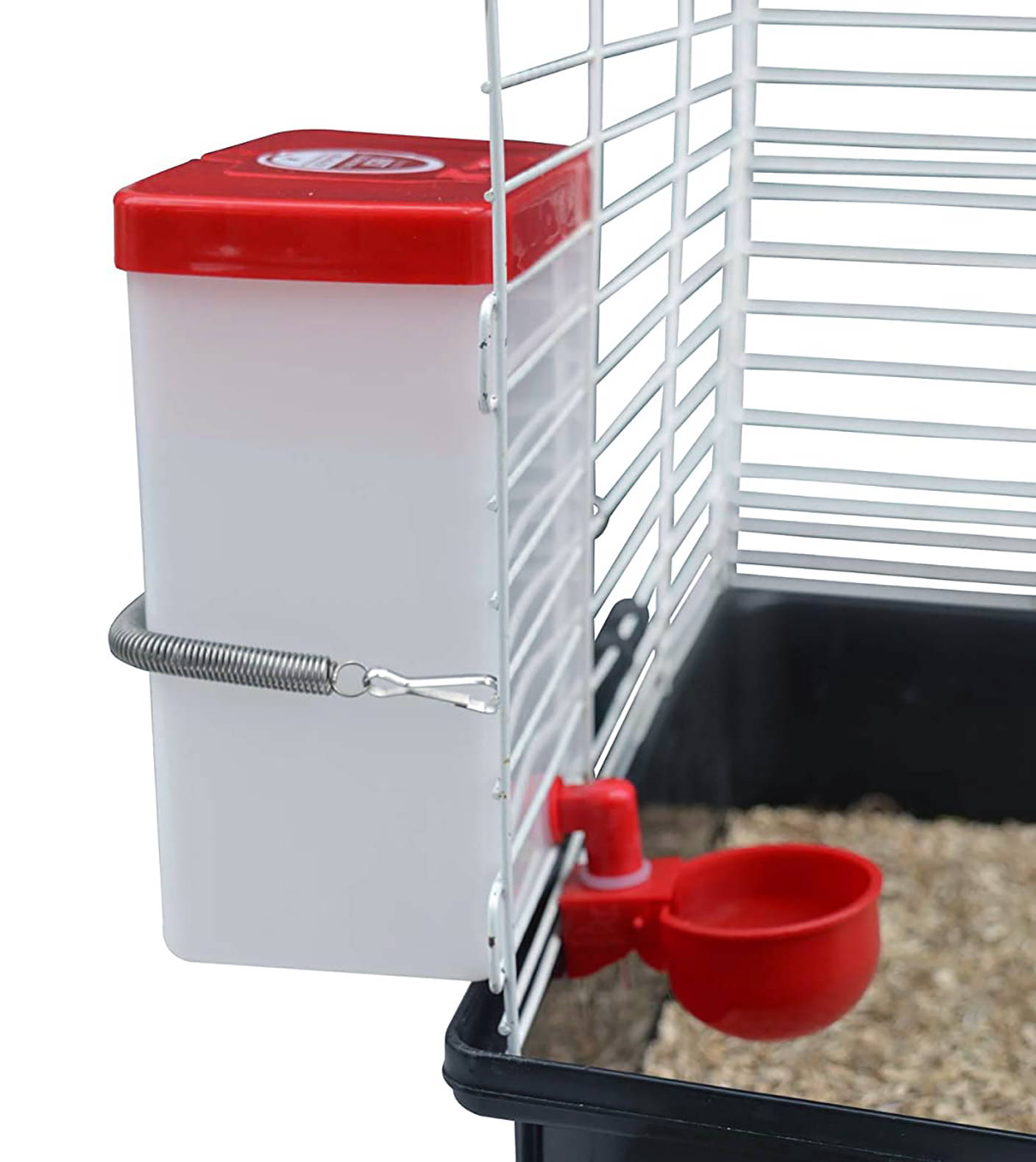 RentACoop chicken waterer cups
If you're looking for a waterer that's easy to assemble and is available for an affordable price, then you may want to consider this RentACoop Automatic Refill Chick Cup Drinker. It can automatically fill on its own when needed, and it's capable of being installed anywhere throughout the chicken coop.
You can even install it on the outside wall of the cage, since it comes with an elbow attachment and a spring clip. In addition to that, this RentACoop drinker also comes with a flip cap cover to keep the debris out.
Design & Materials
The overall design of this drinker includes a translucent plastic material that allows you to easily see through to the water level. And it's extremely lightweight, so you don't have to worry about the waterer becoming too heavy and risking falling after installation.
Given that it's so lightweight and easy to install, this waterer from RentACoop is highly recommended for anyone that needs a basic waterer while on a budget. It only fits up to two liters of water inside, so it may not accommodate for hydrating a large number of birds, but the simple design is great for at-home chicken farmers.
Pros:
Can be installed practically anywhere in a chicken coop
Affordable
Water level is viewable from the outside of the design
Cons:
Only holds up to 2L of water
Best Automatic Drinker Cups for Chickens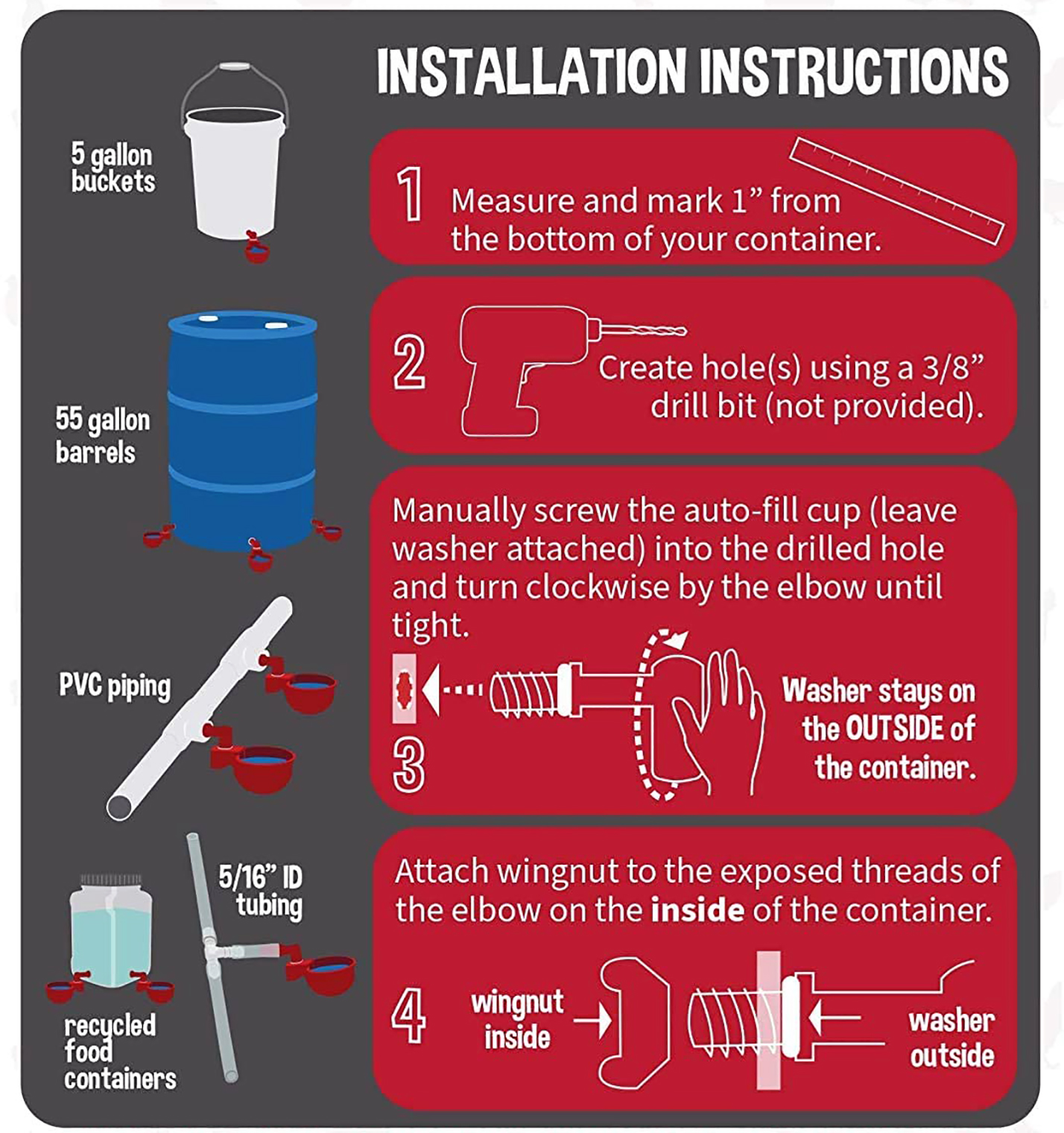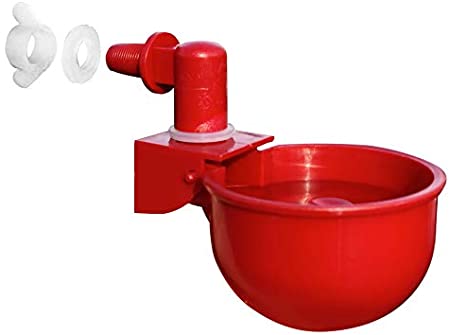 RentACoop 6-Pack poultry watering cups
Named the most convenient product on this list, these RentACoop Chicken Water Nipple Cups are suitable for anyone with a bucket already handy. This product comes with six individual cups as well as the hardware needed to effectively install them onto the bucket that you already have at home.
This kit gives you the ability to offer a steady and constant source of water to your chickens because they all can automatically fill on their own without the use of tabs or a float valve. That being said, the assembly for these cups onto a bucket or other plastic container is quick and easy.
Design & Materials
Regarding the design of this product, all of the cups are capable of withstanding up to 80-degree weather and they're suitable for practically any type of water container.
Furthermore, this product from RentACoop is made with high-quality and reliable material, making it great for those of you needing a lightweight and affordable waterer option. They aren't suitable for extremely high or low temperatures, since there is not heater involved. But they're convenient for use during the spring, fall and some months during the summer.
Pros:
Comes with 6 cups to hydrate a large number of birds
Automatically fills without tabs or float valve installation
Suitable for practically any water container
Cons:
Not suitable for warmer or cooler weather
Top Heated Waterer in 2021 Review
Best Heated Chicken Waterer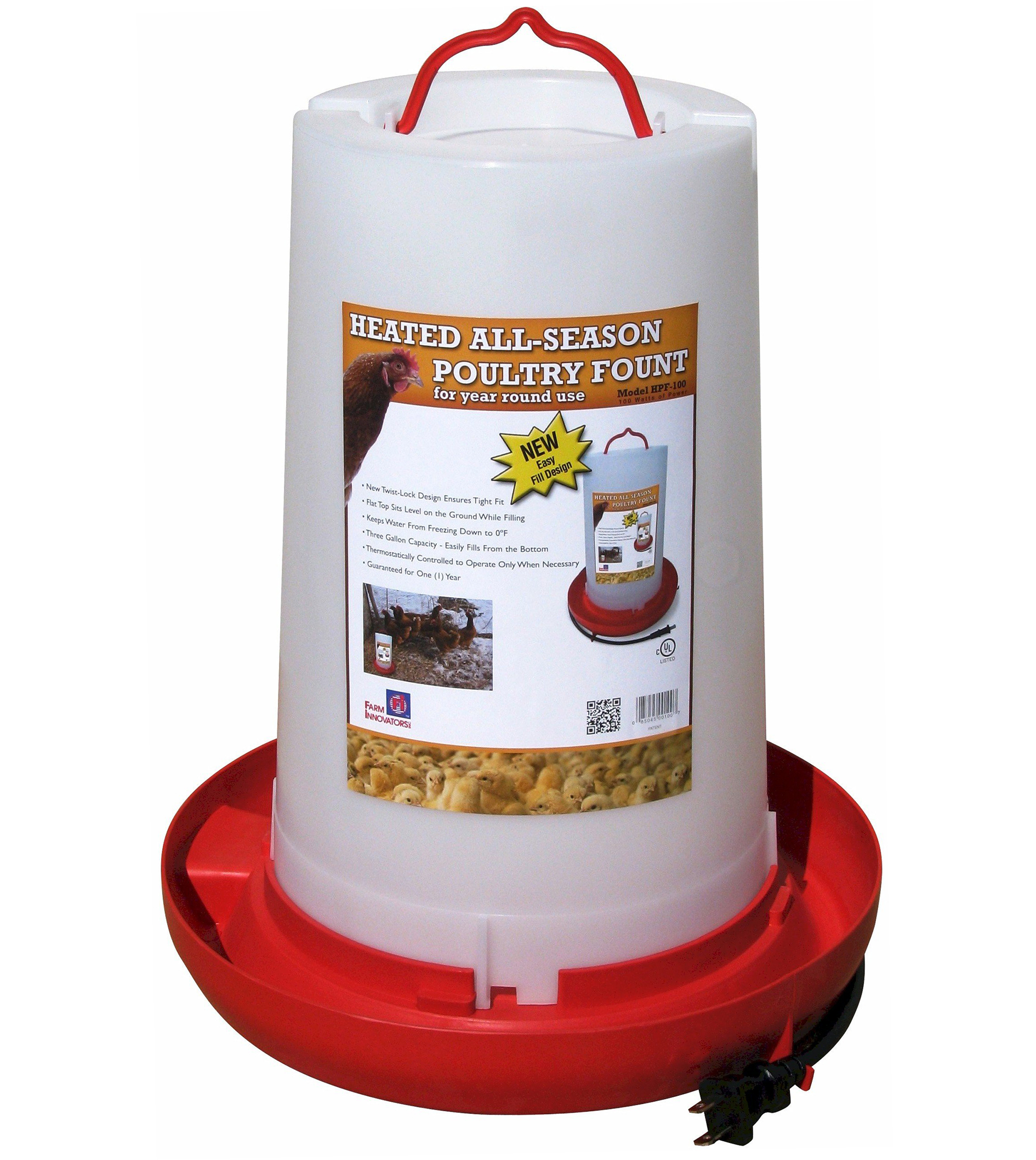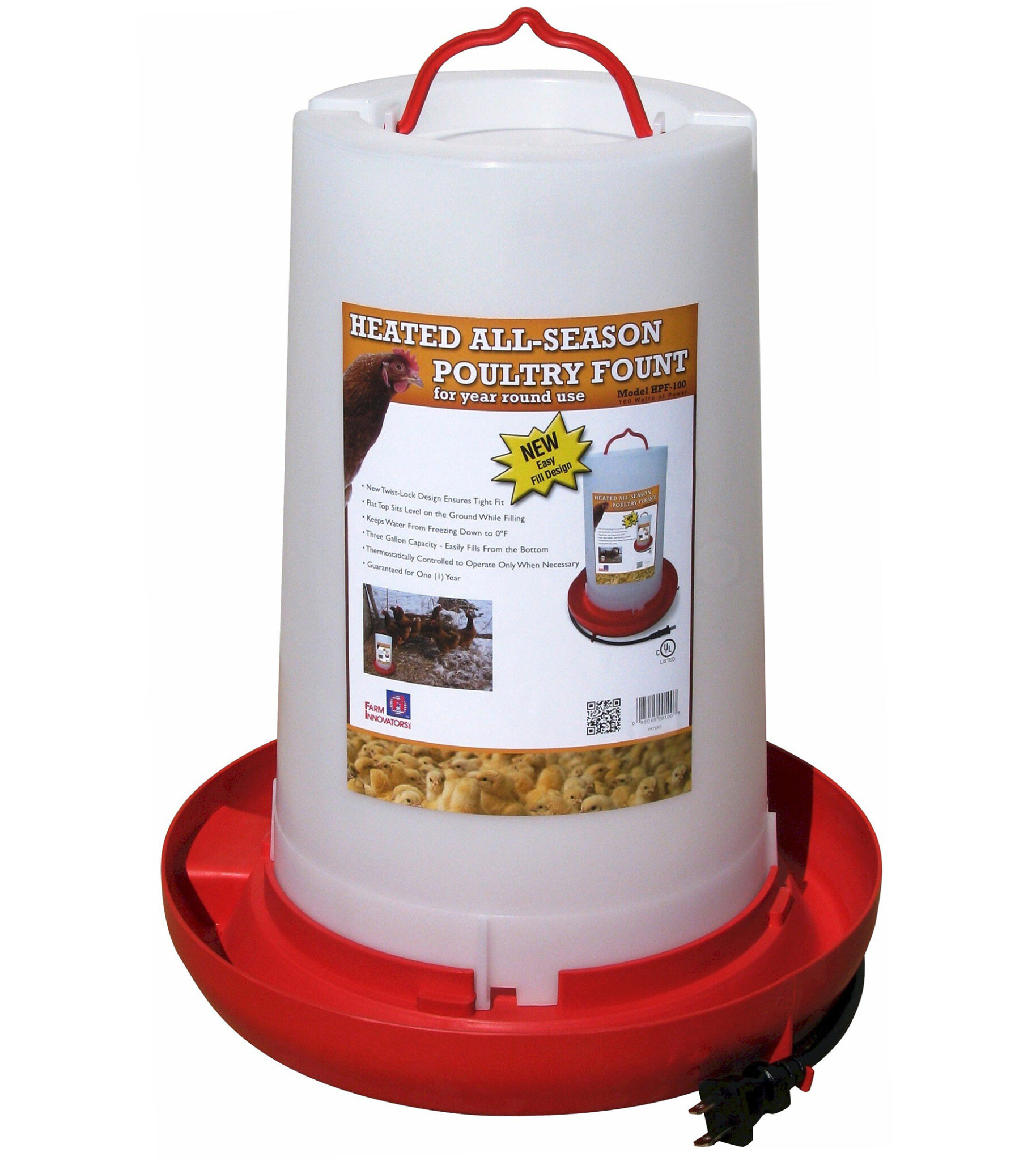 The best Heated Waterer for winter is Farm Innovators Heated Plastic Poultry Fountain
If you're looking for a chicken waterer that's known for its easy-to-fill qualities, then you should consider purchasing the Farm Innovators Heated Plastic Poultry Fountain. Containing a thermostatically-controlled operation, you can be sure that your chickens always have continual access to water that's the right temperature.
Even more, the thermostat capabilities of this waterer give it the ability to prevent the water from going below freezing temperatures. It's specifically classified as the easiest waterer to re-fill because you can refill it from the bottom without having to remove the lid of the device.
Design & Materials
It's made with the most high-quality materials, since it's produced with an abrasion-resistant plastic. That being said, you don't have to worry about your chickens pecking through the plastic and causing damage.
The flat-top design may be problematic to some because your chickens can jump up and roost on the top of the design, which can cause water to collect over time. But the strong design can prevent the device from developing any problems caused by the extra weight on top.
Because of the 3-gallon, high-quality design, this Farm Innovators device is recommended for anyone that needs to provide water for a large number of chickens. It can be easily re-filled and is made with a durable plastic material.
My experience
We wanted to give our birds a clean, steady source of water that they could drink all winter long with temperatures dipping down as low as it is. We didn't want to worry about them having water in the morning, but not in the afternoon. And for us, not only is it helpful to them to have that water, but it makes it nicer for us that we don't have to constantly be outside, especially in inclement weather checking and wondering if they have water or not.
If you live in a place where you don't have the temperatures dropping down below freezing, or if they do drop below freezing, it's only for a little bit at night or possibly early in the morning. You're not necessarily gonna need one of these things, but if you live in a place like new England and the Northern United States, Alaska, this type of thing is going to be extremely helpful for you.
You don't have to worry if your chickens have clean drinkable water. This is our second winter with this particular unit and we haven't had any issues with it so far. We've gotten down to almost negative 10 degrees and the water's always been no frozen for the chicken. As long as you have power to this unit, it's not going to freeze up on you.
The heating element in it is thermostatically controlled so that if it senses the temperature is above freezing or the water has enough thermal energy in it, where it's not going to freeze, it'll actually shut off the heating element and save you a little bit of electricity.
But if you left it plugged in year-round, if that was something you had to do, it would compensate for that. And it wouldn't run during the summertime. Another advantage of it is that it does fill up from the bottom, the top removes from the bottom tray here by twisting and then popping off.
It does have some problems with it or some cons. I don't know if I'd call them exactly problems.
One is that it needs power. If you don't have power out in your chicken coop, it, it's going to be a little bit of a hassle to get this thing set up. I guess you could power it with a solar panel if you really wanted to. And you had a battery bank, but any heater uses a bunch of electricity. So it it's going to be hit or miss whether, uh, uh, battery bank would keep this thing powered throughout the winter. And if you'd have enough sunlight on a cold dreary day, like it is today, to keep it running.
The second thing is that fill from the bottom part that I talked about earlier, it is great that it, you don't have to separate the two halves to fill it and then try and finagle them together.
When one piece is filled with water, but filling from the bottom comes with its own set of issues. It's not the quickest way to do it. There are other waters that you can fill from the top. What's your nice and quick. This one, you do have to take it out and flip it over and either bring it to a water source. If you don't have a frost-free spigot outside, it would have to come into your house or you'd have to shut the water from inside.
If you have a hose that you run in the winter, heated hose or something like that, you can obviously use that. We fill it up over our frost-free spigot on the side of the house, and then we can just bring it out to the chicken area and fill it here. The bottom of this thing is flat, where the top of it, if you will, so you can turn it upside down and stand it there.
The last thing to do obviously is to hang it up and plug it back in HPF 100 heated poultry fountain overall, I'd say for the money we spent on it, it was pretty good cost. If we were to buy it again, we probably would. There's been really no issues with it. Like I said, this is our second winter and it's still going strong. Other than that, if you live in a place where it gets super cold and you're for a heated poultry fountain to keep your birds water liquid throughout the course of a cup of cold days, or even an entire winter like we do, uh, I definitely recommend this thing and I would have no qualms in using it again on our farm.
Pros:
Can either be hung or placed on a flat surface
Allows you to quickly refill through the the bottom drinker plate
Suitable for offering water to an unlimited amount of chickens
Cons:
Features a flat-top design that allows chickens to roost on top
Best Heated Nipple Water Fountain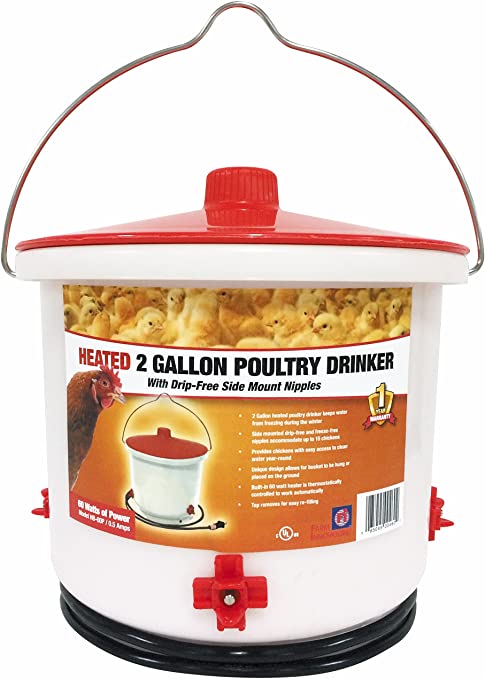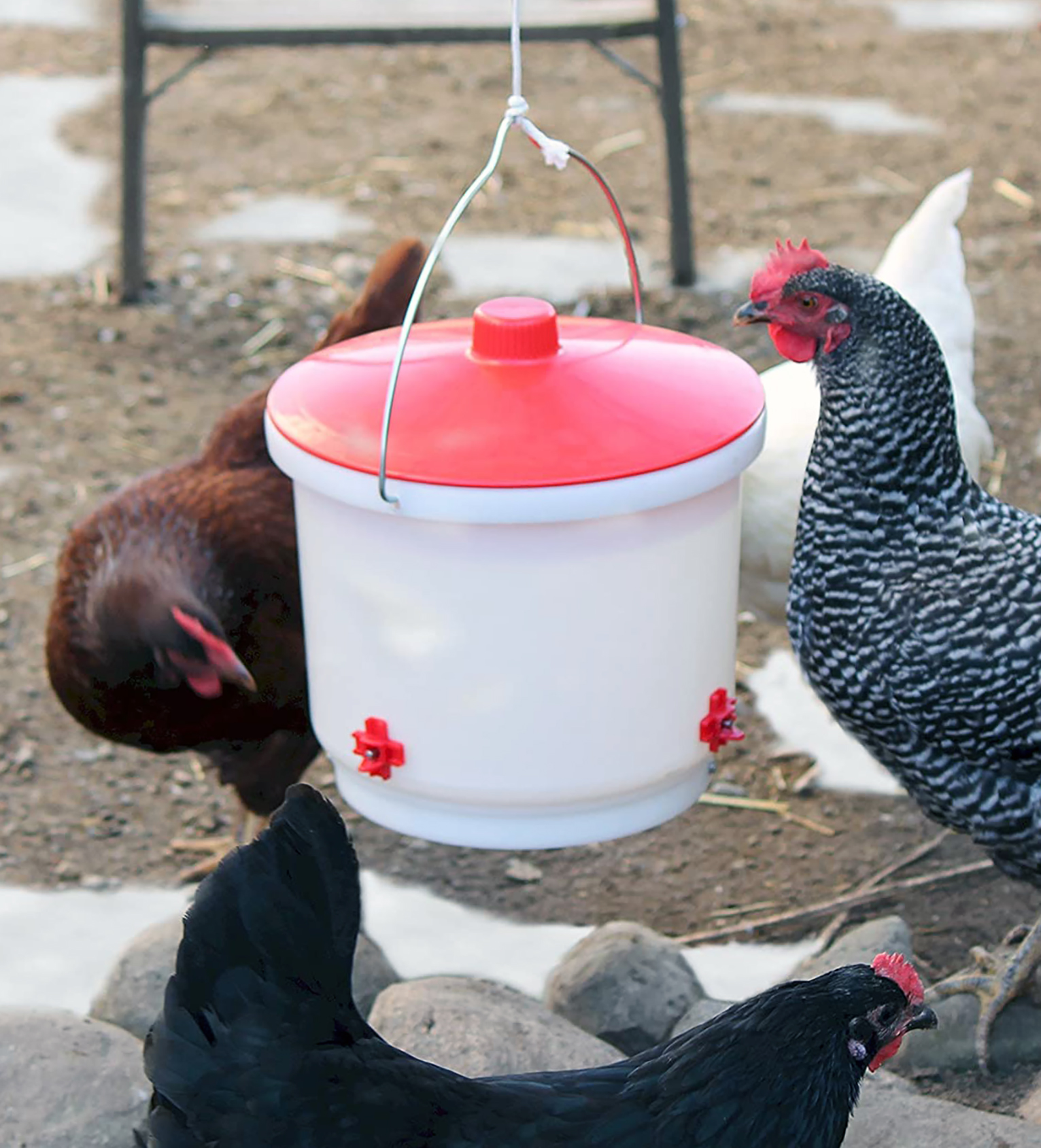 Farm Innovators Heated Poultry Drinker
Also produced by Farm Innovators, this Heated Poultry Drinker can accommodate for a lesser amount of chickens, but it can still last for a long period. More specifically, this poultry drinker features three side-mounted nipples that have non-freezing properties. The drinker can either be placed on the ground or hung in the air for your convenience.
The drinker itself is made with a clear plastic material that allows you to see the water level on the inside. It's also able to have a strong grip if you're hanging it, since it's made with a heavy-duty metal handle.
Design & Materials
As for the design, this Farm Innovators Heated Poultry Drinker offers a capacity space of two gallons, which is less than the other product released by the same manufacturer. But it's capable of accommodating for freezing temperatures more than other designs can.
Not only that, but you can easily re-fill this drinker by removing the lid and either using a hose or some other means to fill the bucket up. Given the heavy-duty handle and non-freezing features, this drinker is recommended for those of you needing a waterer for your chickens during the colder months.
Pros:
Translucent bucket lets you see inside
Three side-mounted, non-freeze nipples
Top removes easily for re-filling
Cons:
Only available in a 2gal tank, so it doesn't last as long as other drinkers would
Best Heated All Season Pvc Pipe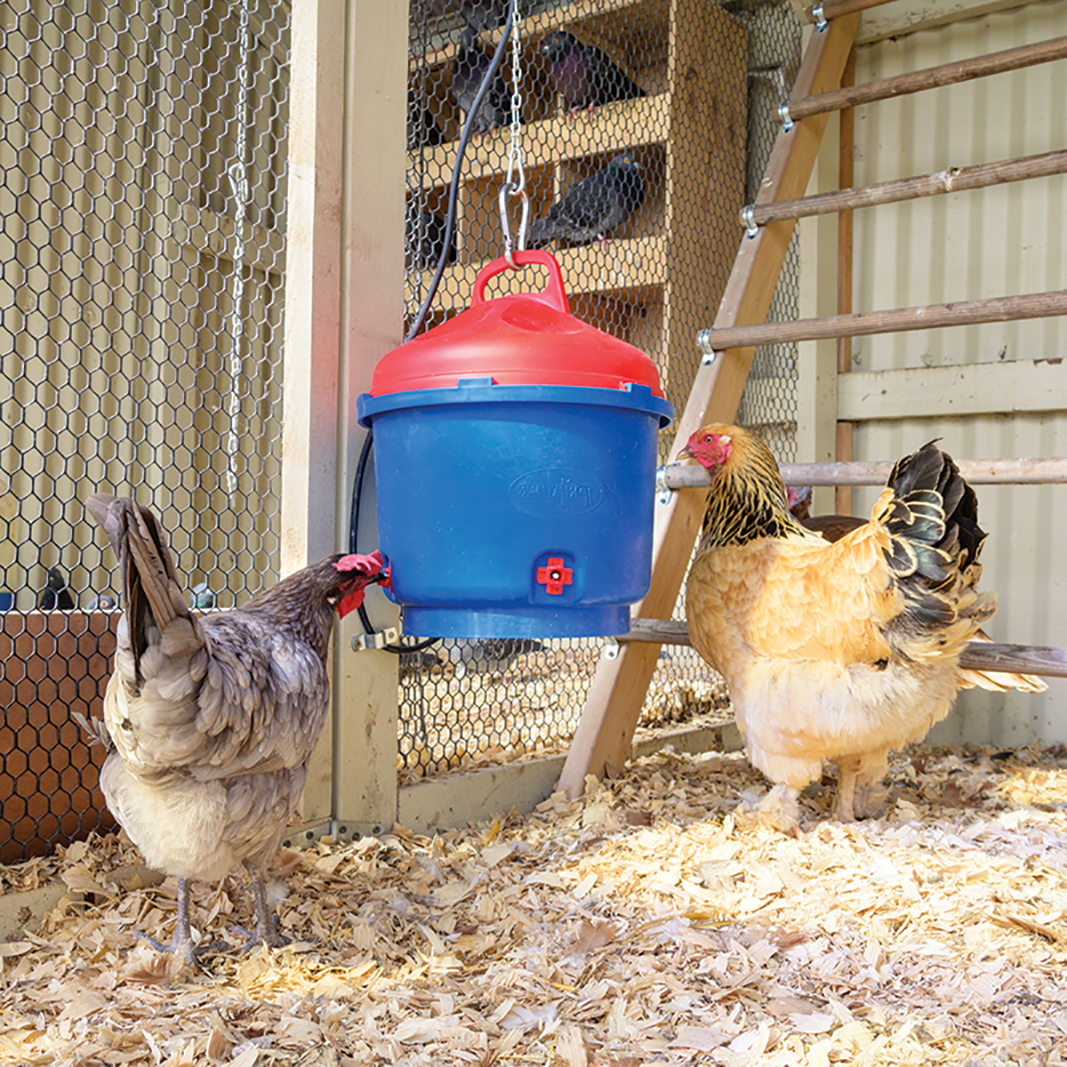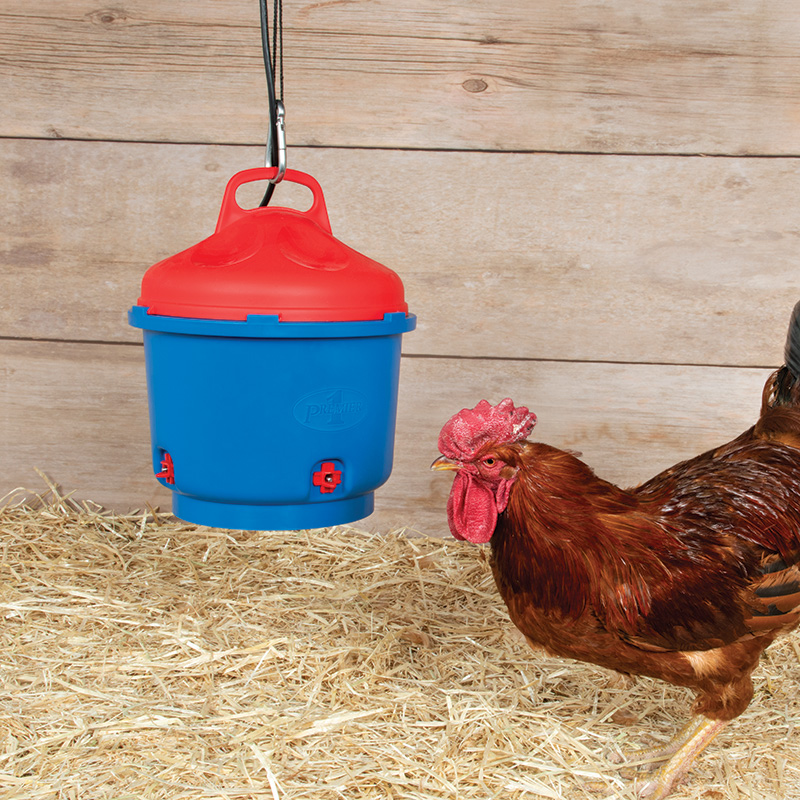 Premier 1 Supplies heated chicken waterer
Offering a great lid design, this Premier 1 Supplies Waterer is the best heated chicken waterer for preventing roosting birds. More specifically, the lid on this waterer can securely lock into the bucket, keeping the water safe and uncontaminated. The lid is also in a conical shape that prevents birds from perching on top of it.
Furthermore, the lid is also insulated, which can help to keep the heat inside of the bucket. That being said, you don't have to worry about your chickens having cold water over time. There's also a heavy-duty handle to keep the waterer from falling if it's hung.
Design & Materials
The bucket itself carries up to three gallons of water, and it's suitable for providing water for up to 35 birds. That being said, it's completely adequate for at-home chicken farms. To make the bucket more convenient, it comes with a detachable 16-foot grounded cord to make the assembly easier.
Given the large capacity, conical-shaped lid and the built-in thermostat, this Premier 1 Supplies drinker is great for anyone needing to provide water for birds in the easiest way possible. It's especially great for those of you with birds that like to explore and would most likely end up perching on top of it.
Pros:
Conical-shaped lid prevents perching
Lid is insulated to keep heat inside
Detachable 16ft ground cord offers easy installation
Cons:
More expensive than some of the other waterers
Best Automatic Outdoor Water Container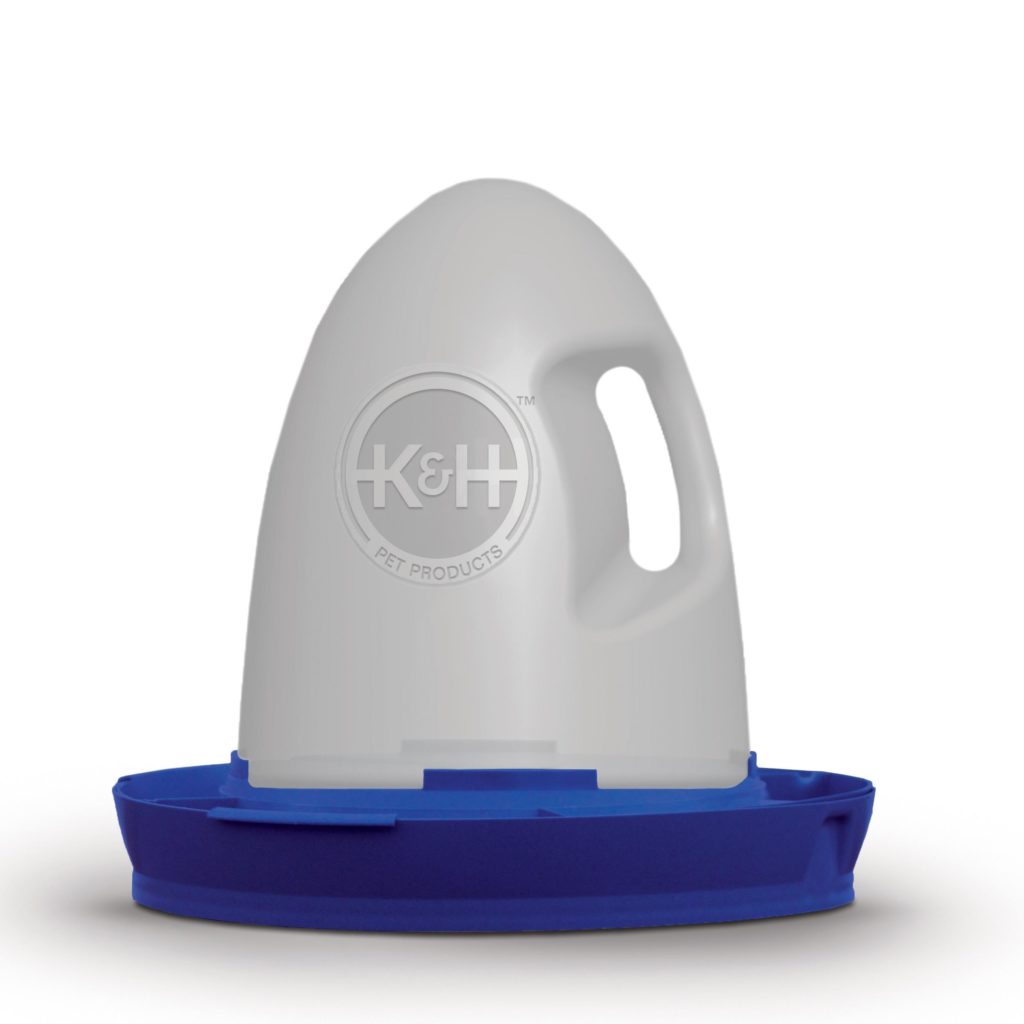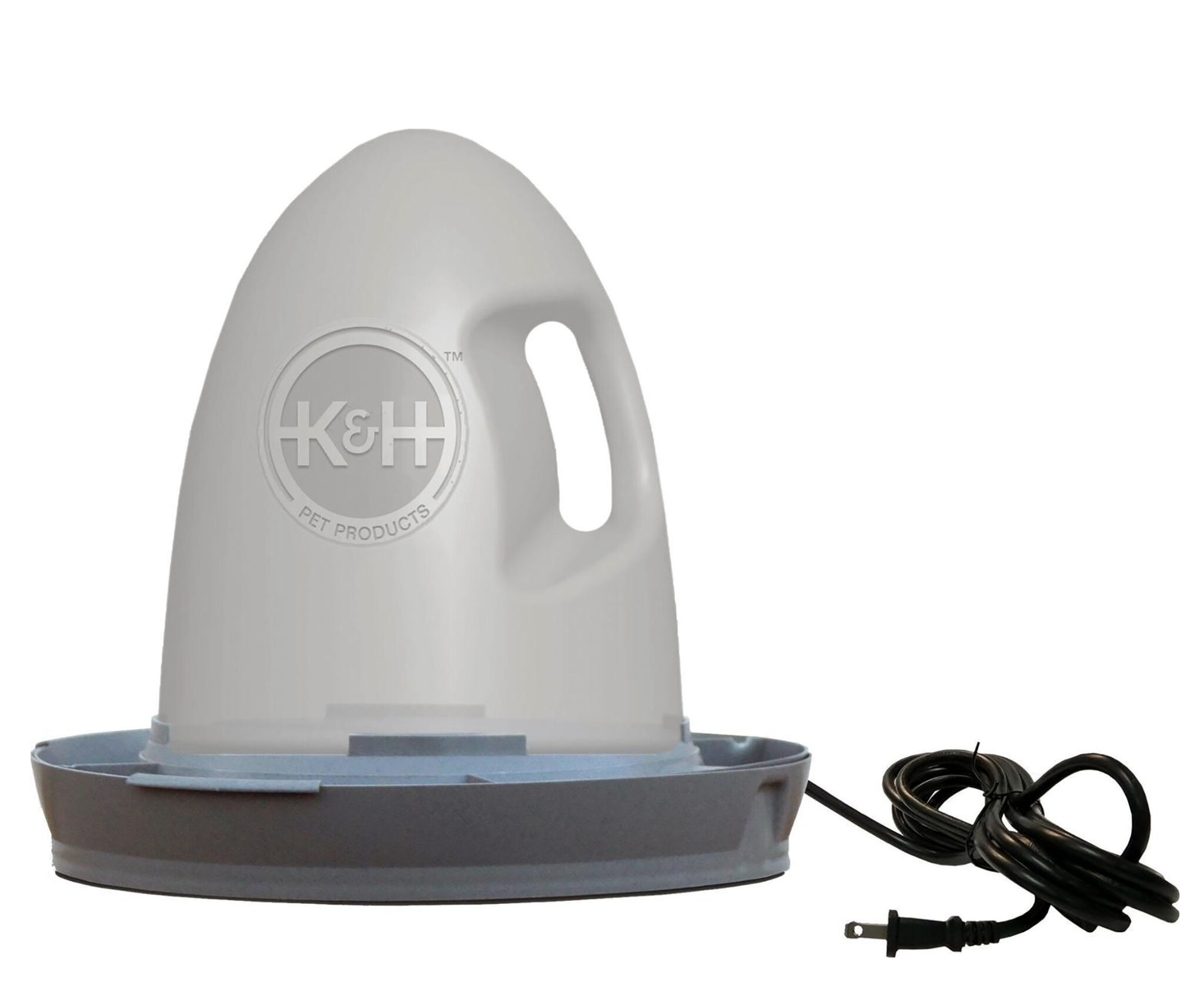 K&H Pet Products waterer with a water filter
Made with the safest materials and overall design, the K&H Pet Products waterer is great for those of you concerned about safety. It's produced with a durable, BPA-free plastic that can withstand pecking and wear and tear over time. And it doesn't contain any metal parts that are susceptible to rusting or corroding over time.
Also unlike the other waterers on the market, this one comes with a water filter that removes any debris that happens to get into the water bucket. This helps to make sure that your chickens have a constant and clean source of water.
Design & Materials
Similar to the other products, this one also features a design that helps to prevent perching on the lid. And it also contains a built-in thermostat that can be controlled to prevent the water on the inside from freezing during winter months.
Because of the easy-access base, the perch-free design and the safety features, this waterer is recommended for everyone that wants an easy-to-clean and safe device for their chickens. It's even capable of carrying up to 2.5 gallons of water at a time.
Pros:
The easy-access base for your re-filling and the birds' drinking
Comes with a water filter to remove debris
Features a spill-proof cap
Cons:
More expensive than other designs
Best Chicken Water Warmer Base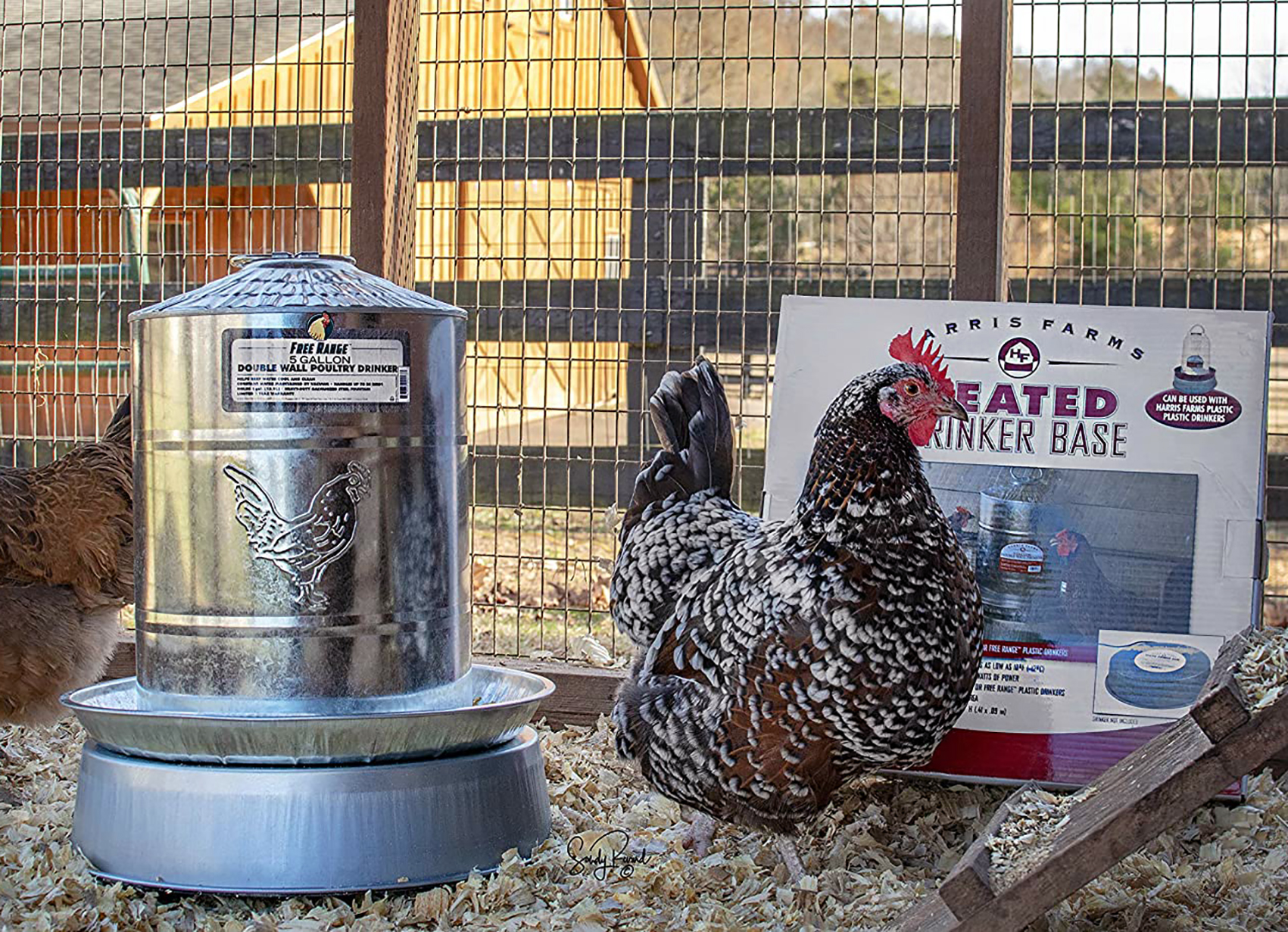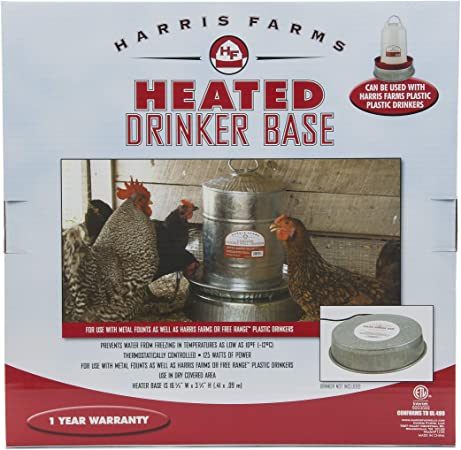 The best heater base for plastic waterer is Harris Farms chicken water heater base
Featuring a deep design, this drinker base from Harris Farms is suitable for anyone that has a waterer and simply needs a new base for it. Over time, sometimes the base can develop rust or other impurities that can negatively affect the quality of the available water, so it's recommended that you change them out. And this base is particularly recommended because of its ability to prevent freezing and versatility towards either plastic or metal drinkers.
Design & Materials
This base in general features a design that measures 3.5 inches deep, so you can provide water for a larger number of chickens with this design as opposed to some other ones. Also unlike other drinker bases, this one is capable of controlling the temperature so that the water doesn't freeze.
Given the high-quality metal design as well as the deep, 3.5-inch depth, this base is recommended for people that don't have bases on their drinks. And it's even suitable for those that want to change out the base that's already on their drinker.
Pros:
Deep design can hold large amounts of water for high numbers of birds
Versatile construction suitable for either plastic or metal drinkers
Thermostatically-controlled
Cons:
Doesn't come with the waterer, only the base
Poultry waterer Buyer's Guide
Factors to Consider Before Purchasing
Size & Capacity
You must think about how large the waterer is and how much water it's capable of holding. You'll want a drinker that can carry as much water as possible while still presenting a smaller size. From there, you may want to consider how many birds you have to provide water for, since this will help determine the water capacity that you'll likely need. Make sure that you're still able to fit it inside of the chicken coop without taking up too much of the chicken's roaming room.
Design
Next, you'll want to think about what type of design and features you want the waterer to have. They can come in many different designs, but the majority of them either have a large bucket with attached nipples or a base drinker on the bottom. Both designs have their benefits, but you'll want to think about which one is the most convenient for the number of birds that you have.
You'll also want to consider whether the waterer comes with a heater or some type of insulation, especially during the winter months. Chickens require their water at a medium temperature, so you'll need a heater to prevent the water from freezing.
Location
Lastly, you should think about where you're going to place the waterer. This is important because it will determine how you'll be able to re-fill the container when it's empty. I recommend that you place the waterer close enough to a garden hose for the easiest re-filling method.
Conclusion
Overall, having a chicken waterer is extremely convenient because it provides your chickens with a constant source of clean water throughout the day. You can still engage in your everyday activities if you have a waterer, so you don't have to worry about checking on your birds several times during the day.
Each of the chicken waterers on this list offers you a variety of different features that can accommodate for your particular needs. Some of them are constructed to stop birds from roosting on the top of them, while others are more focused on providing water for a larger number of chickens.
Regardless of the specific type of waterer that you're looking for, all of the products on this list come with a variety of features specific to each design. Because of that, you can more easily find a waterer that works best for you, especially after reviewing the information in this article.
What you need for DIY automatic chicken waterer with float
How to make a waterer for chicken?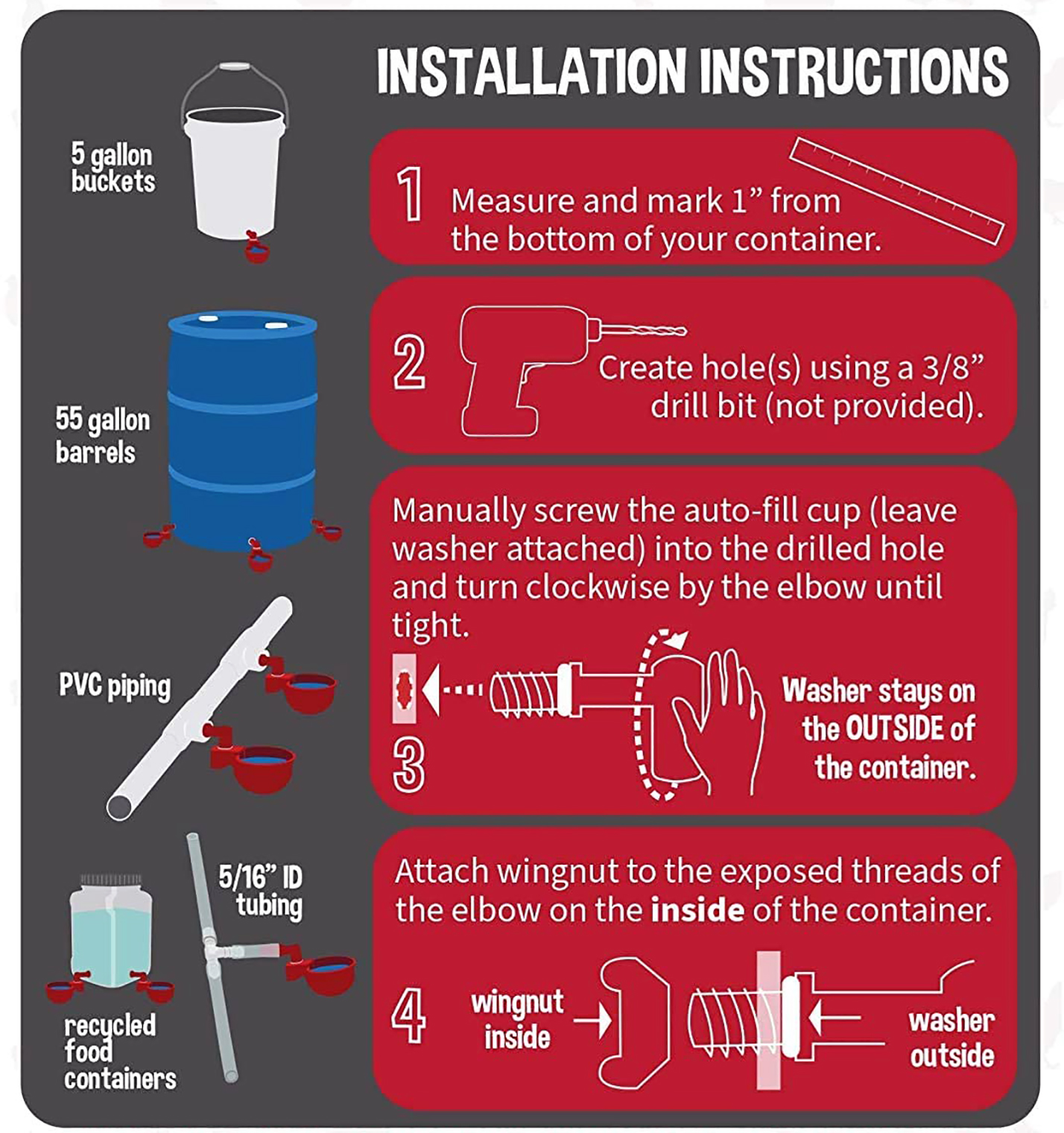 You're going to need three main components:
One of those is some sort of chicken watering cup or nipple.
Two is a five-gallon bucket. You can use something bigger if you have more chickens, but this is plenty for our flock of eight.
And number three is this. This is a float valve.
This we're going to connect a water source to we're going to connect in, in our bucket. That water source will be continuous, but the float valve is going to make sure that our bucket doesn't overflow in the coop. So that is going to help us to be completely hands-free right. We're gonna run it back to the water in our barn here. We've put the chicken coop in a strategic location so that we can pipe and get the water over there. Now those of you in again, in a wintering area there, you're going to need to insulate the pipe. It's really important that you have a top for your bucket. You don't want, anybody, jumping in.
I have had the experience that on little nipple waters, chickens almost died because those little nipples corroded, and they got sediment built up in them and they failed. And there was no more water coming out of them or one-part stuck up. So that's the reason I chose these cups – RentACoop. There's one spring in here and the weight of the water pushes the cup down and seals. So no more water can get in. As soon as those chickens drink, the water cup goes up.
What will it take to install heated poultry waterer
Image
Product
Top rated

On at 35-Degrees/Off at 45-Degrees




Thermostatically Controlled Outlet

Plugs into a standard 15 amp electrical outlet and turns power on automatically according to ambient air temperature
Saves money by using power only when temperatures require heating
Ideal for home and farm applications such as pond de-icers, unheated rooms, pump houses, greenhouses, boats and RV's


Check Price

FARM INNOVATORS INC




Connect Water-Tight Cord Lock-Green

A simple, practical and effective watertight cord lock
Works with 18-16-14-12 gauge extension cords
The Cord Connect is a simple, practical and effective patented cord lock


Check Price
Read More from prestigequeen.com :
First up the vacuum seal water, probably the quickest to get started simplest and inexpensive and great for far away places.
Automatic waterer
The heated water in the automatic waterer it's just a super mobile system. The pros for that system one and simple two it's easy, three it's relatively inexpensive, about 48 bucks, and it will laugh. Take care of it for years. Literally tens of years.
The cons for that system is that it's time-consuming, majorly time-consuming because you have to fill it. I mean, it depends on how many chickens you have, how big your water is. You have to fill it. You have to keep it clean. Probably keeping it clean every day. And during the winter, you got to empty it at night when the chickens aren't drinking so that it doesn't freeze.
Occasionally we'll get minus nine, but doesn't last very long. And when that happens, I have to have two waters, one to put out one to keep warm and switch those out. Switching waters at least twice a day, you would probably have to do more than that up in the even further Northern climate.
Electric heater waterer
Next up is the electric waterer. I'm going to use that close to my house in my kitchen garden where my chicken kitchen garden chickens.
I like this because the electricity is near my house. Also the chicken pen never moved there. The chickens are always there. They're on deep bedding. They're on wood chips and the electric system would be super hard to move. It's very mobile pan and you want it to be close to your house.
What are the pros of this system? Well, it automatically keeps the water no frozen. That's huge for that reason. Most of you guys are working, going away from the house. You don't have time to switch out. Water is one to two times a day. Automatic water heater is pretty good. And it's about the same price as the vacuum store. It seems a little, But what you're paying for their, I guess heating element.
The cons for the electric water heater is that it's going to cost you in electricity. You're also gonna have to run drop cords. And you're going to have to transport it with water in it. But once you have it set up, it should last all winter. You got to have a drop cord run into your yard.
Flow watering system
My third system is the ever flow watering system.
It's a system in which I'm looking at nature and seeing how she keeps her water and frozen and even clean for that matter. And she does it by keeping it moving. So I have a pond up above it's giving plenty implant. It's giving 10 times the water I'm pulling from it. I pull water out down a three quarter inch line down to a watering system. And then back into a line down to the Creek, here is the ebb and flow of water. It's certainly cold enough to be freezing in a vacuum.
It works 24, 7, 365 other pro for this is that automatically stays clean. Forget the well, the big fro is that it doesn't freeze. And then there's an added benefit of always stays clean because the water is always cycling through.
Some dirt gets in there from the chickens beak, it flushes through. And another thing is it may keep water on frozen during winter, but in the summer it keeps water always cool.
And it's inexpensive setup. I mean, with the hoses and with the trough, I mean just the trough system is probably 75 to a hundred dollars. And then you have the water lines to the pond and back.
If any, on a daily basis, some probably weekly or twice a month, the amount of time and trouble I'm going to save from this and be able to invest in other projects is going to make that investment well worth it.
It's absolutely no work this morning, not frozen. Another major con is that you need a special environment. You need a water source above where your chickens are going to be.
Those are my three systems.
I actually love all three of them. The vacuum Stillwater is great for going distance. It's great for just getting started quick.
The heated water element is great for a stationary coop near the house in which we have.
And then the third one that ever flow is amazing for cutting down chore costs. And since we have three system that's critical. So all these systems have a place. And for you, one of these systems will work better than the other.
Water Needs of Your Backyard Chickens
It is vital that you provide your chickens with a supply of clean fresh water at all times. Water is essential for your chickens health, especially if you think an egg is made up of 75% water, which has to be drawn from the hen's body. So obviously she needs to replenish that amount of water, on top of her normal daily water requirements.
Their water container must be clean, free of dirt and algae build-up and the water must be reasonably fresh, you should try to refill at least once a day, to keep the water from going stale or getting fouled with dust and algae. Unfortunately, chickens do not make much of an effort to keep their water supply clean and will foul it with droppings or dirt they scratch up if it is left at ground level. Once the water is dirty, they will not drink it, so a solution is to raise the water dish or feeder above ground level and place it near to the entrance to the coop, so they can easily access it.
Your chickens' water dispenser or dish should be regularly scrubbed and cleaned to keep the water in it fresh. Both water supplies and food feeders should be ideally placed at chicken shoulder height, so your chickens can easily reach them. A rabbit drip type water feeder is no use to a chicken as they would not be able to get their beak around it, as they must be able to dip their beaks into the water to drink.
A chicken's water needs will depend on its size, age, and status. A laying hen requires much more water than a non-laying hen or a rooster. Meat birds also drink more water than regular pullets, because they are growing so quickly; they will also need more food.
The chicken's diet affects the amount of water they require, as well. A free range chicken which is consuming a lot of juicy bugs and plants will not need as much water as a chicken which eats only a dry pellet food. The weather and climate will obviously play a part, as the hotter the weather the more the chicken will drink. Chickens which live in a very dry climate will also drink more water than chickens which live in a humid climate. Try to keep your water container out of the sun to stop the water in it evaporating and getting too warm.
There is no hard and fast rule about how much water each chicken will drink in a day, this will depend upon a great many factors and you just need to be attentive to your chickens' needs. To start with it is probably a good idea to work on the basis of half a gallon of water per chicken, always err on the safe side.