The best NESTing BOXes for chickens
by Jennifer Behm — Chicken farmer| Last Updated — 02 March 2021
If you own chickens, it's important to get as many usable eggs as possible from your flock. You want to make sure you do this in a reasonable and healthy way. While there are many ways to maximize your hens' egg production, one of the easiest ways is to help your chickens lay regularly and consistently.
A good nesting box is an easy way to promote egg-laying consistency. Instead of using a DIY chicken nesting box plan, you can easily buy a good-quality chicken nesting box that your flock will love. Here are a few tips and reviews to help you find the best nesting box for your hens.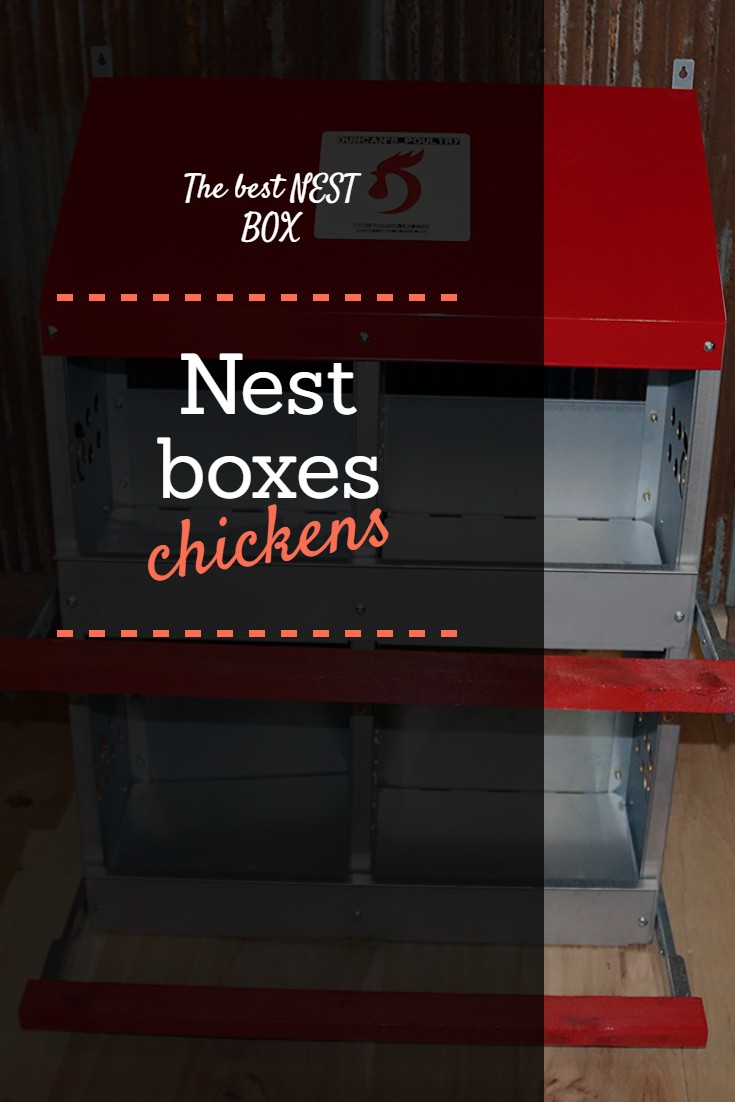 Read on:
What to Look for in a Chicken Nesting Box
Best Material for nest box
You want to look for a wood, metal, or plastic material when choosing the best chicken nesting box. When you choose the right material, you will find that it can be easy to clean and pretty durable.
Wooden nest boxes
While wood is a popular material to use in a nesting box, a wood chicken box can break down easily, which can happen faster if you are cleaning it regularly. Using detergents or harsh chemicals, wood will break down pretty quickly.
You also can't sterilize a wood chicken box as easily as other materials, so it can hold onto bacteria that can be harmful to your health as well as your chicken's health. The major benefit of wood is that it's very affordable.
Metal nest boxes
A metal poultry nest is another popular choice that has grown a lot in the last few years. It's easy to sterilize and clean as well as pretty durable. Hens also have a hard time damaging the exterior and interior walls of metal nesting boxes.
But a metal poultry nest is not very comfortable for a hen to sit on, particularly in warm or cold months. Metal can freeze up and heat up faster than other types of material, so your chickens may not want to lay in specific times of the year.
Plastic nest boxes
A plastic chicken nesting box is another good option since it's more durable than wood and cheaper than metal. You can easily clean plastic since bacteria don't generally grow on it. It also doesn't get cold in the winter or heat up in the summer, but a plastic chicken nesting box can wear down if it's allowed to sit directly in the sunlight.
How many nest boxes do you need per chicken?
One nesting box for every four chickens. A nest box should be just a little larger than a crouching bird, around 12 inches square and about 9 inches high. Giving more height to a nest box is counterproductive, as the hen will try to sleep there and scratch around, potentially damaging the eggs. They will also foul the nest box more, meaning more work for you.
What size for chicken nesting boxes?
The size of the nesting box is also an important consideration since your flock needs to have plenty of room to make sure they are comfortable when laying their eggs. In a perfect world, your nesting box should measure 16 x 14 x 14-inches to be an ideal match for most chicken breeds.
Keep in mind, a larger hen will require more room. You may also have a hen of any breed that is hesitant to enter a small space while others may not like a nesting box that is so large the chicken can feel unsafe and exposed.
Quantity
How many nest boxes do you need per chicken? The number of chickens in your flock can also determine the number of nesting boxes you will need. It is usually agreed that you will need to have one box for every three to four chickens in your flock. However, the more nesting boxes you have the better, just don't go overboard. Chicken can often crowd each other out of one nesting box while completely ignoring the empty nesting box next door.
Top-rated chicken nesting box
Image
Product
Top rated

10 holes in 2 tiers; 50-60 hen capacity




Poultry Nest

High quality galvanized steel construction; All exposed edges folded to prevent injury
Ventilation holes in partitions for fresh air flow
Nests can be staggered back to back to prevent hens from passing between tiers


Check Price

Duncan's Poultry 4 Hole




Standard Chicken Nest

Highest Quality Materials
Easiest Assembly of any Nest
Removable Metal bottoms for easy Cleaning


Check Price

Harris Farms 2 Hole for chickens




Nesting Box for Chickens

Folded Edges and Ventilation Holes
Features a Hinged Perch to Allow Closing
Bottom Metal Inserts are Easily Removed for Cleaning


Check Price

Plastic Nest Box with Perch




Plastic Nesting Box

This nesting box is made of high density, impact-resistant polyethylene.
This smooth plastic surface is easy to keep clean and does not get as cold as metal
It can be securely mounted vertically or side by side.


Check Price

nesting boxes for chicken




Nesting Box

For Use In or Out of Coops
Helps Eliminate Nest Sharing
Single, Double, & Triple nesting boxes are available


Check Price
Read More from prestigequeen.com :
The Best Nesting Boxes Reviews 2023
Best Chicken Nest Box – Best Overall
This handy egg-saving box can easily convert into either a rear or front rollaway. The Best Nest Box features an egg tray in the bottom that is mounted on either the back or front of the box and can be reversed at any time. It also has an egg guard that is angled towards the egg-laying area, which prevents chickens from damaging their eggs when they are in the egg tray.
Material
The Best Nest Box includes a nest pad that lies on a one-by-one-inch mesh made out of galvanized wire that provides good air circulation.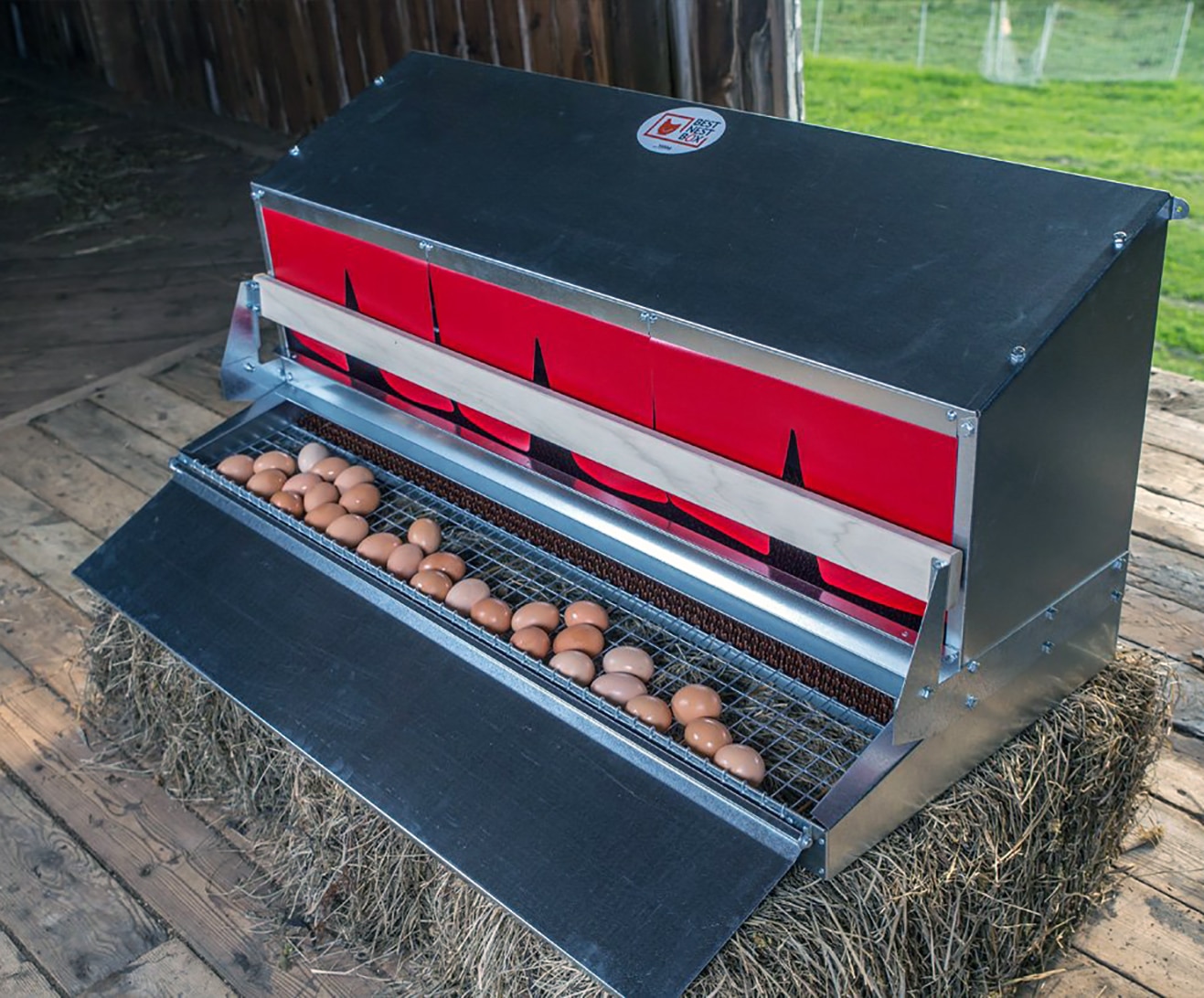 Made with high-quality galvanized metal, this box comes with a solid back, so you can use it as a free-standing box. With the eye rings, you can mount the box to a wall.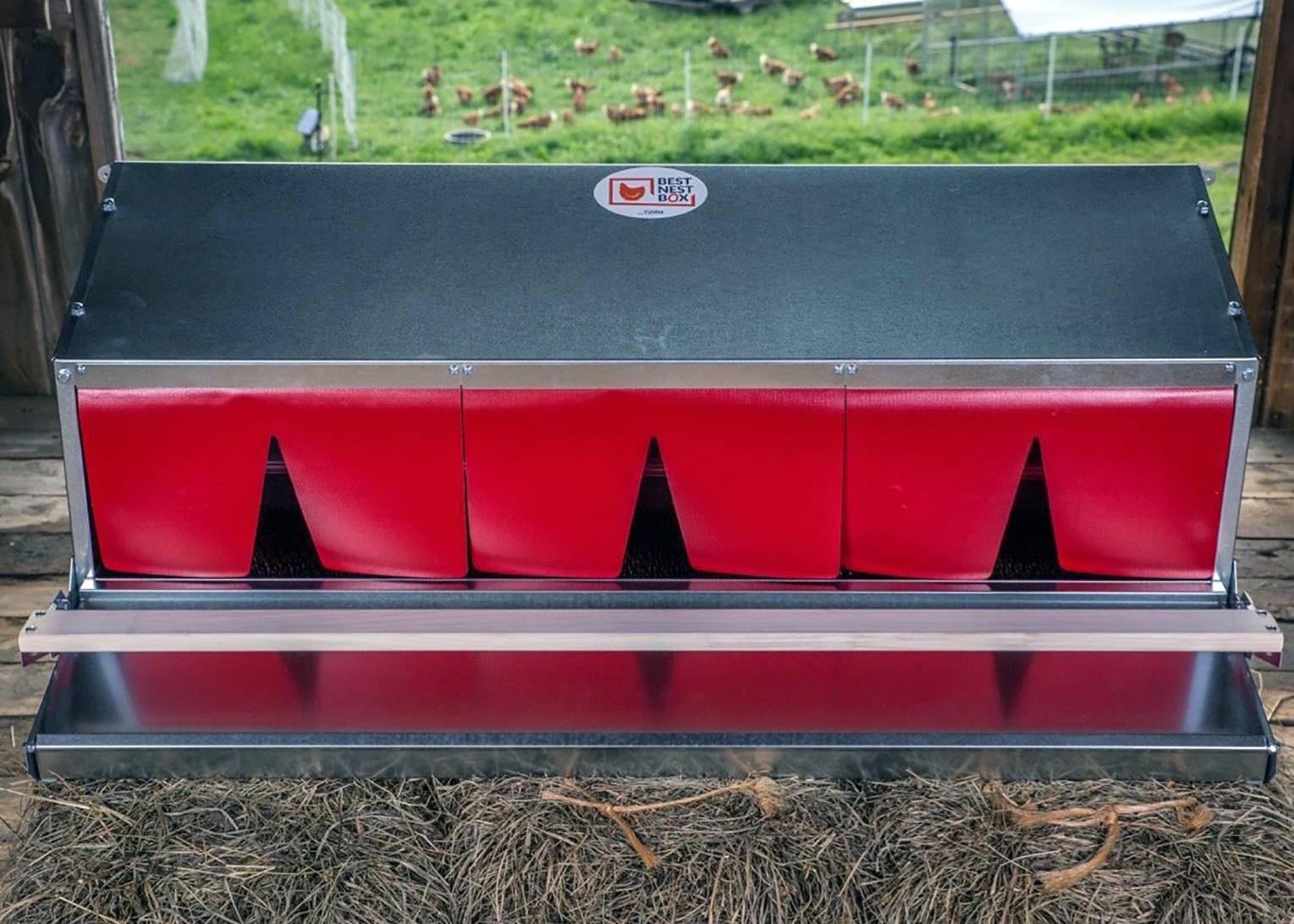 Features
On the front of the box are vinyl flaps that keep the inside dark and provides a hidden and secure feeling for the chickens. There are no dividers in this nest box, and the design gets rid of crowding among the hens. With the roost bar, you can lift it up to open up the egg tray.
Assembly
You can also use the roost bar as an excluder, which will keep the chickens from using the box as a spot to roost at night.
With easy assembly, the Best Nest Box does not require a rivet gun, just hand tightening of the bolts before tightening them with a wrench.
Maintenance
This community-style box keeps eggs clean and from getting broken. The Best Nest Box has a 45-hen capacity and is easy to clean with its grass-like configuration that won't provide a place for bacteria to grow. Offering functional and durable performance, this nesting box can handle all types of weather.
Pros:
The angled design stops eggs from breaking
The nest pad looks like grass but its polyethylene
You can reverse the box allowing you to use either front or rear egg trays
Cons:
It's a little on the expensive side
RentACoop Roll-Out Nesting Box – Best Sloped Design
Featuring an adjustable slope, the RentACoop Roll-Out Nesting Box allows eggs to roll out, so you can easily pick them up. Eggs will roll down into an area the hen cannot get to, preventing the chickens from eating them. It is also designed with a sloped top to prevent roosting.
Material
The RentACoop Roll-Out Nesting Box is made out of galvanized metal and includes a roll-out tray for easy clean-up. This unit should be placed two to three inches off the ground somewhere inside near water and food. A comfortable spot for your chickens, this nesting box has the perfect dimensions for larger hens to lay their eggs comfortably.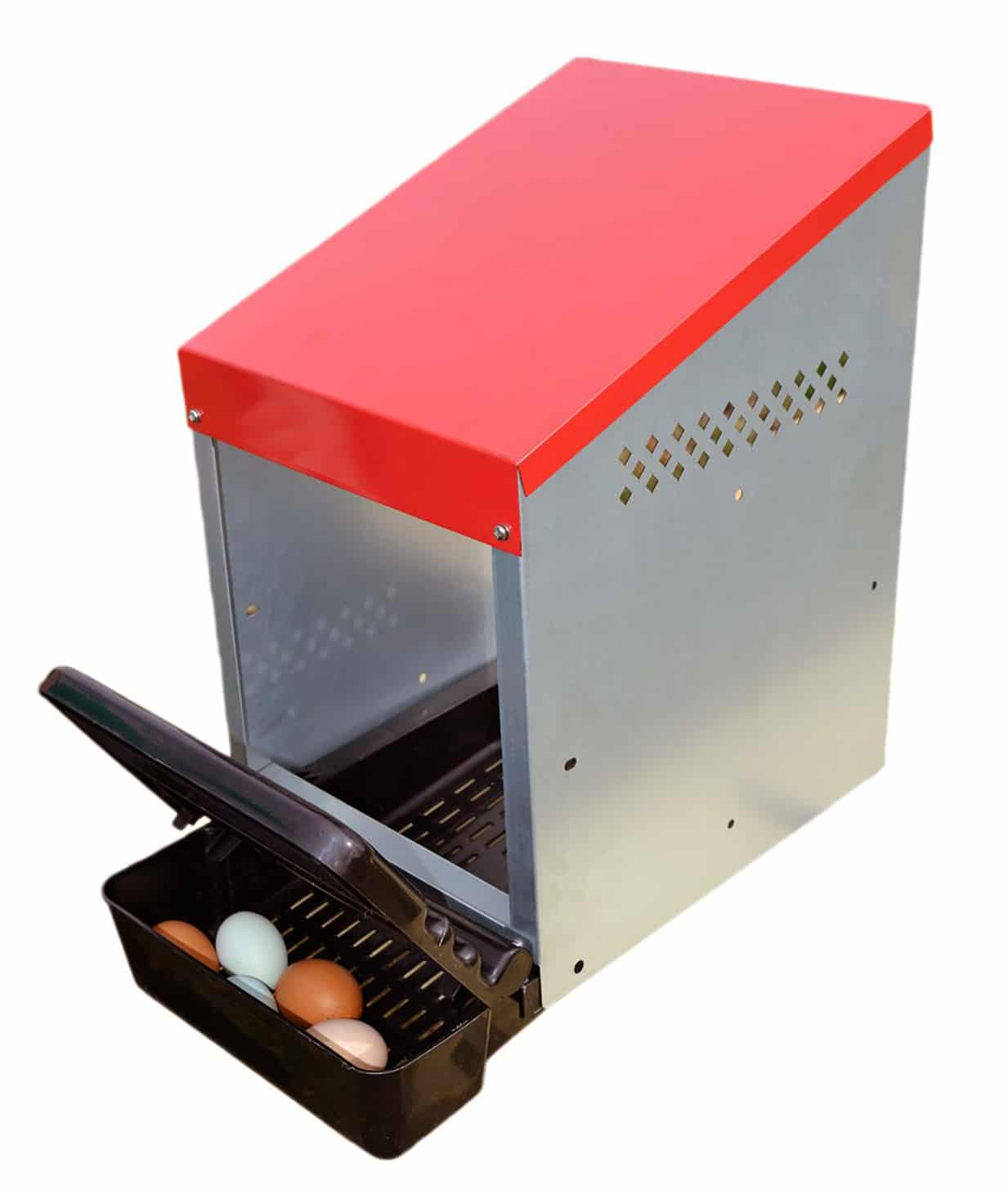 Features
This nesting box is a great option for those with a medium-sized flock. While it's not as private as some other nesting boxes, the RentACoop Roll-Out Nesting Box can be a comfy choice for your chickens. It has a well-ventilated floor that slopes towards a holding area where the collected eggs are kept clean and safe.
Durability
This durable chicken nesting box can hold up to 15 hens, but if you have more hens in your flock, you can easily install boxes right next to each other. Or, for those that have either a partially flighted or flighted chicken breed, you can install one over the other.
Assembly
Installation is easy thanks to the pre-drilled holes in this chicken nesting box that also features attachment points that are easy to access. You can place this nesting box on a sturdy wall in either a chicken run or coops. The RentACoop is considered a complete chicken nesting box, so you won't need to buy nesting pads or bedding.
Pros:
This is an easy to clean nesting box
It has a slope that you can adjust that will prevent eggs from breaking
Chickens really love it and find it comfortable
Cons:
It's too narrow for wide birds
It doesn't have a back wall, so you have to make sure you hang it on a wall
Little Giant Nesting Box – Best Budget Choice
This single nesting box includes a perch and wall mounts, the Little Giant Nesting Box is made with an impact-resistant and high-density polyethylene that you will find easy to clean. This box will not corrode, rust, or rot, and it mounts on a wall securely using slide-type holes for the screws. The design of this box allows for ventilation that is built-in for better airflow as well as a sloped roof that will prevent roosting.
Mounting
Before entering the nest, the perch will give the hens a place to land. The Little Giant Nesting Box will mount to 16-inches on a center stud. You can securely mount this box side by side or vertically.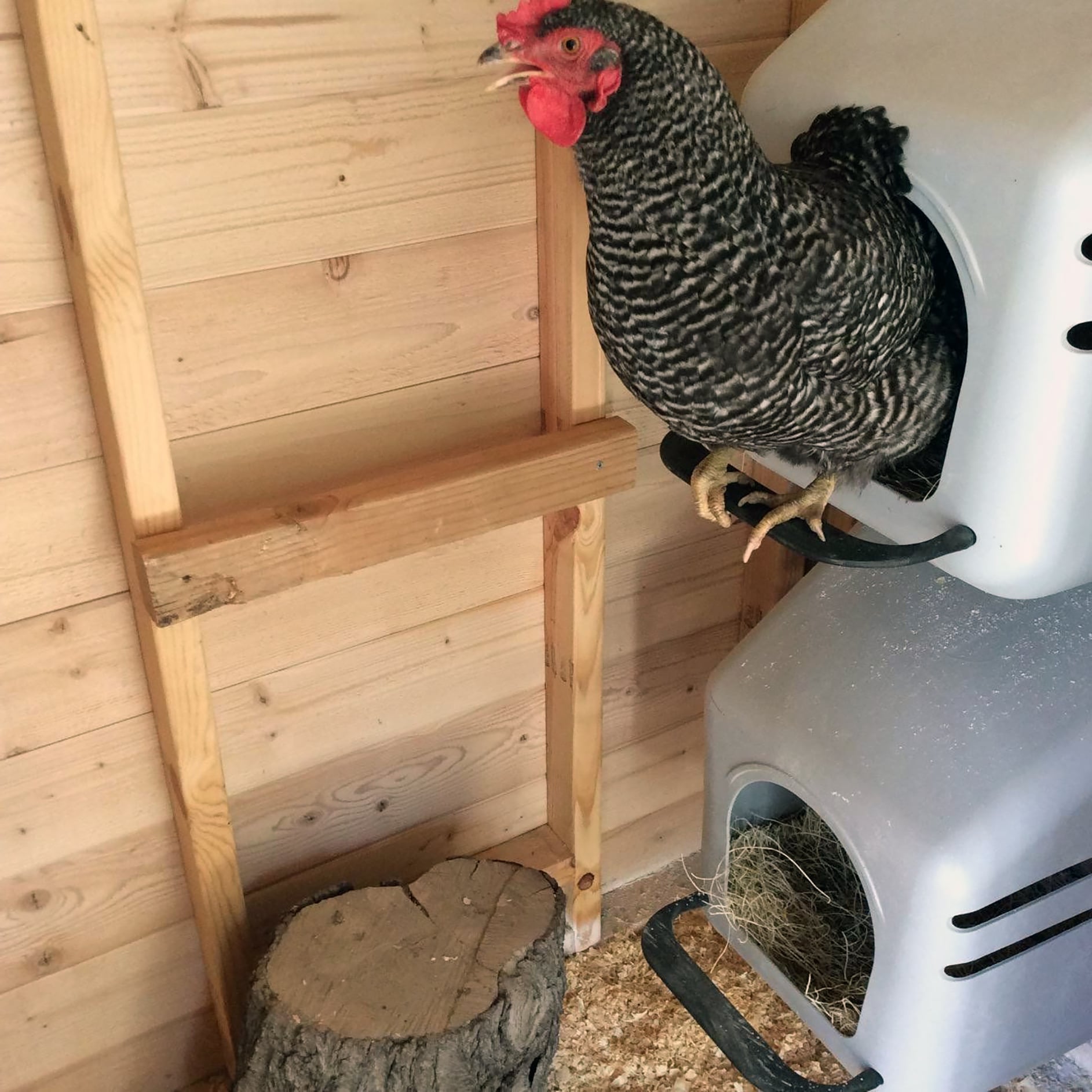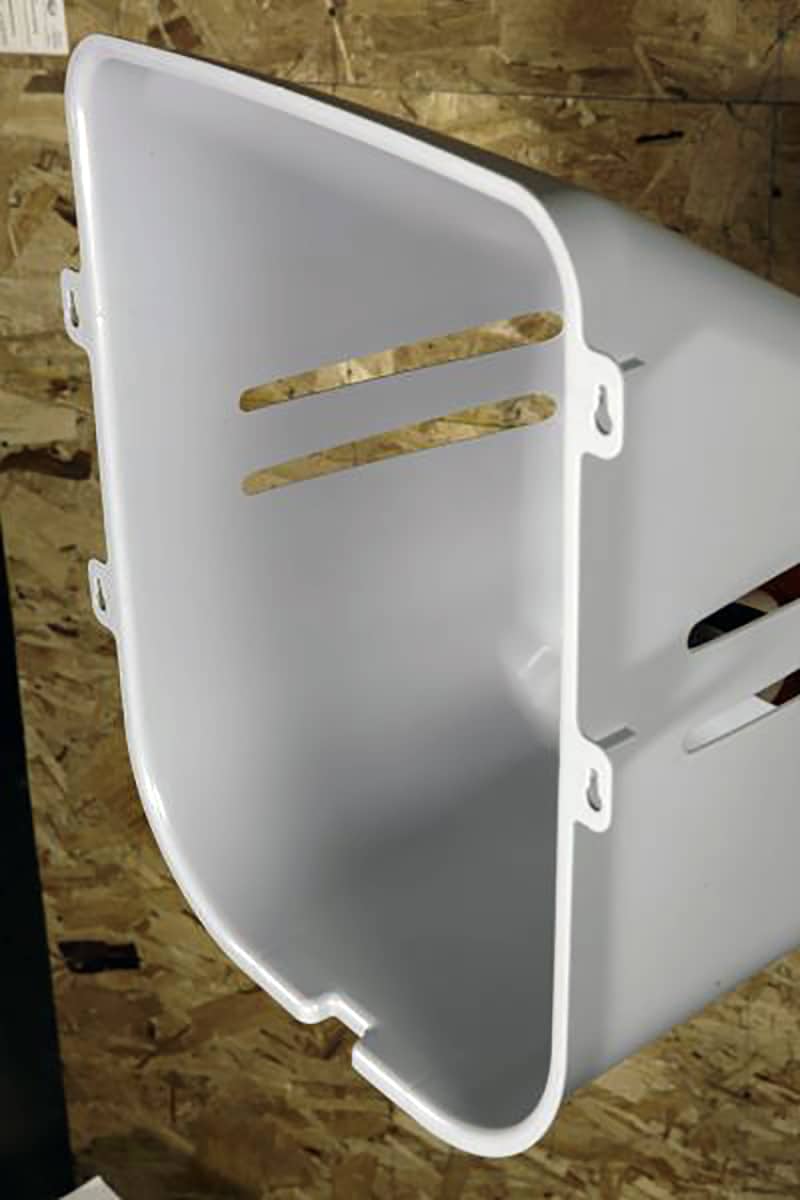 Maintenance
Simple to clean, this box has a smooth plastic surface, which isn't as cold as a metal surface is. This surface makes it super comfortable for a small bird or nesting chicken. The low box floor helps to stop bedding from getting lost, and the plastic surface allows the box to stay warm in the winter month and reduce bug and mite infestations.
Design
With its impact-resistant design, you won't have to worry about it snapping, bending, or breaking under pressure. The Little Giant Nesting Box is a great value for the money.
Pros:
The box is super easy to cleanout
It fits nicely on a two x four-piece of plywood
This box is very easy to set up and well-ventilated
Cons:
The box does not come with hardware to hang it with
The small entryway makes it hard to clean
Harris Farms Nesting Box – Best Two Hole Nesting Box
Featuring ventilation holes and folded edges, the Harris Farms Nesting Box offers two holes to create nests for your chickens. This rust-resistant box is made with galvanized steel and has metal bottom inserts that are easy to remove for cleaning. It also features a hinged perch for the chickens to sit on.
Durable
This is the perfect nesting box if you don't need a lot of places for your chickens to nest. A good value for the price, the Harris Farms Nesting Box is a strong and durable box that is perfect for flocks with six to seven chickens. Keeping safety and comfort in mind, this box has a flawless design that is completely rust-resistant.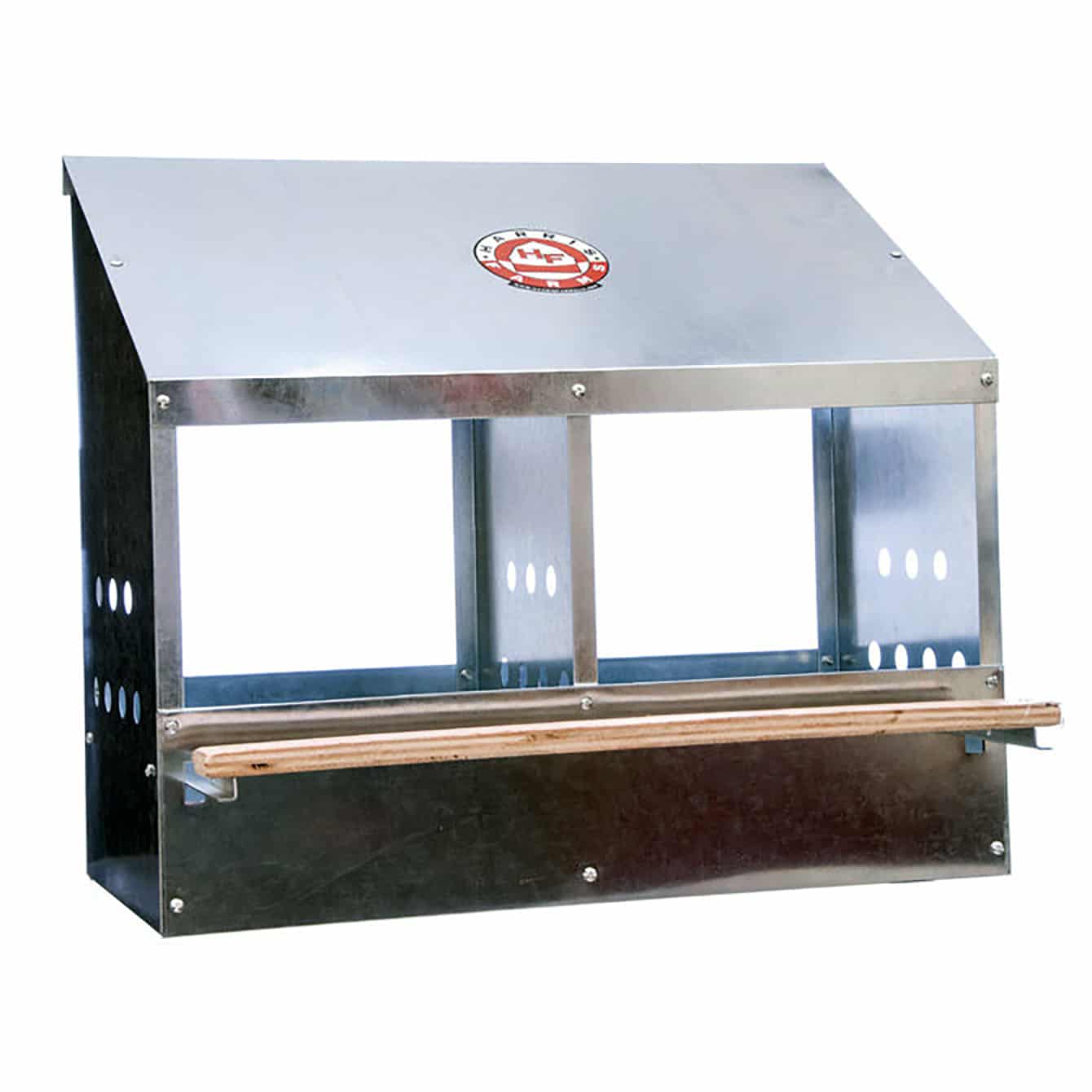 Features
With edges that are carefully folded, the Harris Farms Nesting Box prevents injuries or accidents to your birds while the side panels feature ventilation holes that provide a fresh and cool airflow. It is equipped with hangers to make mounting easy and a hinged perch that makes it easy for chickens to exit and enter the box.
Pros:
Good design and construction that will last you years
This nesting box is very easy to clean
It prevents your chickens from laying their eggs in the dirt
Cons:
It has really sharp edges
The instructions aren't very good
Duncan's Chicken Nest – Best Four Hold Nesting Box
This four-hole nest is super easy to put together and is made with galvalume metal that is thick and long-lasting. Duncan's Chicken Nest was designed after years of development and research. Featuring keyhole-shaped hangers, this nest has the easiest hanger to remove and hanger when you need to clean the nest.
Features
Vented for air circulation in hot months, Duncan's Chicken Nest uses upcycled lumber to make the perches, which are really attractive and will last many years. The tops receive a powder coating that gives them a shiny and attractive finish. And removable metal bottoms make it easy to clean.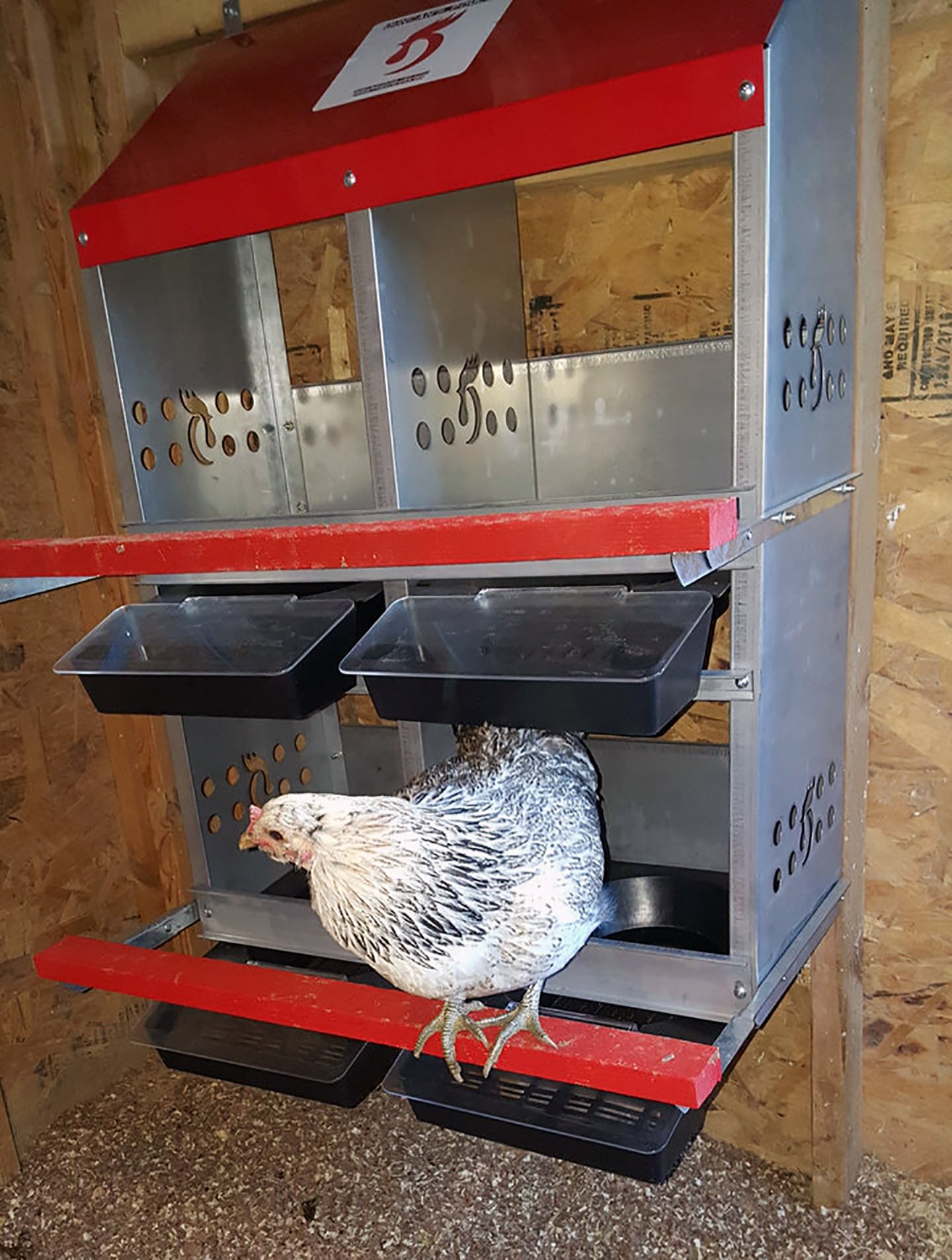 Assembly
Using only Phillips head bolts that are all the same size, assembly is very easy with each bolt going into a threaded hole. You also get clean instruction with color photos included to helps you quickly assemble the nest.
Pros:
The instructions are very helpful
Hanging and mounting the nesting box is very easy
It offers good circulation in the summer
Chicken laying boxes – FAQ
Hens will always seek out dark, quiet and secluded places to lay their eggs. By providing a suitable nest box within the coop, you can provide your hens with their ideal laying environment and space where you know their eggs will be clean and protected and easy for you to find!
Many traditional wooden hen houses have the nest box protruding at the side and access via a top locking lid, so you can open it and collect eggs with minimal disturbance to the hen-house as a whole. If you use this traditional layout always ensure that the nest box is kept locked or the lid is very heavy, as this is an unprotected outside area, it is easy for foxes to gain access to the house this way. 
What do you put in a chicken nesting box?
Nest boxes should be lined with soft dry litter, (which should be changed regularly) and raised from the ground, but ideally never higher than the perches. You just need to ensure that the bedding is sufficient and that it is comfortable for the chicken. Up to three hens will share one nesting box happily, but if you have three hens, two nest boxes will be better. Greater consideration should of course be given to the comfort of the box if the hen is to raise chicks rather than just use the box as a laying area.
How many nest boxes do you need per chicken?
This can be a hard question to answer since some experts are fine for up to five chicken while others say you need one box for three to four chickens. If you can afford more boxes, follow the latter guidelines to help promote the proper animal welfare for your hens. Of course, you should feel free to experiment if you choose to see what number of boxes works best with your flock.
How large should the chicken nesting box be for your chickens?
Depends on the chicken breed you have, the size of the nesting box can vary. A standard nesting box is fine for chickens like Leghorns, Sussex, Plymouth Rocks, and hybrid layers that require a size of about 12-inches tall, deep, and wide.
For a larger breed chicken like a Jersey Giants, you will need a box about 14 inches wide, 12 inches deep, and 12 inches tall. A Bantam hen can be just fine a little smaller box about 12-inches wide, 10-inches tall, and 10-inches deep.
How do you get your chicken to lay their eggs in a nesting box?
First, ensure that there are enough nesting boxes for all your chickens, so they don't become overcrowded. Chickens prefer quiet and dark places, so you need to make sure the nesting boxes are placed in a dark area of the coop and several inches off of the floor.
Next, make sure you regularly collect the eggs since a nesting box that won't be an appealing place for a chicken to lay their eggs. Typically, you should collect the eggs two times a day and ensure there are plenty of spots that are empty for your hens to lay more eggs.
How do you to stop chickens from pooping in their nesting box?
Usually, a chicken will poop in a nesting box if they also sleep in it at night. This usually happens with young pullets that aren't used to sleeping on a roost with the other hens. It's important that you stop this type of behavior when the chickens are young to stop it from becoming a habit.
An easy solution is to wait until after dusk and take out any bird that is sleeping in the nesting box and put them on the roosts to sleep. Make sure that the roosts are placed higher than the chicken nesting boxes. But, if it doesn't stop this bad behavior, just block the nesting boxes before dusk.
Do chickens need nesting boxes?
Yes, if you want to provide a stress-free environment for your laying chickens, then a nesting box will provide a safe, and individual location where they can lay the eggs. It is also perfect for shy hens who might otherwise have difficulty laying.
There are also huge advantages for the farmer since it will prevent the bird from laying the eggs in secluded corners of the coop or even outdoors where you might not find them or where they might be eaten by predators. While nesting boxes are not a must, they are certainly a necessity if you want what's best for your birds and yourself.
Why do chickens sleep in a nesting box?
There can be a few reasons why a chicken will sleep in a nesting box, but they tend to be easy to fix. If a nest box is placed higher than the roost, then the birds will use it as a sleeping spot. But, if only a few birds use it as a sleeping spot, then you need to look at their feet to see if there are any injuries as that might stop them from perching on their roost.
If you have a broody hen, then it will need to pick a nesting spot, and a nesting box gives it all the condition it wants, so it will quickly use it as its sleeping spot. Age can also be a consideration since young and old chickens may find it difficult to reach their roost.
What material should you put in your chicken nesting boxes?
If you have a DIY chicken nesting box plan, don't forget the inside of the nesting box. You have a few types of materials that you can use for nesting including straw and pine shavings, which are great choices and are easy to find in a local store. Sawdust is pretty affordable since you can obtain it cheaply and even for free if you go to a sawmill.
You can also get pine needles for free if you happen to have pine trees around you, just remember that soft pine needles are preferred. While you can use leaves in the fall, they can be messy. Also, if you do buy nesting pads, they are inexpensive and easy to wash.
Where is the best nesting area for chickens?
The best nesting area for chickens is an area of the coop that isn't traveled a lot, so your hens won't be disturbed when they are laying eggs. You will also need to elevate the box several inches off of the ground, but not over two feet.
Any higher than two feet, some birds won't be able to get into the box. Make sure that the nesting box isn't at the same level or higher than the roosting bar or the birds may decide to sleep inside them.
Each of the nesting boxes on our list is chosen for its reliable and easy egg collection as well as optimized for chicken wellness and health. Nesting boxes can vary in features, materials, and sizes, so it's important to consider your flock and their needs. Make sure you use the buying guide and FAQ section to make sure you choose the best nesting box for your flock.
Nesting box tapes
Comparison Chart
Best Nest Box
Product Dimensions 48.25 x 21 x 21 inches
Item Weight 40 pounds
Frame Material Steel
Little Giant Nesting Box
Product Weight 3.97 lb.
Product Length 16 1/2 in.
Frame Material Polyethylene
RentACoop Roll-Out Nesting Box
Product Dimensions 17 x 13 x 6 inches
Item Weight 14.37 pounds
Frame Material Steel
Harris Farms Nesting Box
Product Dimensions 6 x 6 x 1.93 inches
Item Weight 5.3 ounces
Frame Material Steel
Duncan's Chicken Nest
Product Dimensions 28 x 13 x 34 inches
Item Weight 25 Pounds
Frame Material Steel
Wood chicken box
We figured it'd probably be best to go ahead and do a quick review on the nesting box that we're using today. Some advantages and maybe some disadvantages to using this type of nesting box, we've used several different types of boxes. And for the most part, they were basic, so essentially a wooden box that had straw underneath that allowed the chickens to come up into and lay one after another lay eggs in a pile. And then once a day or twice a day, we would come and collect the eggs.
So now here in desert, it's very, very dry. So we rarely have an issue with eggs getting dirty. But when you have them all sitting inside of a box, anybody who's raised chickens nose, every once in a while you get one or two that likes to go in the box, and they go right on top of all the eggs. So they have a tendency to get a little bit dirty. And of course, when it rains, that is even more so. So that would be the first issue with a standard size standard box.
The second thing would actually be the chickens themselves eating the eggs. So obviously, you get one or two rogue chickens that is hungry for eggs, and they'll chow down on those eggs that are in that pile. So those are the two major disadvantages.
Of course advantages very inexpensive, they're very easy to make, you can make them out of scrap wood, and they're very easy to move around. So if you have a box, you can easily move it from one place to the next. But in the end, they there are some challenges. So when we moved on to the new property, we took all of our hands with us, we have 13 laying hens, and we wanted to try out a new box.
Metal nesting boxes
After doing some research we found kind of settled on this one here. This is the homestead of the Metal nesting box. We really wanted something that helped to roll the eggs away from the chickens as they were laying also wanted something that was easy to clean and easy to collect as far as the eggs, and there are a few different options out there.
Now we actually just added this one, when we bought these, we bought the three box. And that's actually been in use since October of last year. So about seven months, we just installed this one today, because we're adding about 20 more laying hens to our flock here over the next couple of months biggest advantage. And what does work really well would be the eggs dropping down into this little bottom of the tray and staying away from the chickens and keeping them clean. So that does it's very effective.
Now when we first brought our chickens in, we were a little nervous as to whether or not they would utilize these nesting boxes. So what we did is we took some straw, really thin layer of straw, just spread the straw in here. And when they first came in, the only thing they saw was a new coop new run and these weird things. So obviously, they're curious, they went in and kind of peeked around a little bit right away. And then it didn't take them long. Within a week, they were laying in these boxes, and it was working fantastic.
And even today, for the most part, all of the chickens lay in these boxes, with the exception of those bottom of the pecking order of chickens, we've got one in fact, she's in here. Now, that's top of the pecking order and she will literally drag some of them out of the nesting boxes. But that's not unusual. She's done that before. So definitely not a function or dysfunction of the box itself. That works just fine. So very easy for you to actually get the eggs. So they do pile up in here they work it works wonderfully.
We usually have multiple eggs in each one of these boxes with the 13 hens that we have. So very easy to get to. The second thing is very easy to clean, all you need to do is basically just pull these out. So it's a there's like a little lip in the back here. So basically you just pull on this, the whole thing comes out. So it's very easy to pull out and clean. Now it is made out of plastic. So durability wise, I'm not sure how long these are going to last.
Plastic chicken nesting boxes
Obviously here, we're really rough on plastic. So we'll be a pretty good judge of that. But very easy to take them out and clean them when you do clean them and easy to put right back in and just kind of snaps into place once you get into the right spot. So very, very easy to put back.
Either way cost so cost would probably be the biggest disadvantage. It, it is a lot more expensive than building a wooden box on Amazon today. And obviously, the doubles and the triples are much more expensive.
One other thing. So they do talk a little bit about your chickens not been able to get into the eggs and pack them. And there's a girl who's in here right now with me who's a menace to our eggs. And she knows it. She's our top of the pecking order girl and she likes to look for eggs. So now what we noticed really quick is she figured out there's holes at the bottom of these of these trays to allow dirt, poop, that kind of stuff water to get out from underneath here. Right away, she went from the bottom and started pegging it eggs underneath. So we taped them up so that she couldn't get to the bottom. And as soon as we did that, she started poking her head down from the front where the eggs go in. And she finds the eggs that way.
So if you have a chicken that is really into eating eggs, she's still going to figure out a way to get down to those eggs. I really do like these nesting boxes. I think that for us, we're going to really put these to the test as far as the plastic is concerned because in my opinion, it seems like that's probably the only real major disadvantage is the fact that the plastic is going to break down over time.
And here in Texas, our weather is extremely rough on plastic. So we'll kind of see how these Hold up. Overall though, think it's a good product as long as you're willing to fork out the cash for it.
Read more from prestigequeen: