Candler Egg Tester
by Jennifer Behm – Chicken farmer| Last Updated 09/09/2020
For those of you unaware, there are many different benefits to candling that you can experience during your chicken-farming process. Egg candling is a process that gives you the ability to steal a sneak peek inside of an egg without having to crack it open. This process comes with many benefits, offering you more accurate hatch dates as well as an improvement in your skills with egg-handling since you can learn from your mistakes this way.
If you're interested in learning how to use an egg candler, then this guide can help you become the best in the business, regardless of whether you're a beginner or have more experience under your belt. You can be sure that you're in good hands, considering I've been in the chicken-farming business for years, growing poultry for my family. Because of that, I have countless experiences with candling eggs over the years. So read on if you're interested in learning how.
Candling hen egg
What You'll Need to Follow This Tutorial
Any type of candler
Eggs
Notebook
Pencil
Dark room
Instructions Egg Candler light
Step-By-Step:
1. Choose a candler for eggs
First, it's important that you consider what type of candler you're going to use for your candling process. Technically, simple flashlights or candles can be used for candlers, since they're capable of shining light up into the eggs without causing harm to the babies inside of them. But there are also more high-quality and technical candlers that come with features that can make your life easier.
For instance, there are even high-tech candlers on the market that are capable of photographing the interior of the eggs to make your monitoring easier. Furthermore, there are even candlers that you can make on your own using an LED flashlight and a piece of cardboard. For further assistance, this YouTube video may be helpful.
The specific type of candler that you use depends on the number of eggs that you're processing as well as how often you engage in the candling process. Your experience level can also impact the type of candler that you should be using since it requires more skill to successfully examine the interior of eggs with an LED flashlight. Once you have your candler set up and functional, you'll then need to become familiar with the different times at which you candle the eggs.
2. Candle as soon as they're placed in the incubator
Perhaps the most important time to candle your chicken eggs is when you first place them inside of the incubator. This is vital to the overall egg-handling process because if you don't candle the eggs to check for tiny cracks or other issues, then the egg may be useless later on.
When eggs are cracked, they can risk collecting bacteria on the interior of the egg's contents, which may even cause the egg to explode. Because of that, you'll want to examine all of the eggs for wrinkles, cracks or other deformities before placing them into the incubator. To see what a cracked egg over a candler looks like, this YouTube video may be helpful.
3. Second time candling on the 4th or 5th day
The second time to candle the eggs is on the fourth or fifth day, and you should see small veins that are the size of hairs spreading throughout the entire egg. This image should show help in showing what the veins should look like. If you don't see the veins, then simply put them back into the incubator and wait for day seven.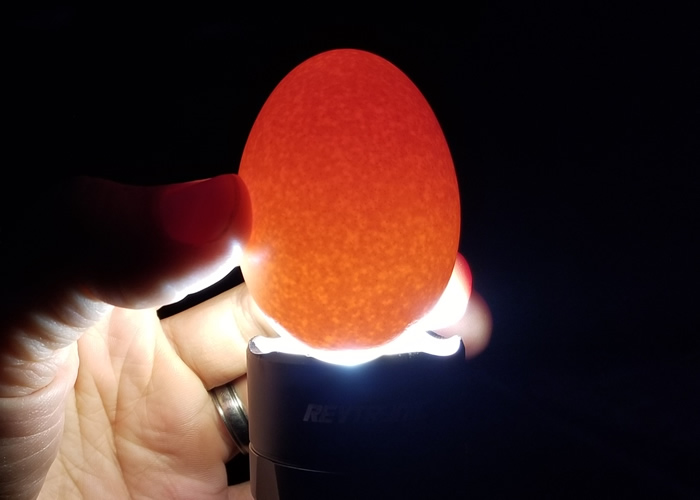 4. Candle ALL eggs on day 7
It's important that you candle every single egg on day seven because this is where the real progress should be starting, not only should there be a wide array of veins throughout the egg, but you should also notice the start of an air cell at the base of it. This is essentially what it should look like by now.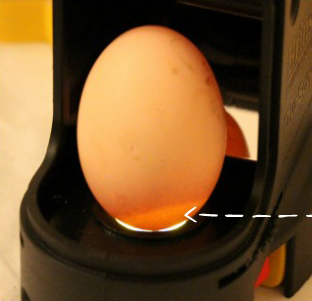 5. All eggs should then be candled on day 10
By the time the eggs reach day 10, you should see that the chick has filled up a larger amount of space within the egg's interior. You should be able to clearly see the eye as well as an expanded air cell. And you may even be able to see some movement inside as well. This image should help to clarify.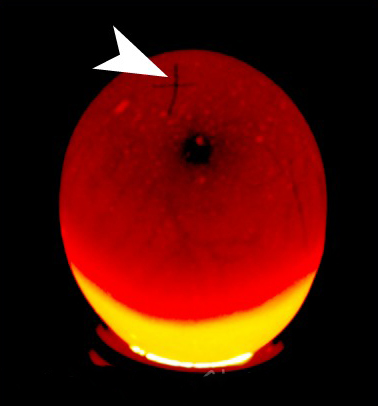 6. Stop candling by day 18
It's important that you stop the canceling process by the time day 18 reaches, since this time period is when the baby is getting in the hatching position. You should avoid moving the eggs around too much because it can negatively impact the hatching time of the egg. Also, you'll want to turn off the automatic turner feature on the incubator to avoid any more movements. To make sure your eggs are on the right track, here is what a standard egg looks like on day 18.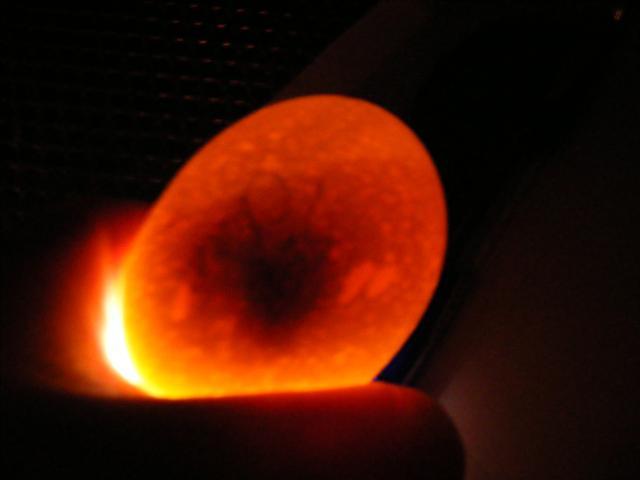 Pro Tips for Egg Candling:
Don't candle daily, since this can negatively influence the egg's development
Make sure the eggs are clean before you handle them to ensure clear vision through the eggshell
Take extra care when you're candling darker eggs, as they're more difficult to see through
Keep good notes each day of the candling process, recording the egg's temperature, humidity, its air cell size as well as the number of the day
You can even use a pencil to mark a number on each of the eggs to allow for more accurate results
Don't keep the eggs out of the incubator for more than 30 minutes
Only hatch eggs of the same kind together, since different eggs require different environmental conditions
Conclusion
I've been candling eggs for years, so the information compiled throughout this guide is derived from both my professional expertise as well as my own personal experiences. There can be many problems associated with eggs while they're in the developmental process. And there's essentially no easy-way of telling how the chick is progressing inside of the egg.
Egg candling gives you the opportunity to see inside of the egg before it's hatched in a limited way. It can help you to see any problems early on, and you may be able to either save that egg or learn from that experience for future ones. The process is easy to do, since you need minimal equipment and it requires basic skills.
After you have the right kind of candler that you want to use, make sure that you're in a dark room and check each of the eggs on the specified days. Make sure that you keep track of their progress and treatment throughout their 21 days in the incubator, and care for the chicks just as you would care for your children.
I hope you've enjoyed this tutorial and that you learned the valuable insight involved in candling your own eggs at home. It may seem difficult at first, but you'll get better with time and with the more experience that you have. As per usual, make sure you comment if you have any comments or questions, and give this a share if you found it helpful.
Egg Canding Guide
How do you make an egg Candler?
Read More from prestigequeen.com :