Best Backyard Chicken Coop

by Jennifer Behm – Chicken farmer| Last Updated 09/09/2020
Whether you have a full-on farm or a small and simple backyard, technology and some building tools make it extremely easy nowadays to have a chicken coop in your backyard. Chicken coops are essentially mini houses for chickens, and they can make your chicken farming practices much more organized, humane and they can make the process, in general, a lot easier.

The market for chicken coops is extremely diverse, sometimes making it a difficult process to try and find the best chicken coop for your personal preferences. But it can also be easy to find your coop, as long as you know what you're looking for. In this guide you'll find some of the more vital information to consider before buying a chicken coop, including the different designs, styles and features to look for. Not only that, but this guide also contains some of the best coops on the market, reviewed and featured all in one place for your convenience.
Top 10 Chicken Coops in 2020 Reviews

Aft If you're looking for a chicken house that's capable of housing large chickens and offers the most convenience for you, the LAZY BUDDY Wooden Backyard Coop may offer the most benefits for you. When you first receive I it in the mail, you'll notice that it comes with a large wired box attached below the nesting box area. This is beneficial for having various chickens, since some can run around on the bottom part while the others are in the nesting box.
In addition to that, this box also features an adequate amount of ventilation, since the doors and windows are ventilated. Not to mention, the whole bottom compartment is enclosed by a durable wire fence. This coop in general has a compact and low footprint design that's convenient for both your chickens and you.
Design & Materials
The design in particular features a large amount of space for your chickens to nest in, feed-in and roam in. There's a built-in ramp as well as a dual-section nesting box to offer separate spaces for each chicken. This chicken house specifically measures 83 inches by 35 inches by 48 inches, and it weighs 83 pounds.
The material itself is classified as a weather-resistant, treated wood. That being said, you can easily place this hen house outside without having to worry about weather negatively impacting its design. There's even a waterproof asphalt roof that can push the rainwater away from the nesting section.
Overall, I would highly recommend this chicken house from PawHut to anyone that has either a larger number of chickens or for people that have chickens larger. It offers great roaming space, durable construction and it's convenient for setting up along with a wired fence due to its ability to attach to fence enclosures.
Pros:
Can fit up to 6 adult chickens
Attaches to an open wire fence
Features a dual-section nesting box
Cons:
More heavy weight than other coops on the market

Offering an ecoFLEX material in addition to a sturdy, solid construction, the New Age Pet Fontana Chicken Barn is suitable for anyone needing more protection for their chickens. EcoFLEX is classified as a material composed of a blend of recycled wood and polymer. Because of that, it's eco-friendly and durable at the same time.
Even more, this chicken barn comes with a removable roof that can allow you to more easily clean the inside of the barn. Additionally, it's also resistant to moisture, warping, cracking and even splitting. So not only does the construction withstand against weather and other debris, but it's great for the environment.
Design & Materials
As for the design of this barn, it measures 34 inches by 47 inches by 24.5 inches, so you can easily fit anywhere from three to four chickens inside. This barn does weigh more than other ones on the market, since it features a solid construction.
But the protective qualities as well as the eco-friendly features should make the barn worth the extra weight. It's also available at an affordable price, so you can easily afford to protect your chickens the way that they deserve.
Given the affordable price, eco-friendly construction as well as the solid protection, this chicken barn from New Age Pet is recommended for anyone that needs a durable house to place their chickens outside. It offers great ventilation that's covered by the roof in the rear, so it functions as a fully-enclosed house to provide your chickens with the safety needed to avoid predators while outside.
Pros:
Features a durable, solid construction for optimal protection
Made with ecoFLEX, which consists of recycled materials
Removable roof makes this barn easy to clean when needed
Cons:
Doesn't come with an exterior open pen for roaming


For those of you interested in finding a chicken coop that offers optimal airflow, the Esright Extra Large Chicken House may be suitable for you. It features around 80% of the design in a wire material, making it extra beneficial for free-range chickens. In addition to the corrosion-resistant wireframe, this chicken coop comes with a removable PVC bottom layer to ensure that you can easily clean the coop.
In a Additionally, it offers more versatility than other chicken coops because it features two high-quality ramps with timbre ridges to keep the chicken from sliding back down. Also regarding an easy clean-up process, this chicken coop comes with a deep pullout tray that can prevent the waste from spilling over.
Design & Materials
The house altogether measures 12.4 square feet, making it especially beneficial for letting your chickens run back and forth. The ramps to take a wider amount of space, sometimes making it difficult for larger chickens to squeeze between the outer wire wall and the ramp. So you'll want to keep this in mind if you have larger chickens.
As for the construction itself, the house weighs around 69 pounds, so it's easier to transport than some other cages on the market. And it features around 80% wire-enclosing. The raised nesting box, however, is made of a weather-proof wood material for durability and protection.
Because of the long-range design as well as the increased airflow of this cage, I would recommend it to anyone with chickens that need to run and want the increased ventilation. The wire construction allows for optimal airflow and it can benefit practically every chicken's experience and well-being.
Pros:
More affordable than other chicken coops on the market
Offers optimal airflow with the wire design
Easy to clean, given the deep removable tray and the PVC floor
Cons:
Previous customers complain that there isn't room for larger chickens to squeeze through the narrow spaces between the wire and ramp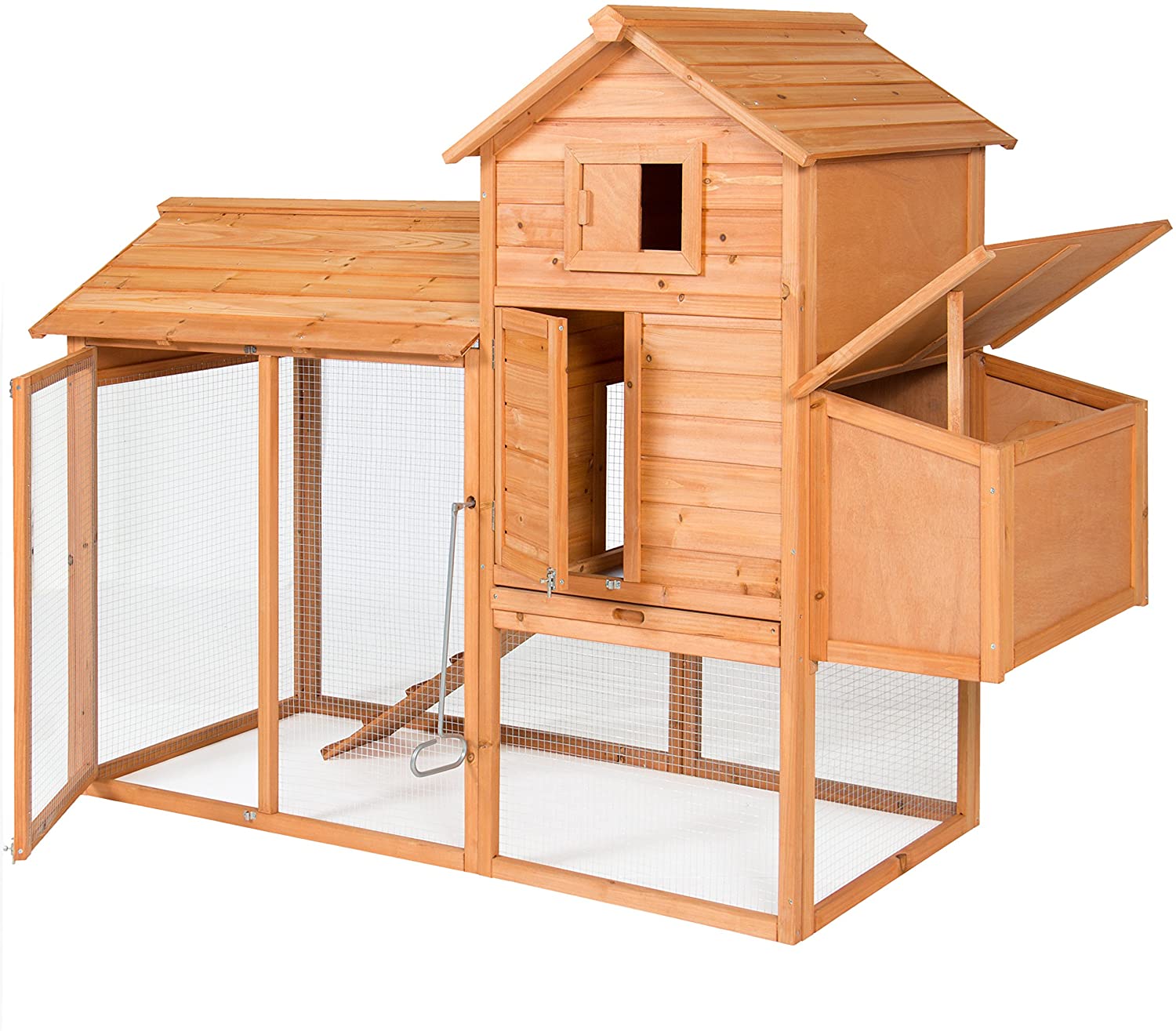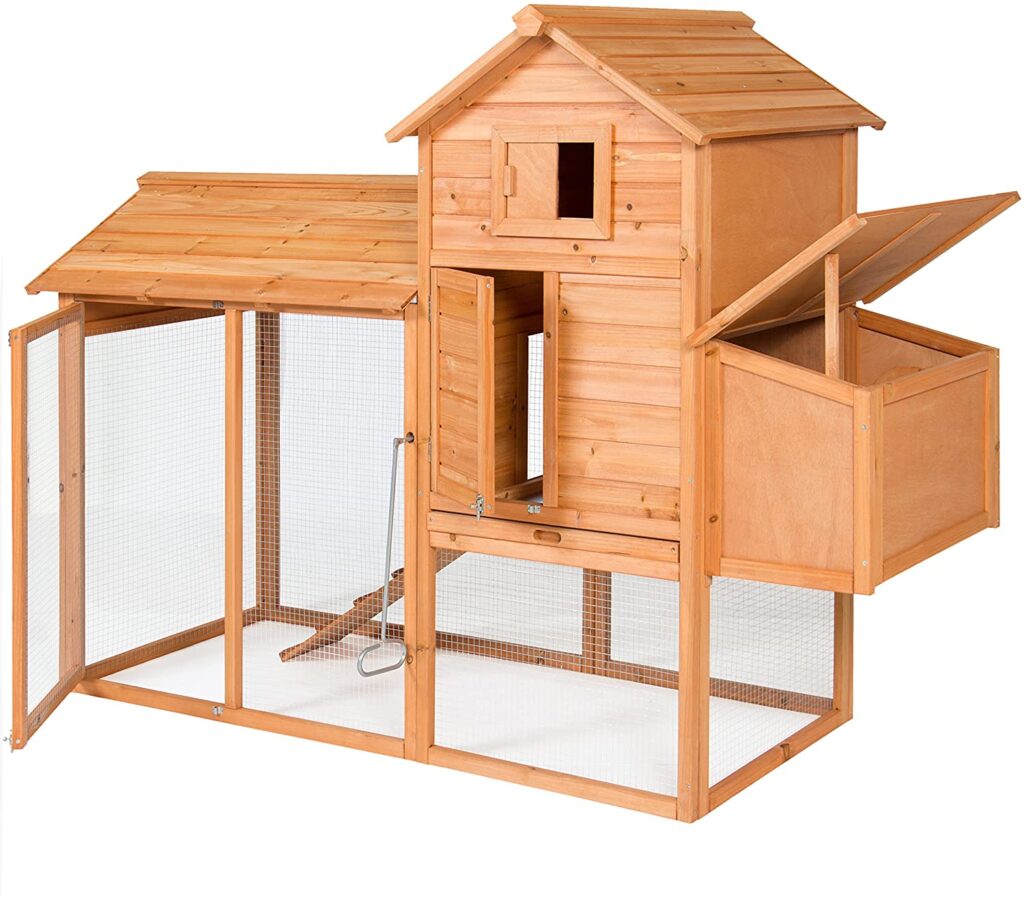 Classified as having the most high-quality construction, this chicken coop from Best Choice Products is great for anyone needing a compact, reliable and durable house for their chickens. It has a higher quality construction compared to the other houses due to its raised nesting house as well as its wide and long roaming area attached to it.
The roaming area is closed in with an anti-corrosion wire material that can resist rust and prevent predators from breaking through the cage. There's also easy access between the roaming area and the nesting box because of the sliding door and the ramp. The house itself also has two doors with metal locking systems to prevent any chickens from escaping or other animals from getting in.
Design & Materials
Regarding the design of the house, it's much larger than other cages while still offering maximum durability in the meantime. It measures 79.5 inches by 26.5 inches by 51.5 inches, and it weighs only 50 pounds. Because of that, you can easily transport this cage around your yard.
Furthermore, it's made from a natural fir wood material that offers weather-resistant and waterproof properties. Given that, you can confidently place this chicken coop outdoors without worrying about the rain negatively impacting the construction.
Because of its high quality and larger design, this chicken coop is more recommended for people that want a long-lasting coop with weather-resistant capabilities.
Pros:
Features a raised housing
Larger than most other chicken coops
High-quality, weather-resistant and natural fir wood construction
Cons:
More expensive than some other wood hen houses


Available for a great price and offering a lightweight construction, this chicken coop from Tangkula is great for anyone on a budget and needing an easy coop to set up. The cage features a natural fir wood material that offers weather-resistant and UV-resistant properties.
Additionally, this cage offers room to keep all chickens occupied, since it contains an area for nesting, resting and there's even a ramp to get from one space to another. The ramp has raised timbre for safety, and there's even a sliding door for easy access.
Design & Materials
The hen house in general measures 58 inches by 21 inches by 34 inches. And it only weighs 41 pounds, making it easy to transport throughout your backyard. The material itself is a natural dir wood that's painted with a non-toxic, waterproof and eco-friendly varnish coating.
Because of its super lightweight and protective design as well as its affordable price, this chicken house from Tangkula is recommended to anyone that needs a chicken coop while on a budget. The roof is even waterproof and UV-resistant, accounting for more long-lasting qualities.
Pros:
Affordable
Features a raised housing and raised perches
Lightweight
Cons:
Not suitable for larger chickens, since they may have trouble fitting around the sides of the ramp

Made with a galvanized iron net, this POTBY 41" Chicken Cage offers UV-resistant and anti-corrosion properties. The cage itself features a sliding door and a ramp that helps to separate between a resting floor and a nesting box. To offer optimal protection in the nesting area, there's a waterproof, green asphalt roof that can keep moisture out of the design.
Additionally, there are lockable metal slide bolts to keep predators from gaining access to the inside. And you can even easily access the waste compartment for cleaning, since the tray is easily removed from the back.
Design & Materials
The cage itself is a bit smaller than other ones on the market, measuring 48 inches by 24 inches by 36 inches, but the strong and durable construction can make up for this smaller design. Additionally, it also only weighs 44.1 pounds, making it easily carried between different locations in your yard.
Overall, this cage is highly recommended for anyone that's on a budget while still looking for a high-quality cage, since it's available for a great price and offers a sturdy fir wood construction.
Pros:
Only weighs 44.1lbs
Affordable
Features galvanized iron netting
Cons:
The running area of the cage isn't covered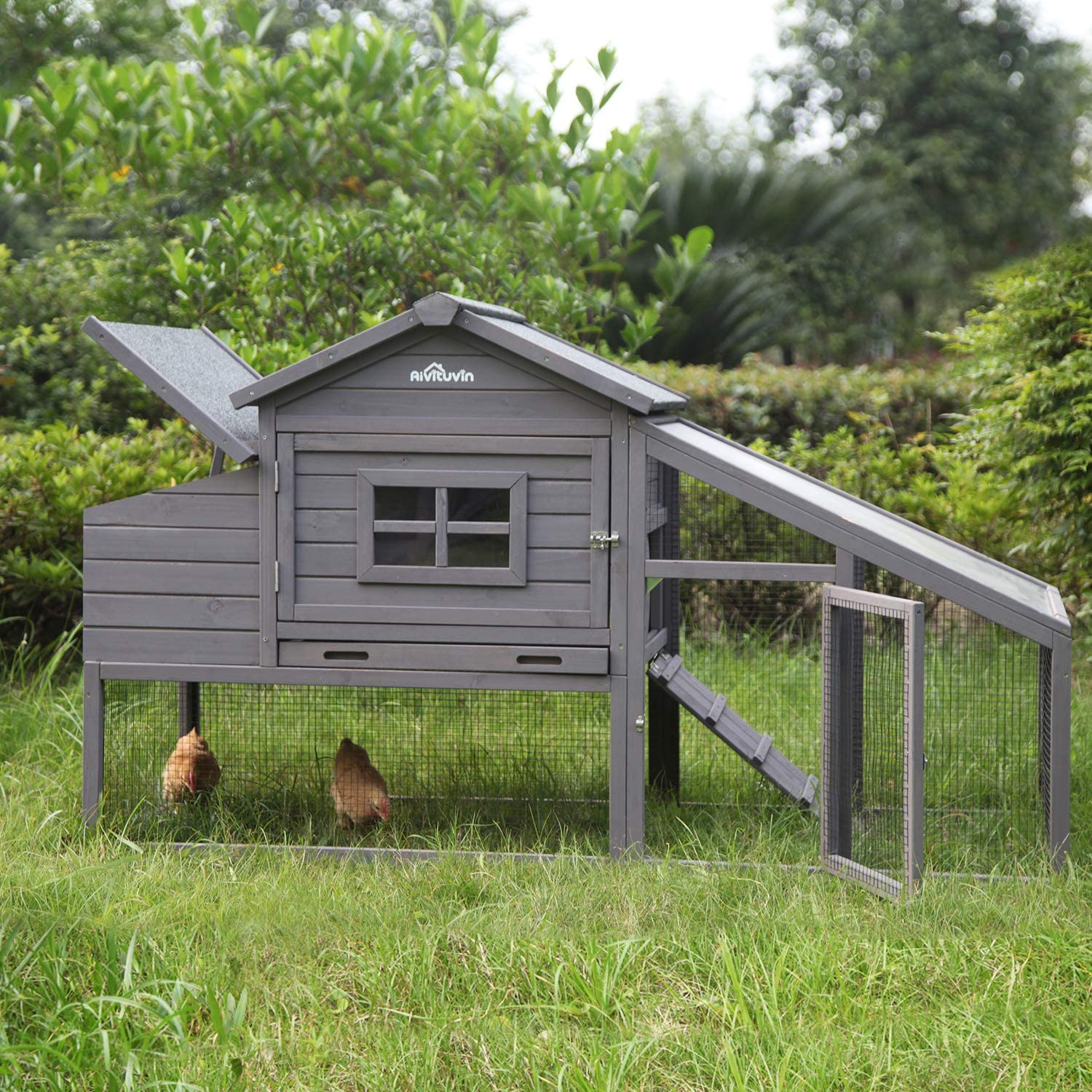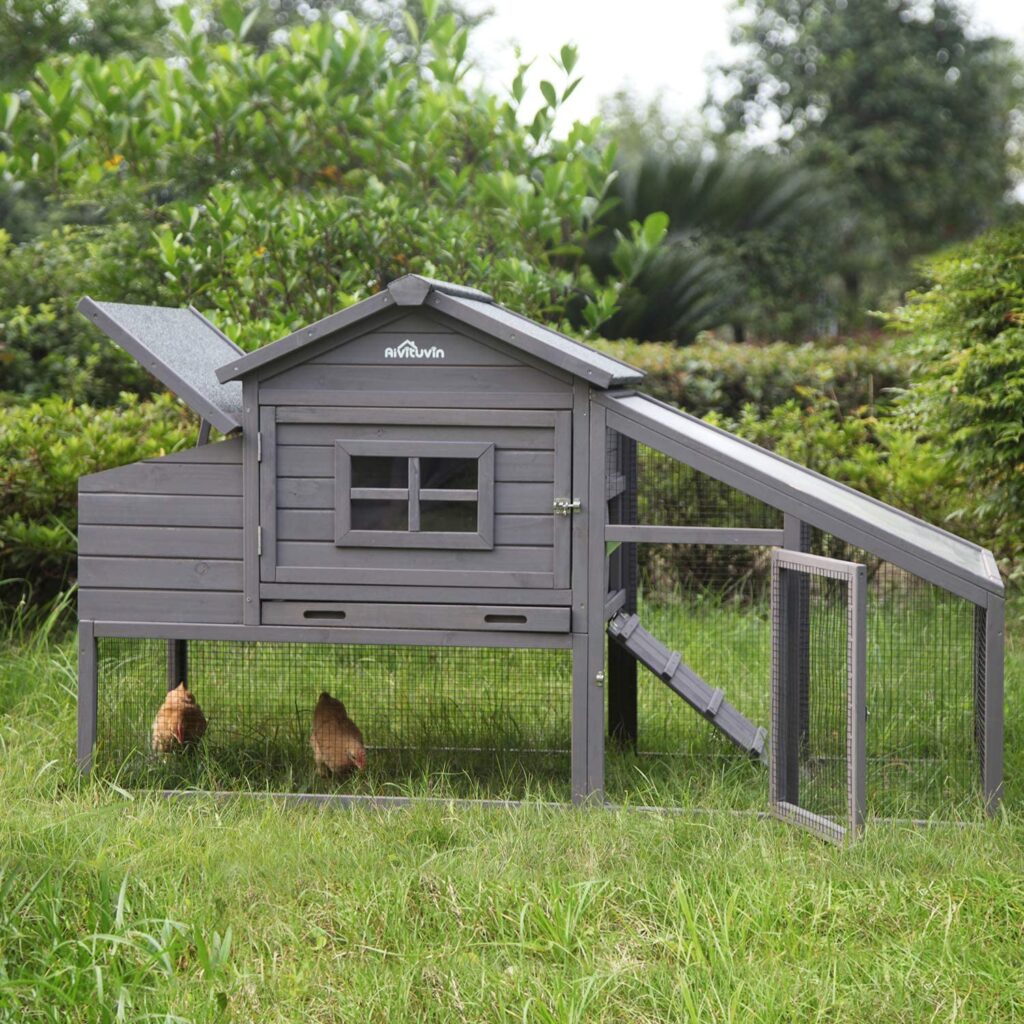 The Backyard Wooden Hen House is advised for anyone that has a higher budget and needs a more high-quality chicken coop. It's made from a durable, thick wooden material that fully encloses the design. The wooden resists UV rays, impacts, water and other chemicals, keeping your chicken completely safe.
Even more, it has four different nesting spots and has easy access to the egg collection. Furthermore, the thick wooden construction is fully-insulated, keeping your chickens comfortable in both the winter and the summer.
Design & Materials
The design measures 64 inches by 39 inches by 42 inches, and it weighs 65 pounds. You can conveniently set up this coop, since it doesn't require any tools for assembly. And you can easily adjust the amount of ventilation in the coop, given the vents in the back.
Because of its solid, insulated, and reliable construction, this chicken coop is recommended for anyone that has the budget. You have more control over the type of environment your chickens are exposed to, and this house is capable of being used all-year-round.
Pros:
Fully-insulated for all-year-round
Features w nesting areas
Easy assembly and maintenance
Cons:
One of the more expensive chicken coops on this list


Named the best chicken house overall, the Pets imperial Medium Chicken House is suitable for a variety of different animals during practically any type of weather. It's highly equipped with various features to improve the living condition of your chickens. For instance, its siding and flooring have been treated with a resin to resist moisture. The roof is even specifically designed to make water runoff instead of collecting.
Even more, there's a radiant barrier sheathing on the roof to keep the inside cool. On the interior, the house is constructed to have three different nests, two vents and even two roosts for chickens to feel comfortable. Lastly, there's a main door and a chicken door, each treated with wood resin.
Design & Materials
The house measures 50 inches by 50 inches by 62 inches, making it great for housing up to 10 chickens inside. That's more than double what the other chicken coops can offer. It does weigh around 300 pounds because of its solid wood construction, so you'll have to accommodate for portability.
The OverEZ Chicken House is suitable for anyone that has the budget and the means to have a highly-beneficial and reliable chicken coop in their backyard. It's one of the easiest houses to assemble and it even comes with touch up paint for when the weather chips the outer construction.
Pros:
Houses up to 10 chickens
3 different nest areas and 2 vents
Easy assembly
Cons:
Costs more than other houses, and it weighs 300lbs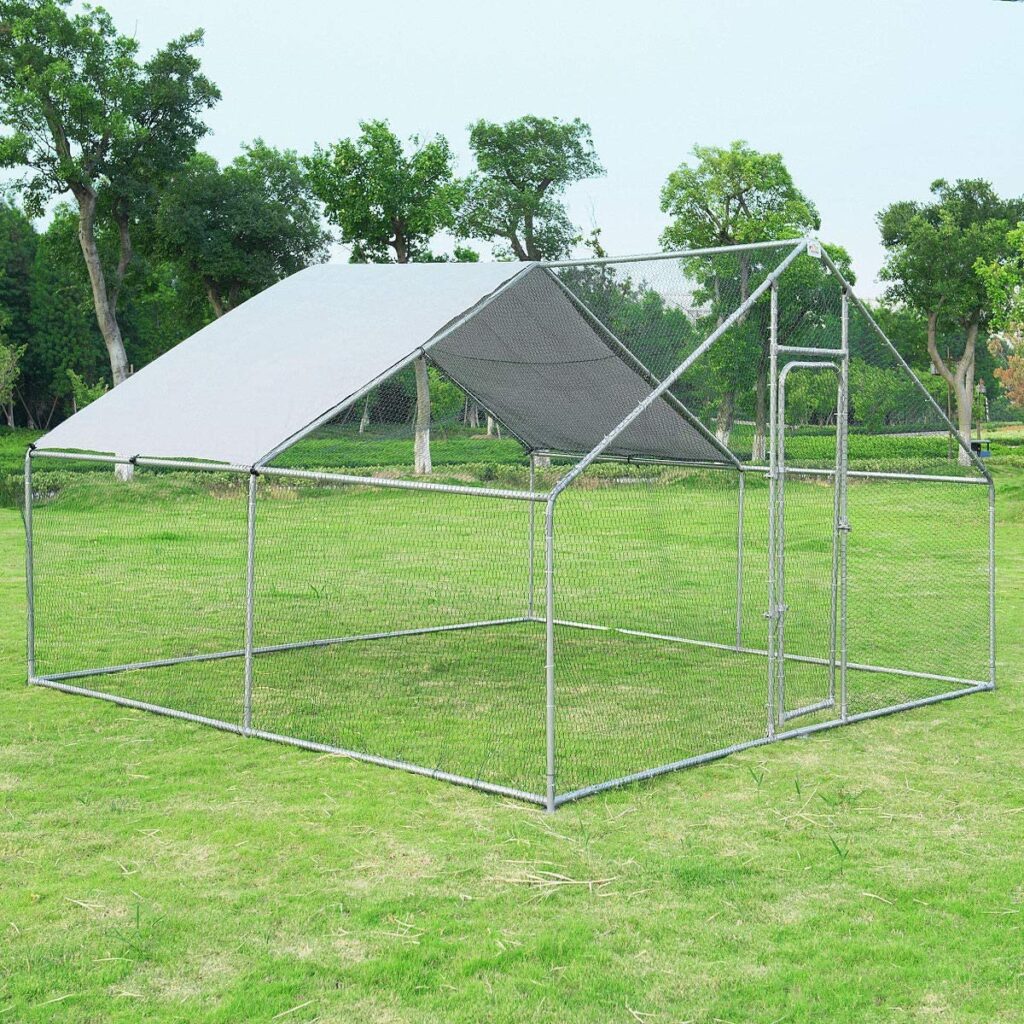 Constructed solely with a large roaming space in mind, the Metal Chicken Cage is suitable for people with a large number of chickens. It features a high-quality steel frame with ground pegs that keep it sturdy against the ground. The steel is UV-resistant and waterproof.
Moreover, the open design allows the chickens to roam in a wide space and benefit from feeling the grass for a ground. You can easily set this cage up in minutes, considering it's simply a metal frame.
Design & Materials
The metal frame measures 13 feet by 10 feet by 6.4 feet, so it can fit the highest number of chickens out of any coop on this list. But this open design does make the cleanup process difficult, and there isn't a nesting box option.
This Walsport cage is recommended for anyone that needs a free-range option for their chickens, given that it's over 19-feet long.
Pros:
Features the only true free-range option
Easy assembly in minutes
Can be used for any animals
Cons:
Doesn't offer a space for nesting


Lovupet is one of the most reliable and high-quality brands, known for releasing the best products for a range of pets. This chicken coop in particular is great for its versatility, in that it's capable of housing a range of different pets inside.
There are two separate living spaces, accounting for chickens that are nesting and those that are resting. Both floors in their construction are made with a removable PVC material, making it easier to clean the house.
Design & Materials
Overall, it measures 47.2 inches by 19.6 inches by 40.4 inches, and it can fit at least two and maybe three chickens inside at once. It's also lightweight, since it only weighs 49 pounds for easy transporting. The outer paint is even UV and corrosion-resistant, so you can place this chicken coop outside.
Given the compact and sturdy design, this Lovupet Wooden Hutch is great for anyone needing a smaller house for their chickens to save room in their yard. It's also easy to care for, since the two living spaces have removable PVC floors.
Pros:
Compact design
Affordable
2 living spaces have removable PVC floors
Cons:
Not suitable for larger chickens because of the smaller living space
Backyard Chicken House Buyer's Guide
Factors to Consider Before Purchasing
Size and Design
The most important thing to consider when you're thinking about getting a chicken coop is the size and overall design that you'll need. Coops come in a variety of different designs, composed of different materials and coming with different accessories. To start, you should consider how much space you have to place a chicken coop, and then consider how many chickens you have.
If you have a higher amount of chickens, you'll want a bigger cage that allows them to have the room they need to roam. But you should make sure that you have the space for a larger chicken coop in your yard, since some of them can measure a few feet long.
Are you collecting eggs?
You should also consider whether you're planning on collecting eggs, since you'll need a chicken coop that comes with a nesting box as well. The nesting box should be large enough for your chicken to sit comfortably. It should also be raised and covered with a roof to keep them dry in the rain.
Material
Lastly, the material on chicken coops should be able to resist the types of weather that it'll come into contact with while outdoors. Whether this means waterproof properties or UV-resistance, you'll want a chicken hutch that has a long lifespan even when it's placed outside. Even more, you'll want the types of latches on the doors to withstand predators gaining access to the inside of the cage (1).
Conclusion
Overall, having s chicken coop at your home can make it so much easier to care for your chickens. Chicken houses help to keep your animal contained while still having the ability to roam as they please. They also make the clean-up process easier, which is great for those of you with a higher number of chickens. That being said, whether you have chickens simply as pets or you're nesting them for eggs, the best chicken coops in this list can make your chicken farming life easier.
Automatic Chicken Coop Door Opener
Read More from prestigequeen.com :