The Best Animal Repellents for Backyard
by Jennifer Behm – Chicken farmer| Last Updated– 07 March 2023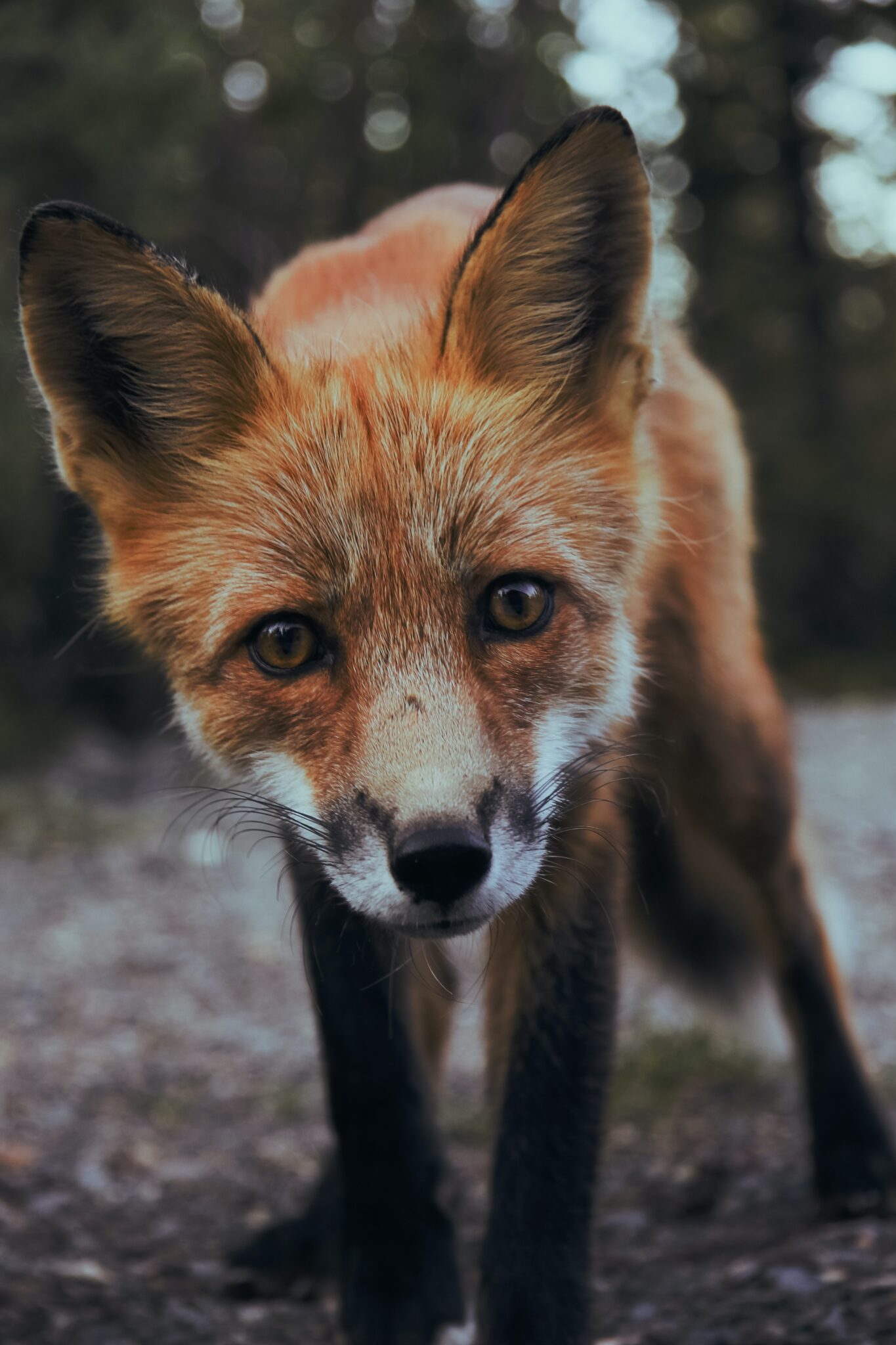 Whether you are trying to protect your chickens outdoors at night or you simply have pests, rodents or insects that have made a place for themselves in your home, using animal repellents can help to remove and prevent these animals from returning.
There are many different types of animal repellents that involved different means of repelling creatures, so its important that you choose the one that would be the most effective for your home and backyard chicken coop.

This guide can help you to review some of the best animal repellents on the market since we have compiled together a list and comparison of the best repellents on the market.
After you've reviewed this list, you should be more familiar with what types of repellents would work the best for your particular instances. So you are highly recommended to purchase the best one for you when you've finished reviewing this guide.
Reed on:
Read more from prestigequeen.com :
1. Night Predator Deterrent Control Light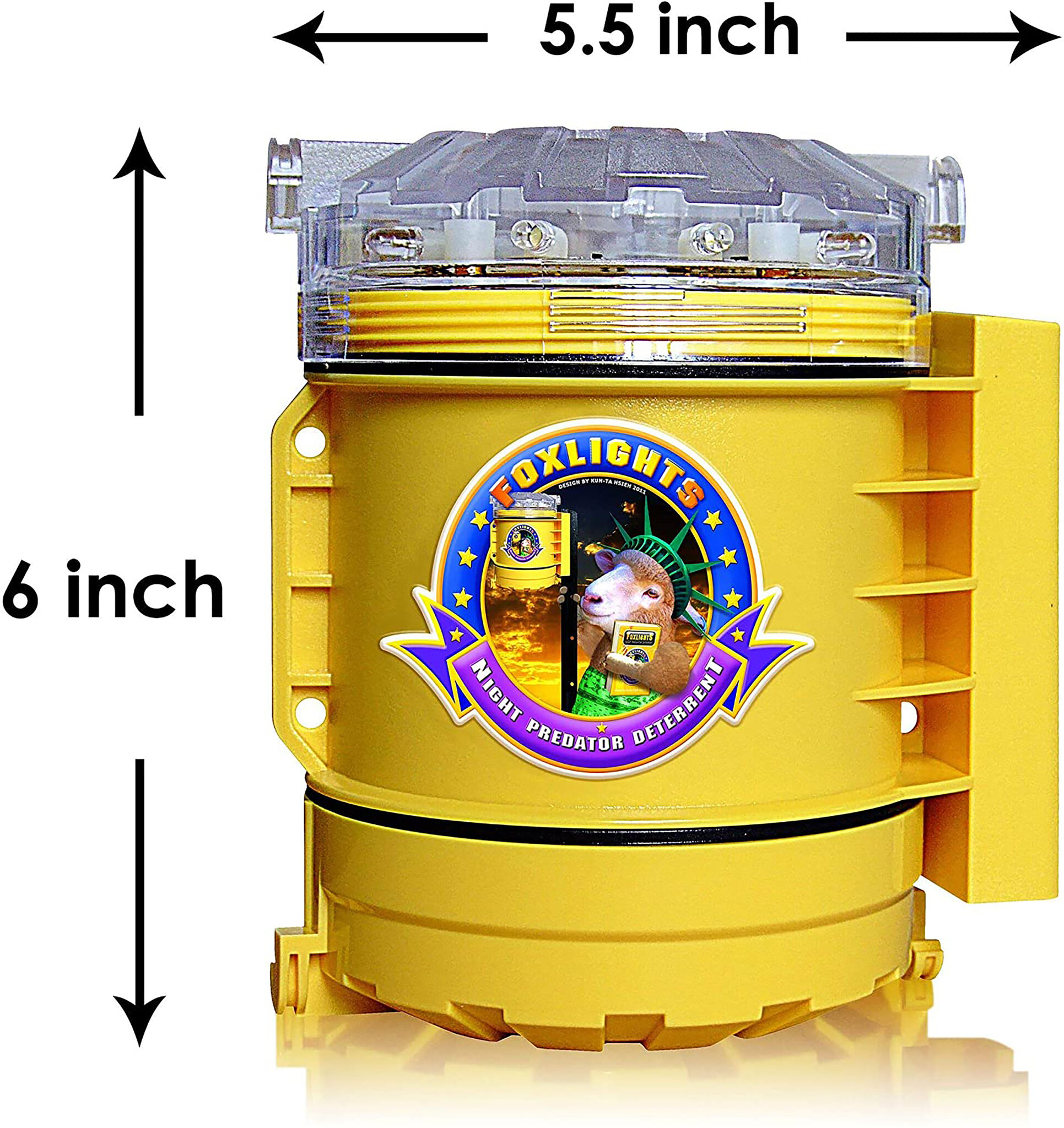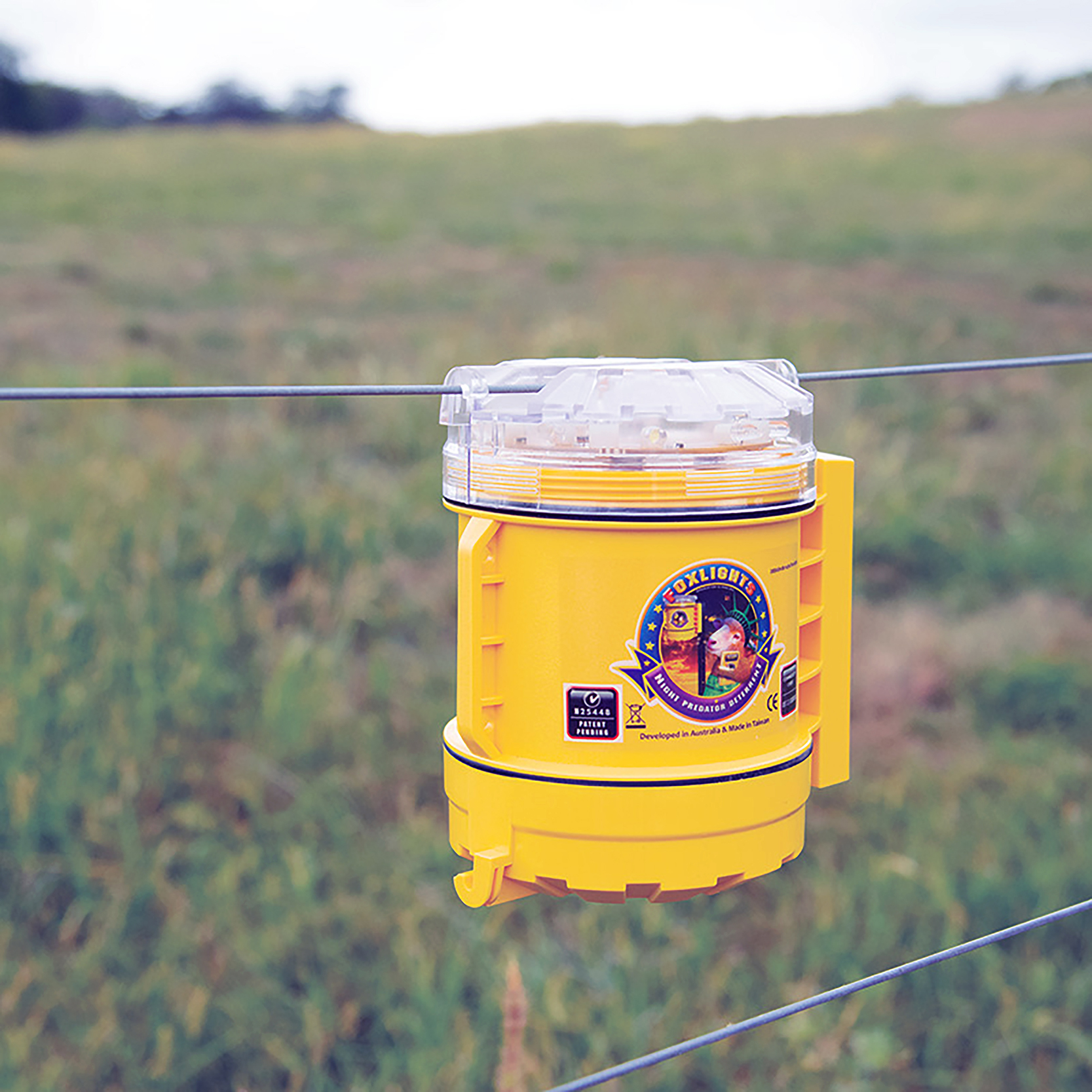 What's the price
FoxLights night predator deterrent currently costs $113.99; if you are interested, you can check the most updated price by clicking here on Amazon.
Fox lights – best Fox repellent
Capable of repelling a range of different night predators from your yard at nighttime, the Foxlights Predator Control Light is responsible for utilizing a computerized haphazard flashing light to keep predators away. The lights flash in a pattern that animals stay away from, and the light can travel up to one mile at a 360-degree radius. Its lighting patterns are specifically designed for deterring foxes, making it the best fox repellent
Design & Materials
You can easily install this predator control light either on a T post or a fence using the back slot design. The product itself is produced with high-quality plastic material that can withstand wear and tear. As for the lights, this predator control contains nine LEDs, including two red LEDs and two blue LEDs.

I'd recommend this product to anyone needing to repel animals from longer distances, given its large design and ability for light to travel up to one mile. It acts as a great fox deterrent or fox scarer.
Pros:
Can easily and securely be attached to any fence
Repels various different night predators
The design includes nine LED lights
Cons:
Doesn't include the 6V battery required for use
2. Dog Repellent Ultrasonic Outdoor Pest Repeller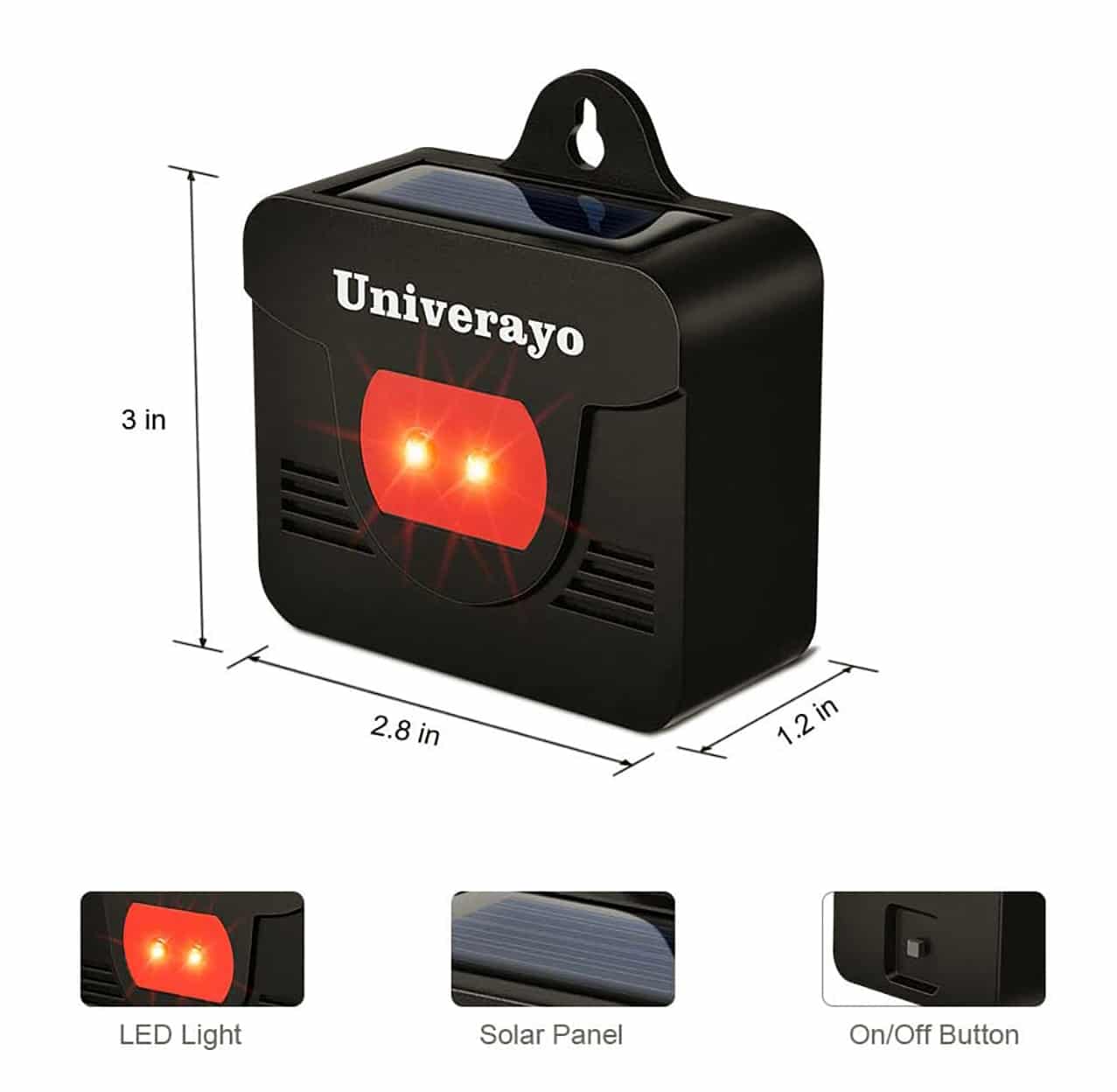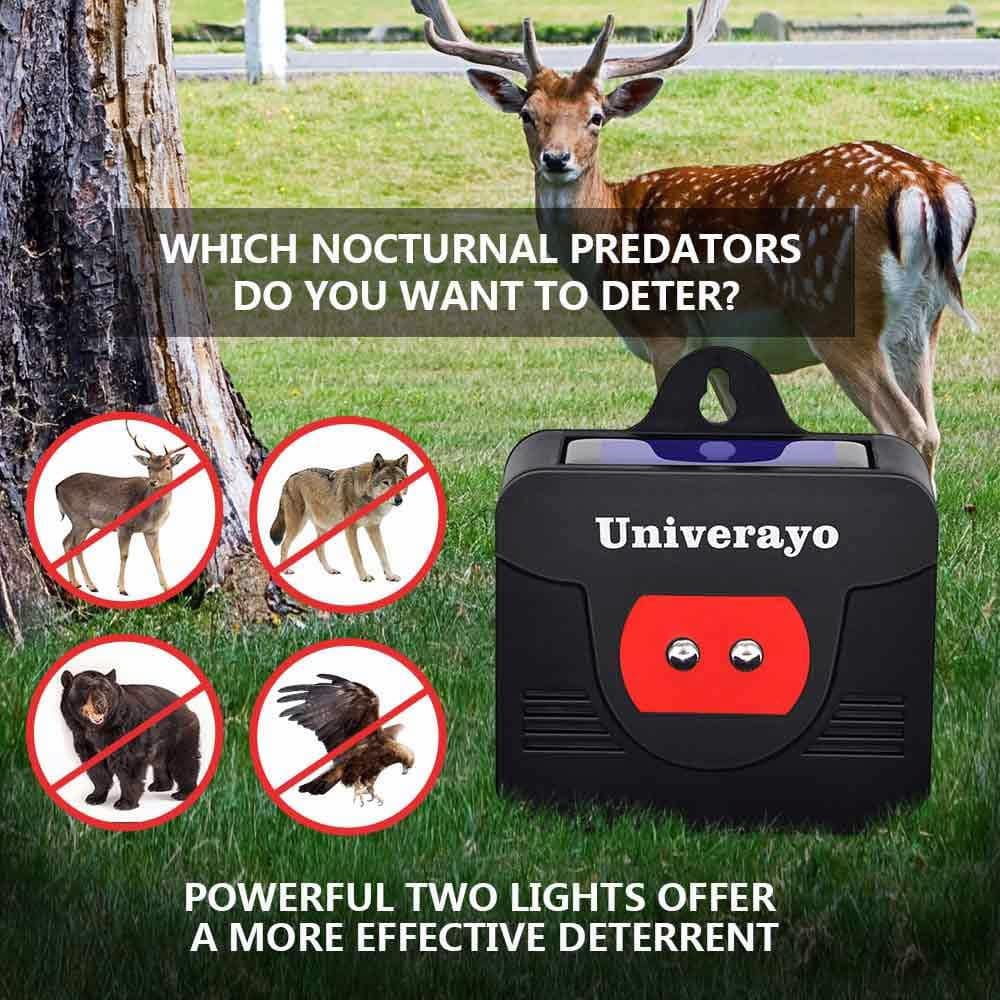 What's the price
Univerayo Coyote Deterrent currently costs $41.99 on Amazon; if you are interested, you can check the most updated price by clicking here.
Univerayo – best Dog repellent
The Lovtepets Outdoor Pest Repeller uses ultrasonic technology to repel any pests from your lawn in a radius of up to 30-feet away. The ultrasonic signal only sounds for a few seconds when pests are detected, and the device only consumes a low amount of power, giving it a longer-lasting performance.
Design & Materials
The overall design of this ultrasonic device is both cordless and rechargeable, making it environmentally friendly. Additionally, it's capable of working in a variety of different weather conditions and can be mounted practically anywhere in the ground with the aluminum spike that comes attached to the device's design.

I'd recommend this Lovtepets product for those of you wanting a more environmentally-friendly repellent that saves energy. Because of its PIR motion-sensing technology, this acts as a great fox deterrent or fox scarer.
Pros:
Can be mounted anywhere in the ground
Solar powered and rechargeable
Weatherproof
Cons:
Only detects pests within up to 30ft
3. Ultrasonic Pest Repeller 6-pack Upgraded Indoor Plugs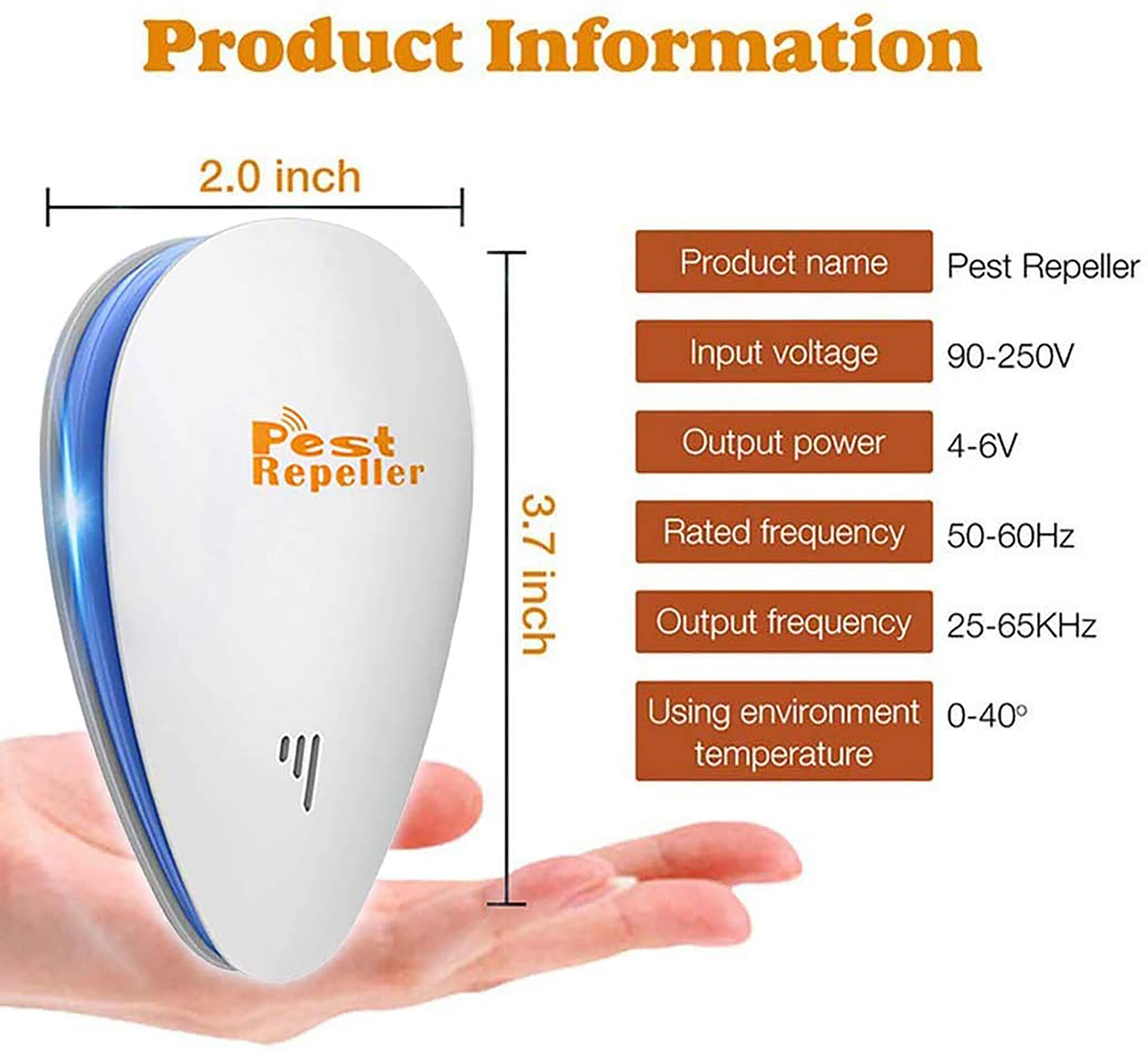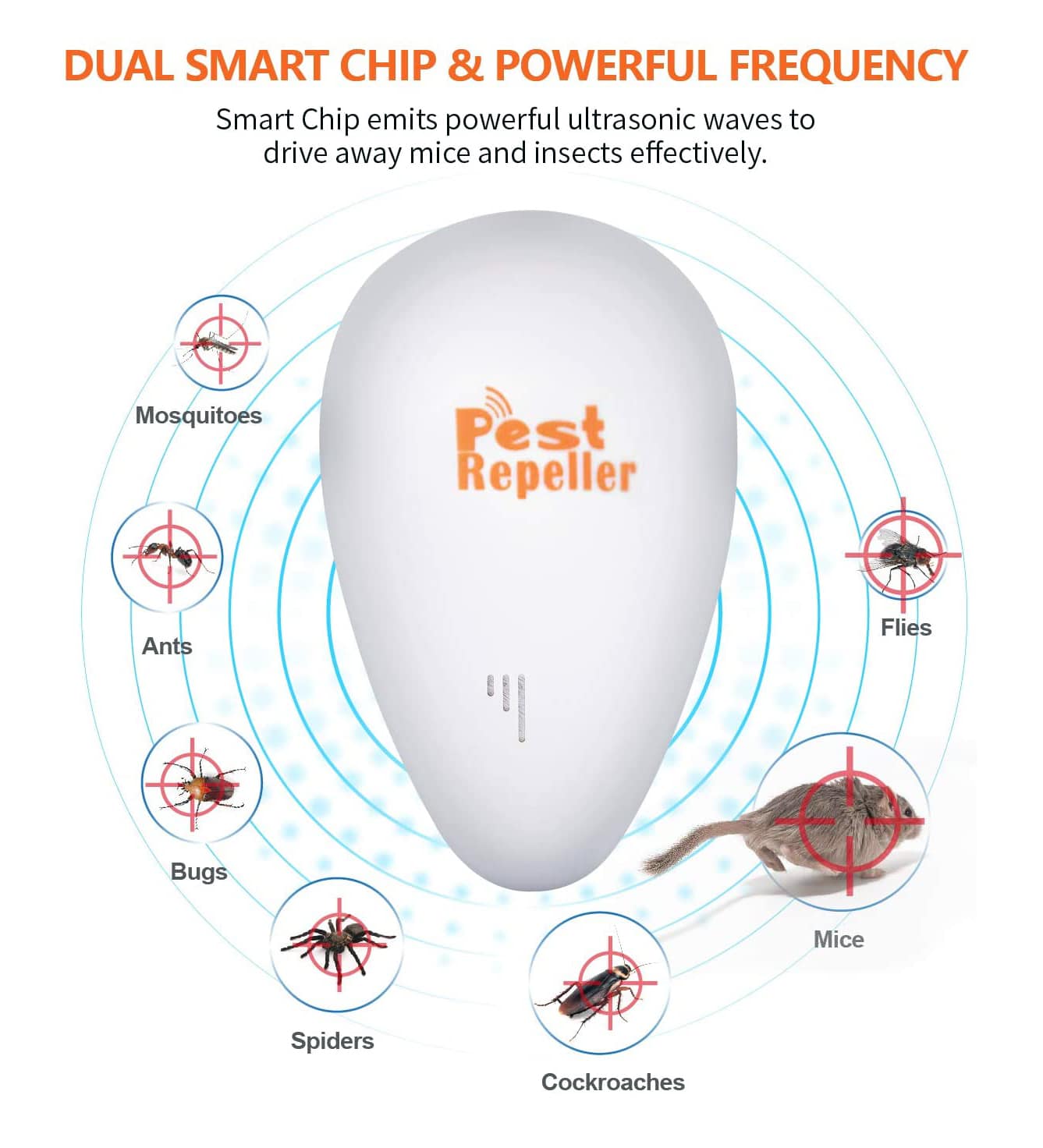 What's the price
Ultrasonic pest repelled is a good non toxic pest control that is currently available on Amazon; if you are interested, you can check the most updated price by clicking here.
Linseeda – best Pest repellent
Available in a pack of six compact plugs, Linseeda released these indoor pest repellent plugs with the safety of you and your home in mind. You can conveniently install all six plugs in different locations throughout your home to eliminate the occurrence of unwanted insects, pests and repellents. Each plug uses ultrasonic technology to repel away any animals that come within 50 inches of the device.
Design & Materials
Each of the individual plugs features a safe design that doesn't emit any odors and it's not made with any harmful chemicals. Each plug has a layered Bionic design that's responsible for ensuring that all pests within 50 inches are detected and deterred away. All you have to do for installation is plug each of the individual six plugs into an electrical outlet for protection to begin.

I'd offer this repellent for anyone wanting a safe device needed for indoor use.
Pros:
Layered Bionic design for durability and effectiveness
Safe and non-toxic design
Comes with a pack of 6 plugs
Cons:
Only suitable for indoor use
4. Original Wolf Urine Spray Bottle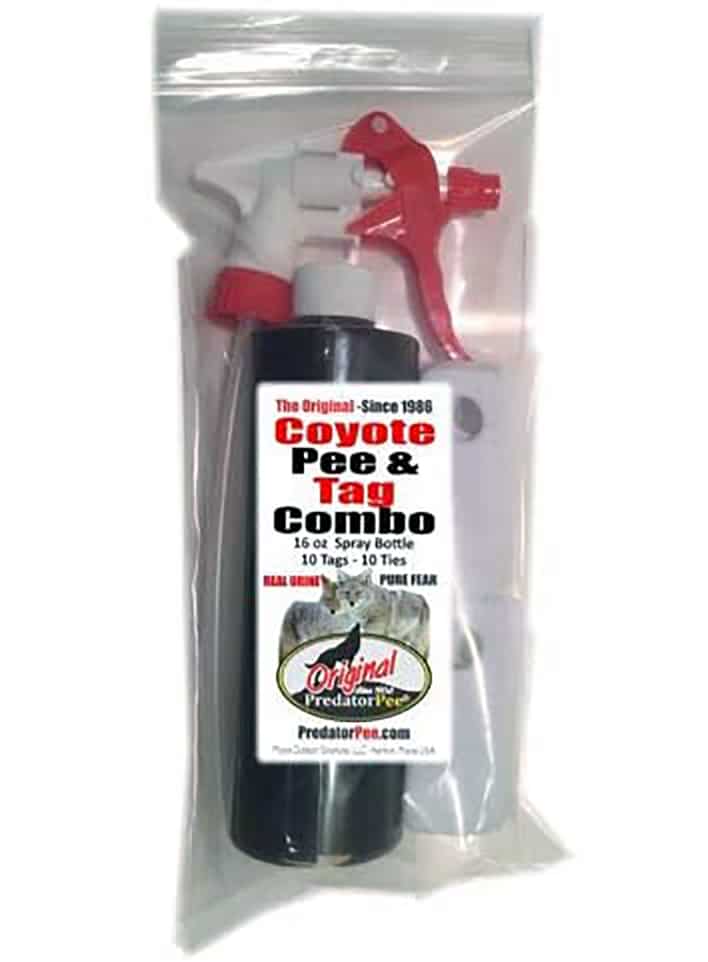 What's the price
This original Wolf Urine Spray Bottle currently costs $54.00 on Amazon; if you are interested, you can check the most updated price by clicking here.
PredatorPee – best Animal repellent spray
Wolf urine has been used for decades to help deter animals and pests away because it can give off the illusion that there is a wolf predator nearby.
Not only can the presence of wolf urine deter smaller animals that wolves commonly prey on, but they can also deter wolves and foxes away because they will suspect that another wolf has already been nearby.
That being said, this 16-ounce bottle of wolf urine can be used to keep animals away from your garden while acting as the best rabbit repellent.
Design & Materials
Not only do you have the convenience of utilizing the 16 ounces of wolf urine to spray in various locations around your yard, but you can also install the scent tags around your yard to give longer-lasting effects without worrying about the rain washing away the scent. The bottle and tags can be used to deter animals from a radius of up to 120 feet.

Great for applying on a variety of different surfaces, this repellent is recommended for anyone needing to repel various pests, insects and animals. Given that it creates the illusion a wolf is nearby, it's the best rabbit repellent.
Pros:
Gives off the illusion that a wolf was near
Includes 10 scent tags along with the 16oz of wolf urine substance
Can be sprayed practically anywhere
Cons:
The scent washes off in the rain, so you'll have to reapply it after the rain
5. Animal Repellent for Garden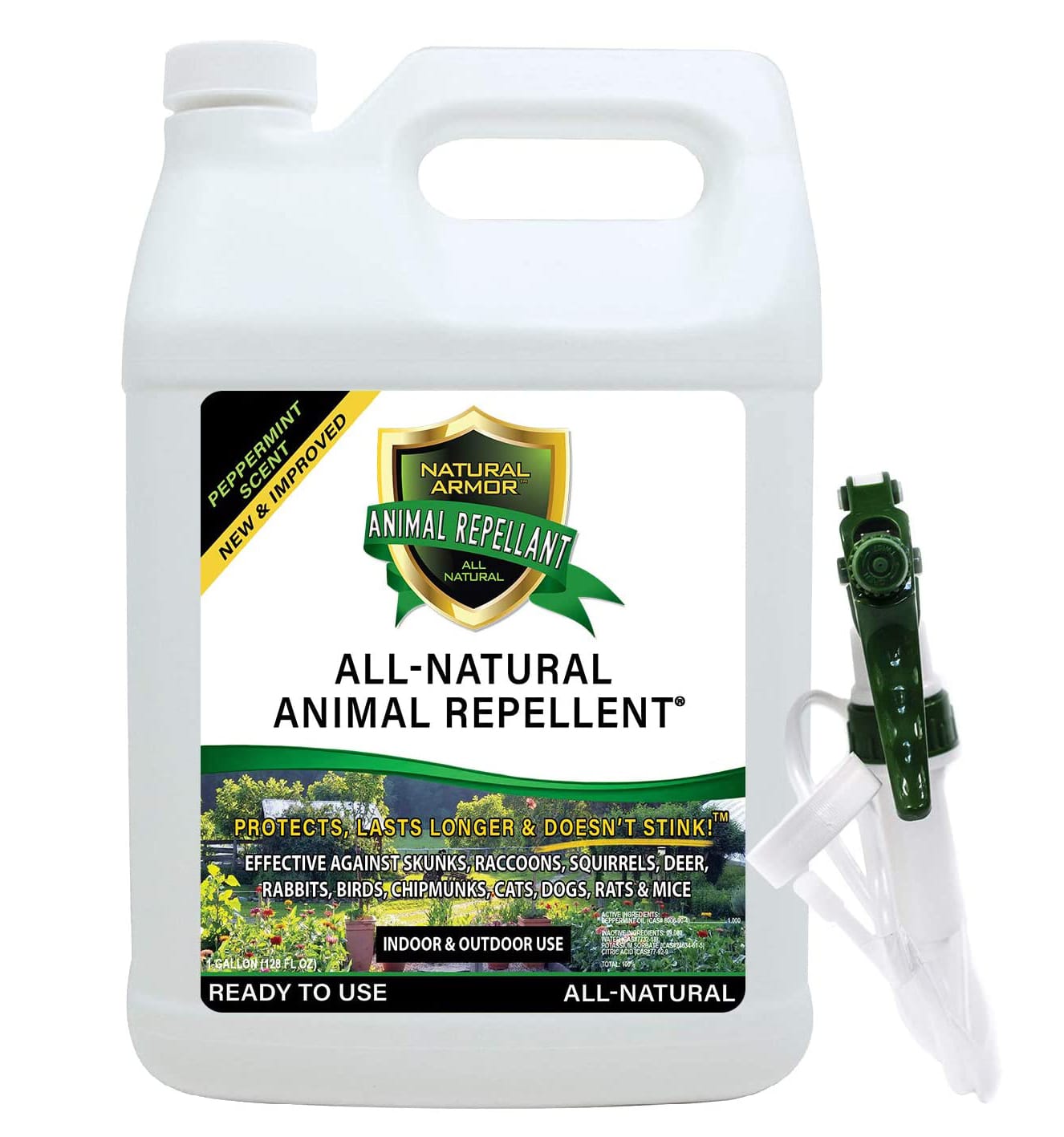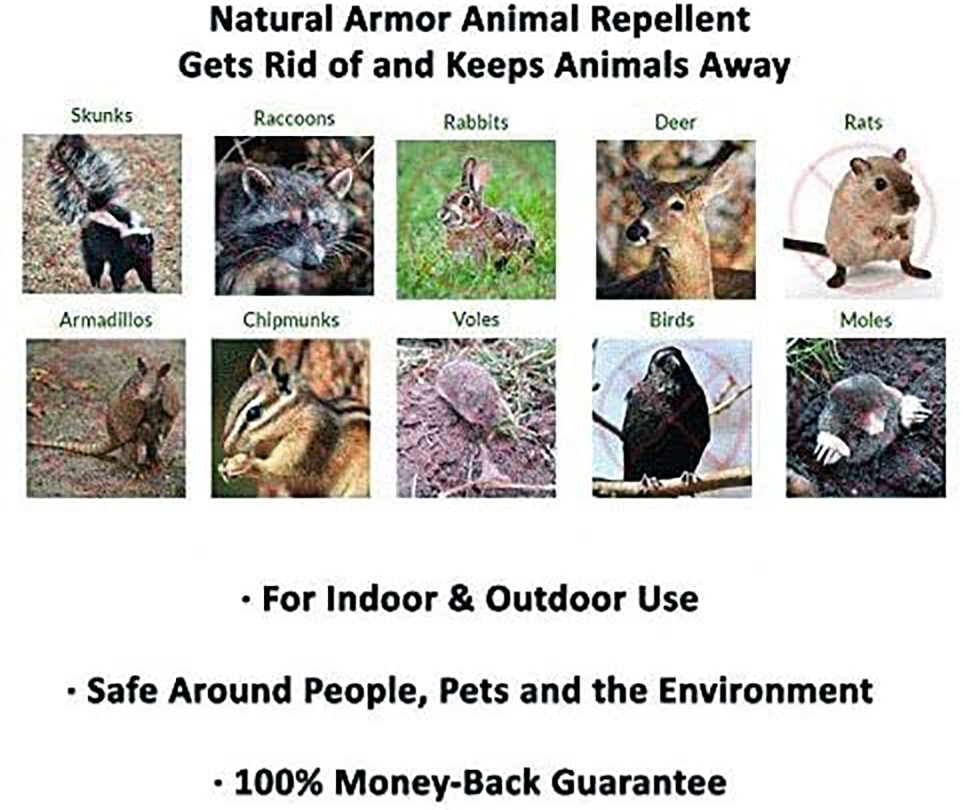 What's the price
Natural Armor Repellent Spray currently costs $29.95 on Amazon; if you are interested, you can check the most updated price by clicking here.
Natural Armor – best squirrel repellent for garden
If you are looking for a repellent to keep animals away from your plants and prevent them from eating your garden, then the Plantskydd Animal Repellent can be the most beneficial for you. It works by delivering an odor around plants thats unappealing to animals without creating any problems for humans.
Not only does the smell prevent animals from coming around your plants, but the repellent also makes the plants taste unappealing to animals as well, further preventing them from making regular appearances.
Design & Materials
This is the longest-lasting repellent because it comes with over one gallon of product that can be used to spray onto new-growing plants. It's capable of providing needed protection for up to 500 to 600 different types of plant species. The jug doesn't come with a spray nozzle to use, so you'll have to purchase one yourself or use one that you already have at home.

I'd recommend this repellent for anyone wanting a more long-lasting repellent for their plants.
Pros:
Longest lasting design with the 1.3gallon jug
Protects up to 600 different plant species
It doesn't deliver any unappealing scents to humans
Cons:
More expensive than some of the other animal repellents on the list
6. Snake Repellent Granules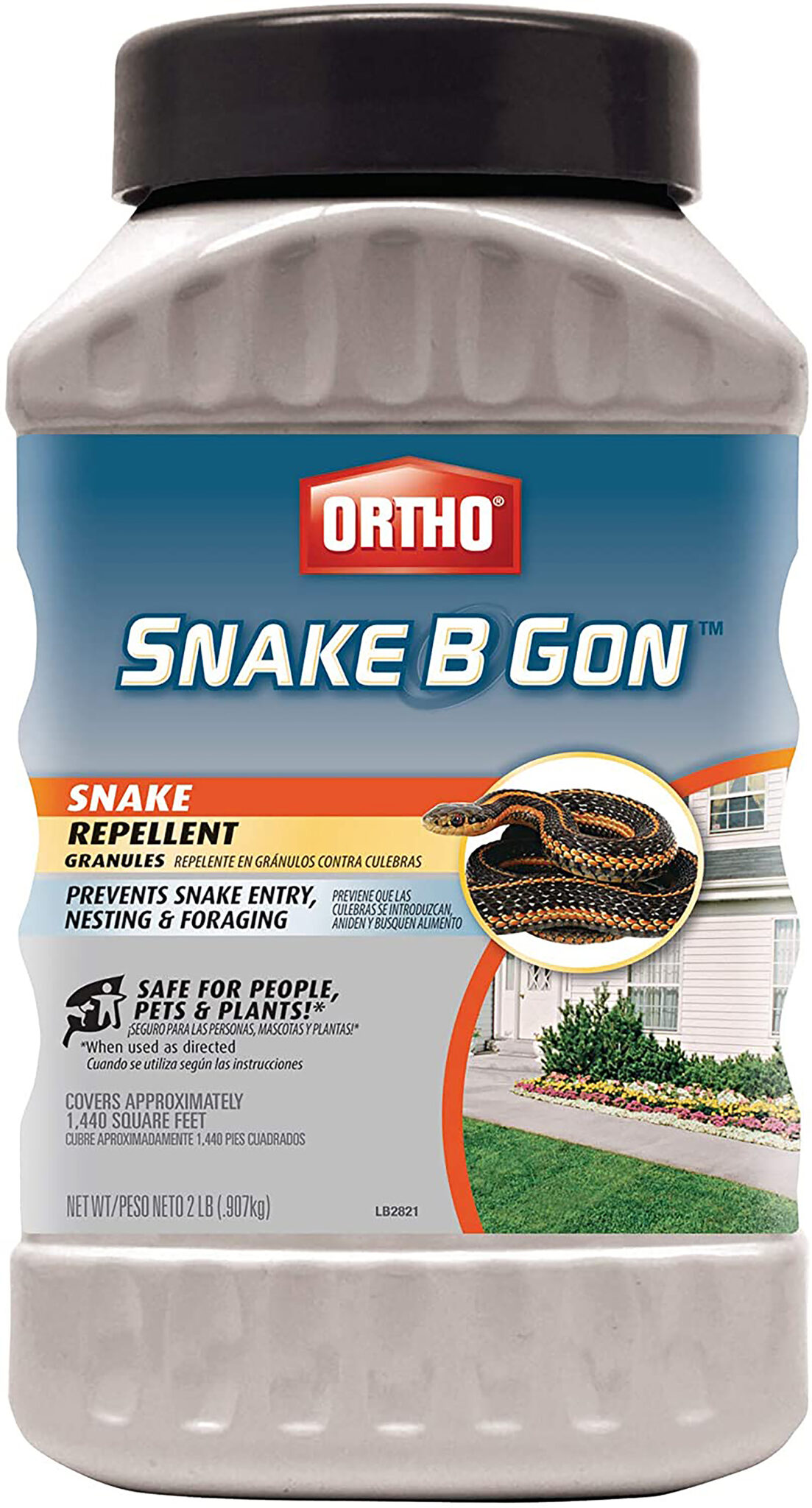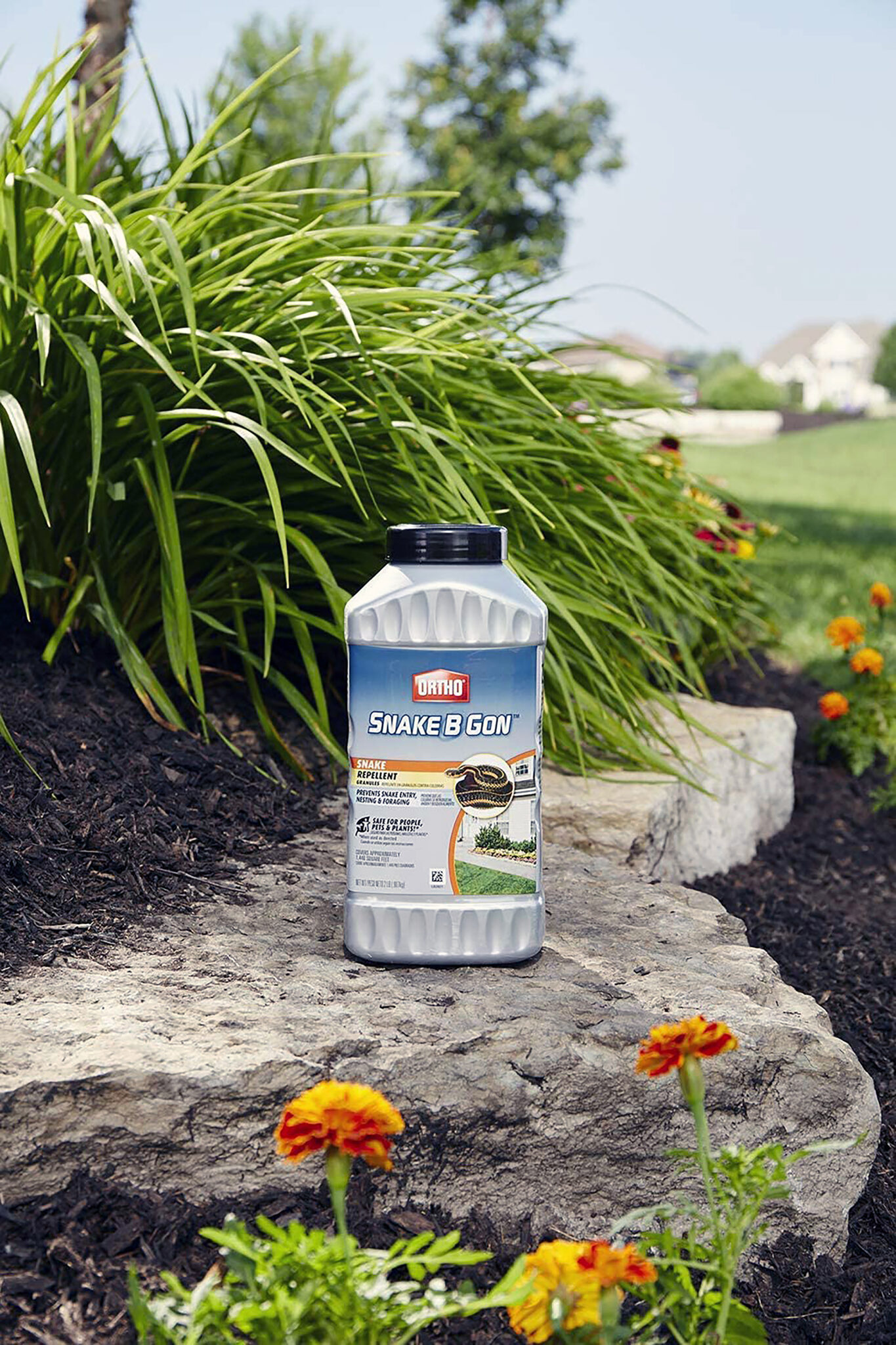 What's the price
Snake-B-Gon Snake Repellent currently costs $18.20 on Amazon; if you are interested, you can check the most updated price by clicking here.
Ortho Snake-B-Gon – best Granules repellent
Designed specifically to deter a range of different snake species, this Ortho Snake-B-Gon product comes with two pounds of material to spread across almost 1,500 square feet. Since snakes are more drawn to gardens and flower beds that constantly have moisture and rocks, you can easily spread this snake granule product around your garden many times because of the two packs this product comes with.
Design & Materials
The granules themselves are resistant to the rain, so you don't have to worry about reapplying them directly it rains. But you are recommended to apply to your yard around every 30 days for the best results. The granules also don't use any harmful chemicals and is largely based on essential oils.

This Ortho repellent is recommended for those on a budget.
Pros:
Delivers attractive scents from various essential oils
Comes with 2 packs of 2lb-products
Resistant to the rain
Cons:
Not recommended for larger yards
7. Concentrate Deer Repellent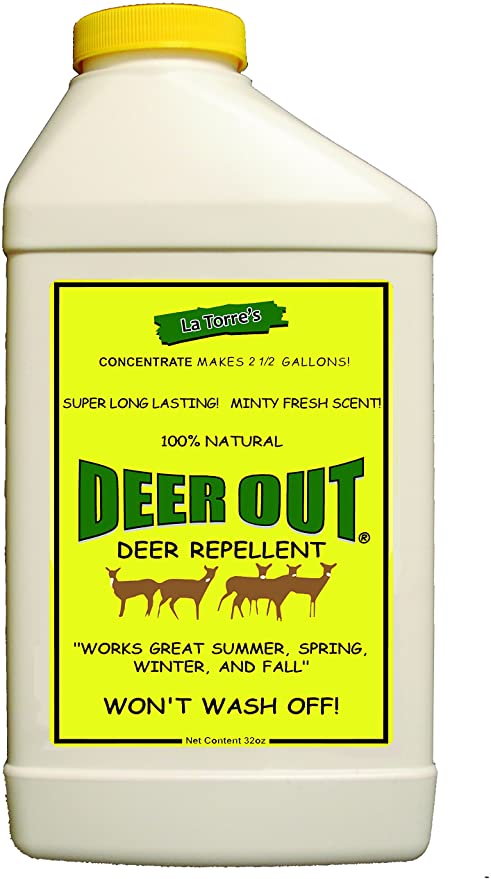 What's the price
Deer Out Repellent currently costs $38.95 on Amazon; if you are interested, you can check the most updated price by clicking here.
Deer Out – best Repellent for yard
Made with mint essential oils, this Deer Out product is great for deterring deer from plants and areas of your lawn without creating an unwanted scent around your house. The mint smell is actually calming and attractive for humans, while unappealing to deer and many other rodents. This Deer Out Concentrate Deer Repellent comes with 32 ounces of product.
Design & Materials
To use Deer Out, all you have to do is apply it to the plants that deer tend to consume from your yard. You only have to apply this product once every 30 days because of its rain-resistant properties. Not only that, but it's also capable of deterring deer all-year-round in all weather conditions.

I would suggest anyone wanting a great-smelling repellent should get this product.
Pros:
Mint smell is appealing to humans
Can easily be applied to plants with the compact bottle design
Rain-resistant and effective for all-year-round
Cons:
Only comes in a 32oz bottle
8. Mint Insect and Pest Control Peppermint Oil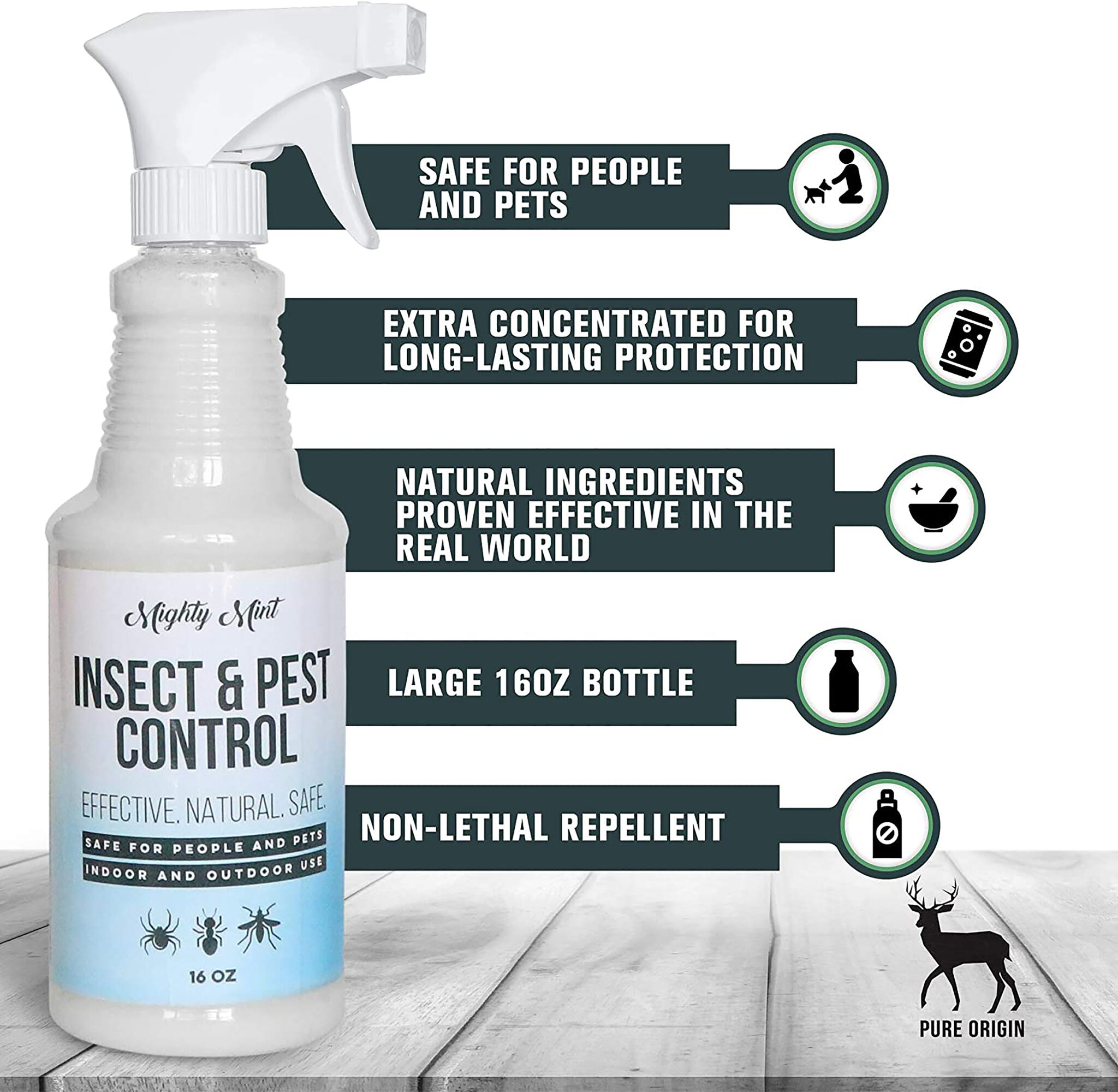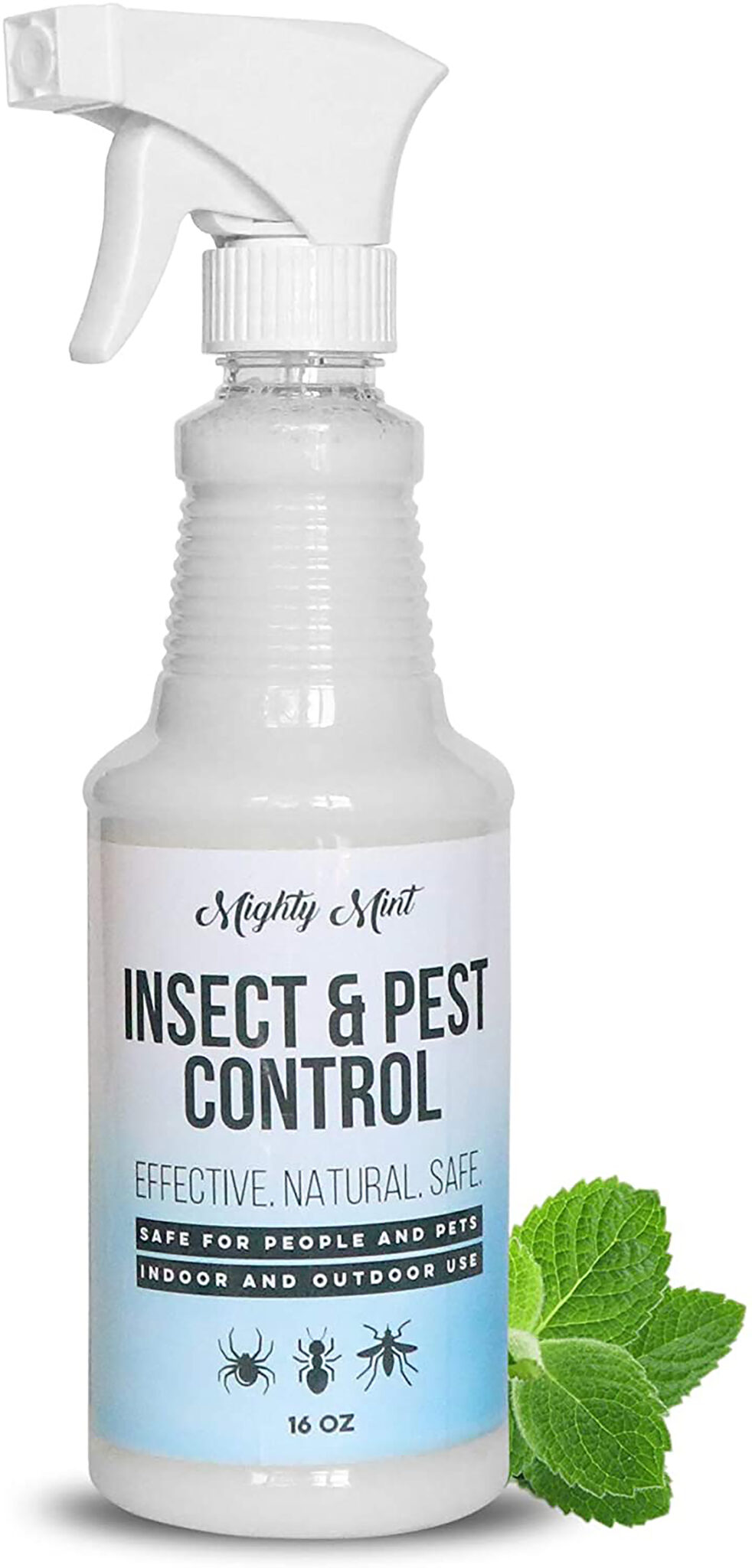 What's the price
Mighty mint insect and pest control currently costs $18.98 on Amazon; if you are interested, you can check the most updated price by clicking here.
Mighty – best rodent repellent for cars
For those of you looking for a safe and effective animal repellent both for indoor and outdoor use, this Mighty Mint Insect and Pest Control Oil delivers a mint scent that animals hate. The bottle is a 16-ounce spray bottle that you can use to spray the concentrated essential oil anywhere around your home.
Design & Materials
Mighty Mint contains an extra concentrated product for longer-lasting effects overall. And it can safely be used anywhere around your house or in your yard. Not only that, but it's more affordable than other animal repellents on the market, making it a great choice for those of you wanting to repel larger amounts of insets or pests without the extra cost.

Lastly, this highly-concentrated product is suggested for anyone wanting a powerful insect or pest control.
Pros:
Available as a peppermint essential oil without harmful toxins or chemicals
Extremely affordable
Can be used to apply both indoors and outdoors
Cons:
Only comes in a 16oz bottle, so it may not last as long as other repellents on the market
9. Ultrasonic Dog Chaser PIR Sensor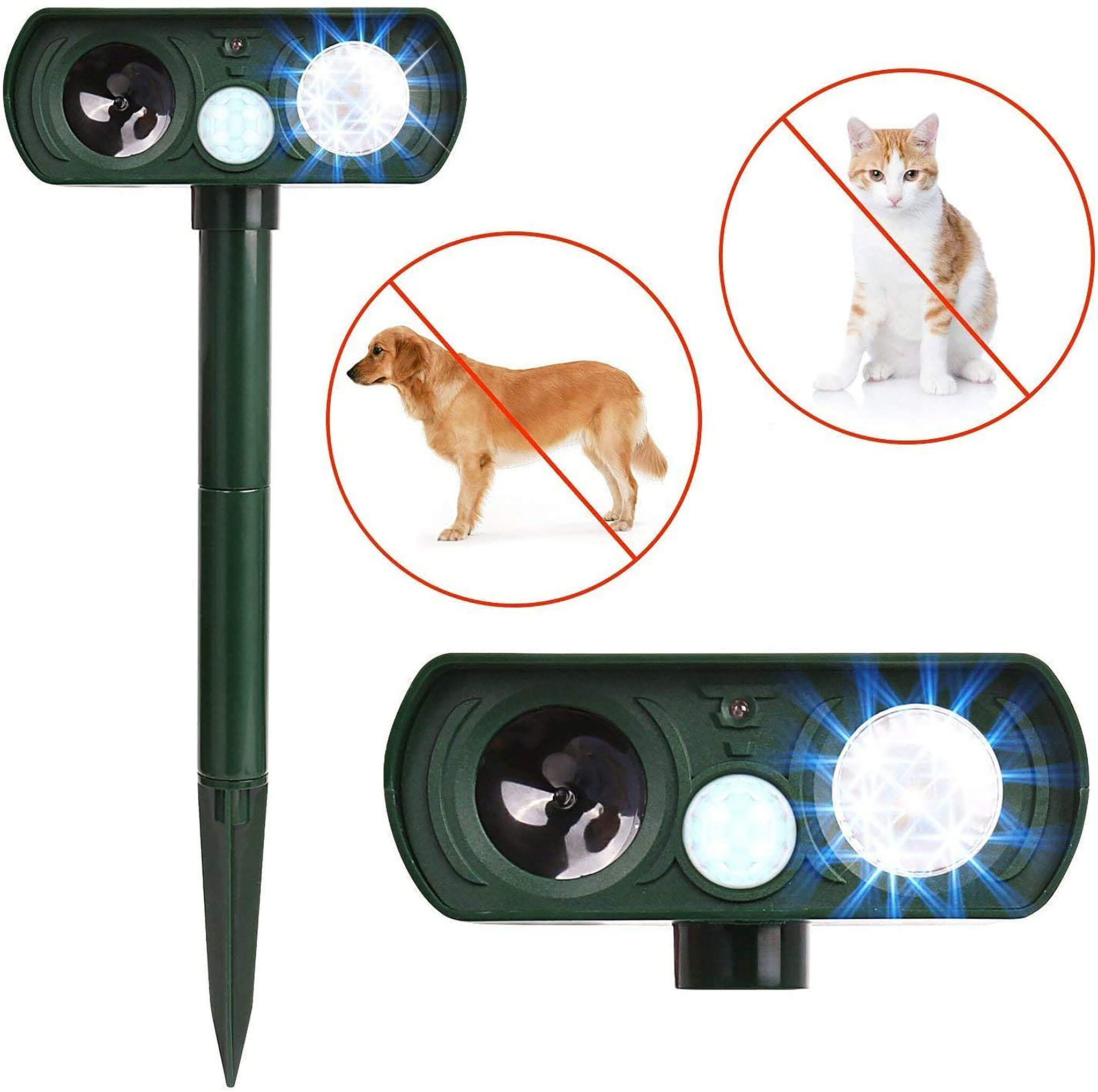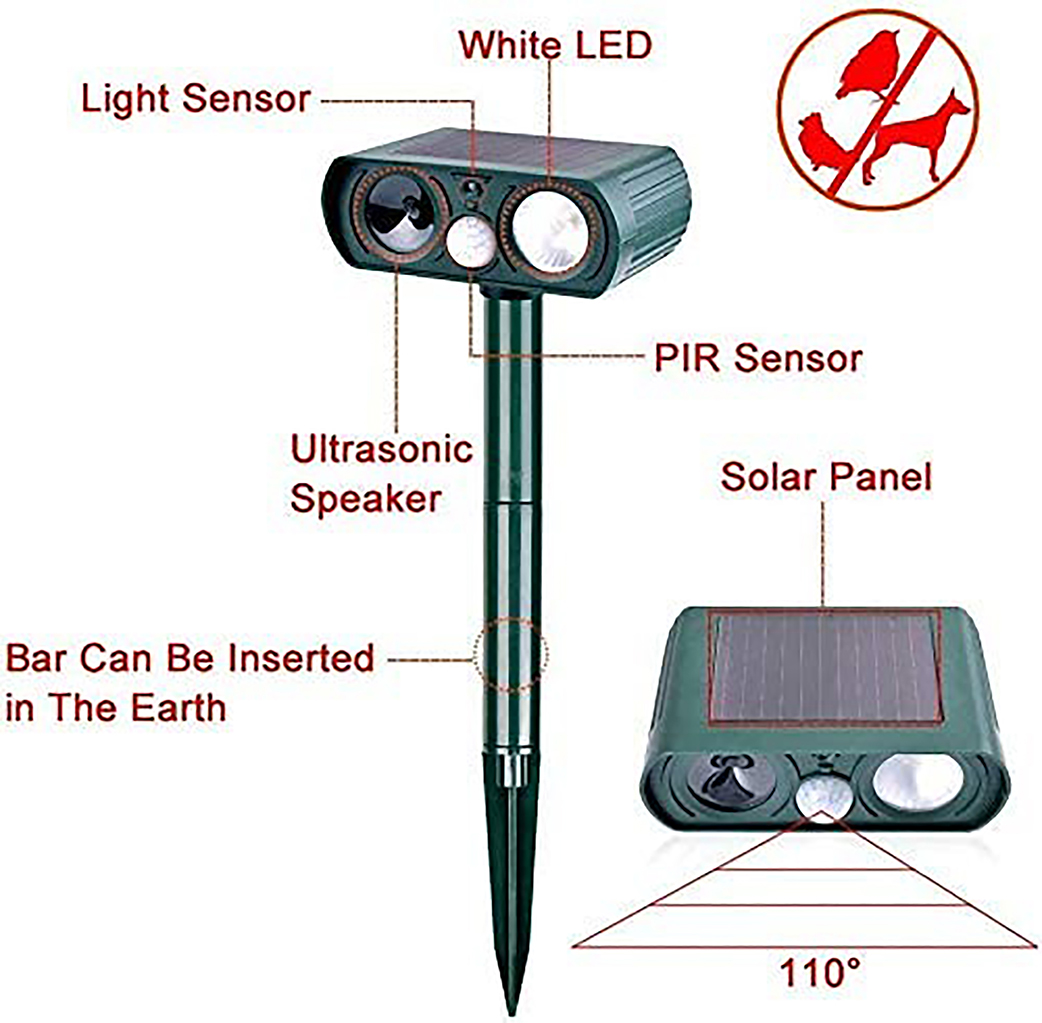 What's the price
Ultrasonic Dog Chaser currently costs $19.99 on Amazon; if you are interested, you can check the most updated price by clicking here.
Humutan – best Dog repellent
Humutan designed its PIR sensor to repel a variety of pests from coming into contact with your yard using PIR motion sensor technology. Once a pest signals to the motion sensor, the device is capable of releasing a sound up to 23,000Hz for five seconds. The device can detect motion within a radius of 110 degrees and 26 feet in distance, making it the best chicken predator deterrent because of foxes and dogs.
Design & Materials
As for the design, this Humutan Ultrasonic Repellent features a portable design that can conveniently be installed anywhere in your yard with the durable spike thats mounted onto the bottom of the device. If you don't want to mount the device into the ground, the back slot design of this repellent device can conveniently be installed on any flat, vertical surface.

Even though the distance covered is much shorter than some other product, I'd suggest this repellent for those wanting a more portable device. Given this, the Humutan animal repellent is the best chicken predator deterrent and acts as the best fox repellent specifically.
Pros:
Waterproof
Can be hung on a flat, vertical surface
Delivers a frequency of up to 23,000Hz
Cons:
Only detects motion from up to 26ft away
10. Rabbit Repellent Ultrasonic Pest Repellent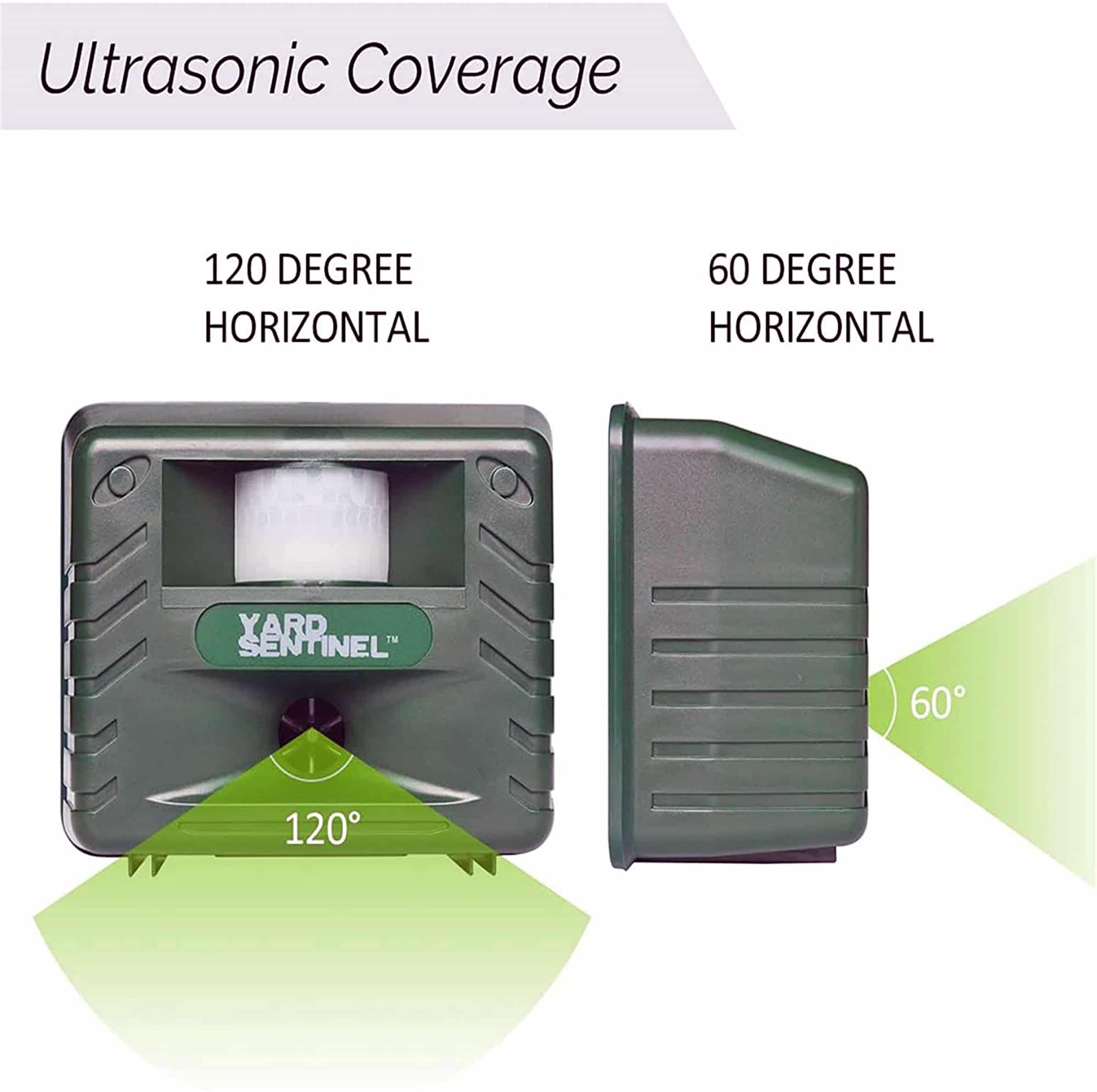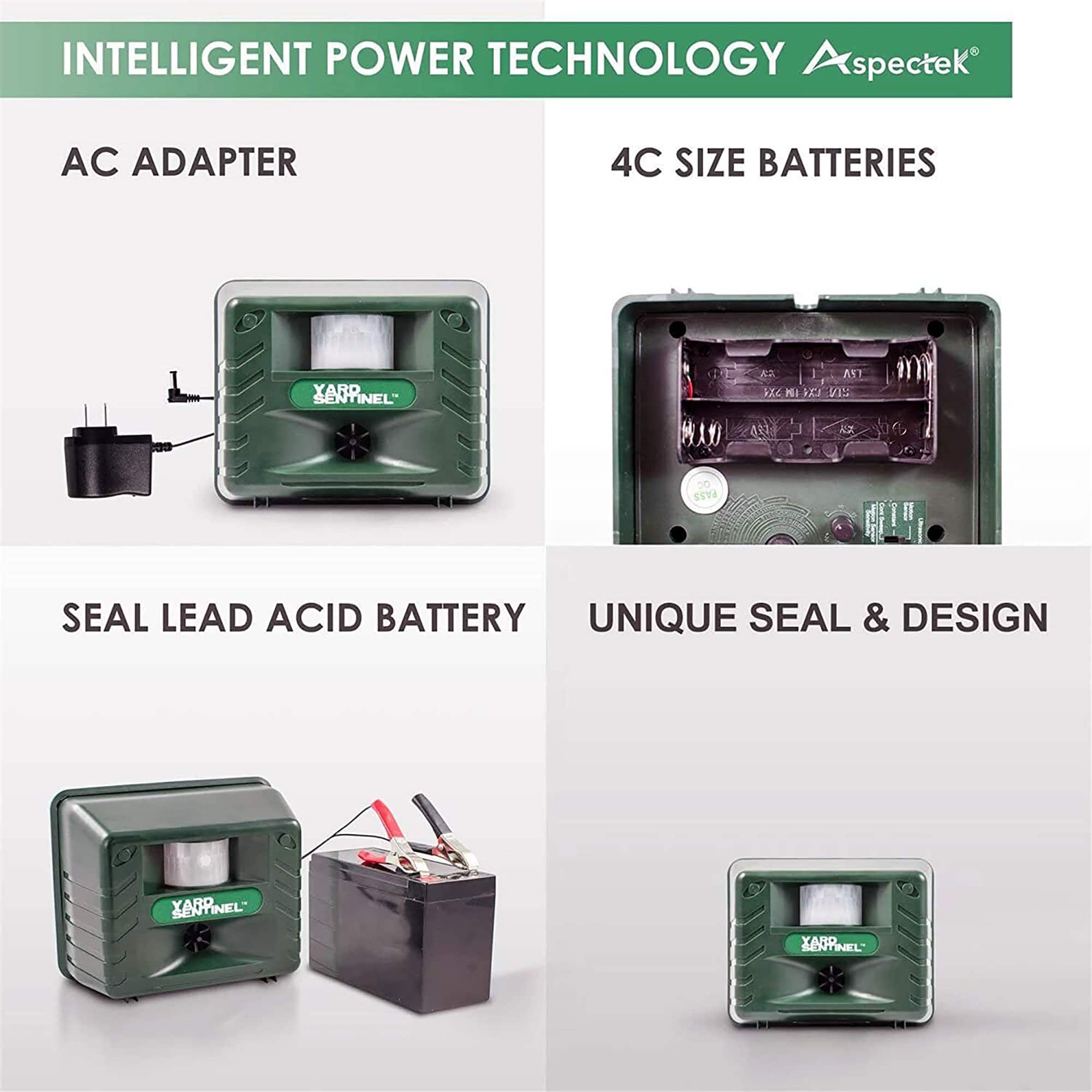 What's the price
Phosooy Ultrasonic Rabbit, Raccoon, Deer Repeller currently costs $49.99 on Amazon; if you are interested, you can check the most updated price by clicking here.
Concentrated – best Rabbit repellent
Solar-powered and featuring a low power consumption, this Dog Cat Repellent from Phosooy is designed to keep any pests away by using ultrasonic waves. The all-weather design gives it the ability to withstand practically any weather conditions, even storms. And it can detect motion from anywhere within 33 feet at a 110-degree radius. This makes it the best cat repellent.
Design & Materials
You conveniently have the ability to install this repellent anywhere in your yard that has a thick and dense ground, since the repellent device comes with a sturdy mounting spike that can extend into the ground one-foot deep. Unlike various other animal repellents on the market, this Phosooy features a small owl design that can blend in with any background while still offering a cute appearance during the daylight.

The Phosooy ultrasonic repellent would be the best for those needing a repellent capable of working in various weather conditions. Given its versatile application, this is the best cat repellent.
Pros:
Features a small owl design
Weatherproof
Can be mounted anywhere in the ground
Cons:
Doesn't include the 3 AA batteries for the sun's power to recharge during the daytime
Top-rated Animal Repellents for Garden in 2023
Factors to Consider Before Purchasing – Buyers Guide
Type of repellent
Before you immediately purchase the first repellent that you see on the market and assume its effectiveness, you should become more familiar with the different types of repellents that are available on the market. Usually, the main ones either use tastes or odors or repel animals, but this all depends on the types of animals you are planning on getting rid of.

Repellents that use odors should be used during the warmer months of the year since odors tend to remain in warmer air for longer periods of time. On the other hand, taste repellents tend to be more effective in the colder months of the year. For taste repellents, the animal usually has to taste the plant before they realize that they wouldn't like it.

But if you are trying to get rid of animals before they even get in your yard or anything, then you may want to utilize the light or ultrasonic repellents. Devices that utilize the light to repel animals are effective because they deliver certain lighting patterns that animals are scared of or alarmed by. And ultrasonic repellents utilize motion-sensing technology to signal the ultrasonic waves and thus scare the animals off.

Lastly, you also have the option of using sprays or granules to eliminate the occurrence of animals coming to your yard. Liquid sprays can be applied anywhere around your yard and are made with chemicals or smell that deter animals from the area. Granules can also deliver odors, but they are usually sprinkled around the yard rather than sprayed.
Indoor or outdoor use
The certain location that you are planning on deterring animals from is also important because some repellents may work better when applied on some surfaces over others. The clearest example of this would be to consider whether you want to get rid of animals on the inside of your house or the outside.

Indoor repellents should be safe and shouldn't disturb those living in the house. That being said, they are usually plugs that use ultrasonic waves to deter insects or small pests from coming within a certain radius of where the plug is installed. Other options for indoor use are sprays or candles.

On the other hand, outdoor repellents can be larger and should technically have the ability to cover larger distances. For instance, if you are using ultrasonic technology to deter animals from outside, then you'll want a device that can detect animals from at least 30 feet away. Likewise, you all want larger quantities of animal repellent products for outdoor use so that you can more easily spread the product over larger areas.
Longevity
Lastly, you all want to think about how long each of the animal repellents is going to last. This test differs according to the various types of products there are on the market, but you'll ultimately want an animal repellent that's going to last the longest for the most affordable price.

For lights, you should consider how long the bulbs last as well as any batteries if there are any. For ultrasonic repellents, you all want to consider whether its a solar-powered or how long the batteries last. And for any liquids or granule products, you all want to think about how much product the repellent comes with. Along with this, you should consider how large your yard is or how much product you all need overall (1).
Conclusion
Overall, utilizing animal repellents can be an effective and easy way to deter certain types of animals from your yard or home. There are many different types of repellents that vary in their means to deter pests, rodents or other animals, but each of them may be better for certain instances over others.

It's important that you choose the most effective one for the specific location that you plan to remove insects, pests or rodents from, so you should review each of the products mentioned and then choose what would be the safest and most effective for your purposes.
How to keep snakes out of the chicken coop?
A lot of people assume that snakes are only interested in eggs or that they will lead the growth in chickens alone.
Snakes can kill everything from chicks to hens. Even if you're not new to chickens. Snakes play a vital role in your local ecosystem. They do a really good job of keeping mice at bay. So killing them off could easily lead to a rodent infestation or something equally grim.
If you're thinking, then what can I do to make them leave my poultry alone? I've got you covered by recognizing where snakes are targeting your coops. You'll be more equipped to deal with them.
It's often stuff like grass, bushes and leaves that will be causing them to move in on your coops. As a general rule, don't give them anywhere to hide. Making it dangerous for snakes to approach your coop like this is actually quite simple.
Just cut down your grass, trim your bushes and move all substantial loose objects, wood, for example, far away, the goal is to create a large area of flat land around your coops so that the snakes risk exposure to birds of prey upon approach.
Letting your chicken egg sit around is like inviting all of the snakes in the area over for lunch at the same time. With that in mind, just select a regular egg, pick up time and stick to it every day.
When you think snakes, trees aren't necessarily the first worry that comes to mind, I was surprised at how important and sometimes dangerous trees around your coop can be. The reason for this is simple. A lot of snakes can climb trees. It's a valid thing to worry about, especially if you've already invested in your snake free zone. Don't worry, though, you have options here.
If you have branches overhanging your coop, cut them down.
Asep branches like this act as an easy bridge straight over the danger zone and into your precious nest. In the event that the trees are too close to your coop, you might have to consider moving the coop or getting rid of the tree entirely.
Snakes eat rats, rats hide from snakes, snakes follow them to your kill. Of course, this applies to all rodents. The good thing is that everybody has to deal with them at some point so you can find traps and poison for rodents online quite readily. I recommend grabbing some if you can.
Also, take your chicken feet away at night, mice are particularly active after sundown and they'll be highly attracted to anything edible. This will stop them from approaching your curb, which will in turn give the snakes less of a reason to bother you.
Finally, upgrade the coop itself, raise the ground of your coop by a few inches. This isn't very hard to do and it'll make it that much more challenging for pests to get in.
How to get rid of rats in a chicken coop?
The best way to get rid of the rats is to take away their food. OK, so the problem that you have with rats is that rats, they will actually also have and they go.
How do you get rid of the issue of food that is laying around in your chicken coop by one of these chicken feeders?
They're pretty inexpensive and they will really help you forward in avoiding to have food laying all over in the chicken coop, OK? Now, there's one shortcoming about these self-feeding silos or chicken feeders, is that the chicken that will probably make a mess of it.
So they will probably try to scratch their feet into the food and it will be all over the place. So it doesn't make any sense. So the best solution I've found so far is just by hanging the feeder at a level of about 20 centimeters, about seven inches from the ground.
I have tried many different rat traps, many different styles, many different versions, expensive ones, and cheap ones. But it always comes to the same one that is the most effective one. These very old-style rat traps are the ones that I think have the highest success rate.
Read More from prestigequeen.com :
References: