The best AUTOMATIC chicken coop DOOR
by Jennifer Behm – Chicken farmer| Last Updated 27 February 2023
If you own chickens, you will understand the benefits of having an automatic chicken coop door. Not only can it help save you time and sleep, but it can also keep your chickens safe from predators that will eat them and pests that can eat their food.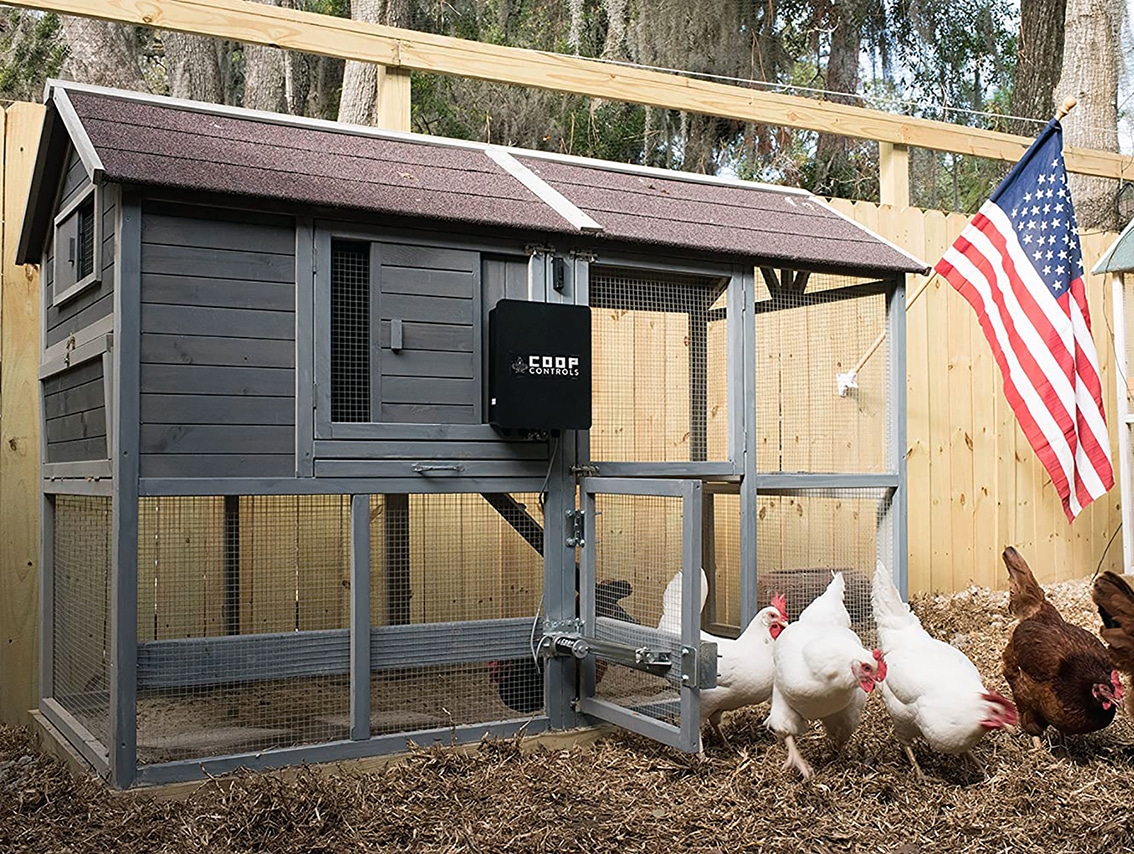 You will want to look for a high-quality system that can withstand harsh weather but also keep out predators. Here are a few tips and reviews to help you find the best chicken coop door for your chicken coop.
Read on:
Considerations When Choosing an Automatic Chicken Coop Door
What Is an Automatic Chicken Coop Door?
If you own chickens, you know how exhausting it can be to look after your chickens. They need to lock them up at night to protect them from any predators, and then you must be up early to let them back out again. No more sleeping in on the weekends or staying in on cold nights when your chickens are out roaming.
An automatic chicken coop door can help solve these issues. Compatible with batteries, electricity, solar power, or a mix of all three, an automatic chicken coop door system will come complete with a timer and can include light sensors that follow the seasons, so they will open and close the chicken coop door according to the sunset and sunrise.
Installation is also easy with either horizontally or vertically mounted units that are simple to install in their existing chicken coops. These systems are ready to go right out of the box, these chicken coop doors were created to stop predators like weasels, coyotes, raccoons, and foxes from entering. These doors have a secure design that does not provide any gaps making them ideal for use in a chicken coop.
Power
When you consider an automatic chicken coop door, there will be three types of power sources that you can choose from to power the control boxes. This includes solar, battery, or electric power as well as a combination of the three. Of these three options, users have found that the solar and battery power options are the best choices, particularly if your coop is set far away from power supplies.
A battery unit is a more reliable source since you will not have to constantly check to see if the door still has power. But if you are using an electric cable, this can be more problematic since a chicken or predators that can possibly chew up the cable, which can be a huge problem.
When a chicken coop door is powered straight from a power outlet that is close to your chicken coop, then you can be assured that the electric cable is properly protected. Typically, a battery option will run on several AA batteries and have a battery life of between six and nine months.
With solar power, you have another good option for a chicken coop, especially if it is away from an electric source, your house, or off-grid. You need to make sure the location has enough sun since a solar panel will not work properly in an area that doesn't have many days of sunshine.
When you compare all three power sources, an electrical door opener will give you a consistent power flow as long as there is electricity around or inside the chicken coop.
In comparison, battery power will provide you with a safe power source as well as a backup for emergencies if you have an electrical outage as well as reduce your chance of a fire hazard. Make sure that your battery is completely charged, or your chickens can get injured or stuck in the door.
Many controller boxes will have an indicator for a low battery or will sound an alarm to tell you when you need to replace your battery. And good batteries should last up to six months to a year.
Finally, solar power is a good option for those that live off-grid, just remember that you will need to provide a battery.
Time-based versus Light sensor
With two types of systems to choose from for the operation of your door system, you can opt for a time-based system or a light sensor. With a time-based system, you have a failsafe option that will work even on a cloudy day.
Time-based systems are cheaper than the other models, and it is more dependable and programmable. You can also vary the closing and opening time of the door based on your need, the day, or the season. This is a more affordable option in comparison since it uses a timer for operation. Often, you will find the time-based on option on a system that also offers a light sensor, which can be a great mix of the two systems.
In comparison, a light sensor is light sensitive, so it's important that there are no other light sources around the coop, which can cause the door to be triggered to open at night. This can include car headlights passing by or really bright moonlight. To be able to catch the morning sun, you want to make sure the sensors are placed carefully so that it faces west.
Solar-powered light sensors can be triggered by a change in atmospheric conditions that will close the door and open it again at dawn When combined with a light sensor, you get a great system that follows the season, but also includes a failsafe mechanism that can operate in the event that the solar power light sensor cannot open the door.
Security
In cold climates, the weather is a very important consideration when choosing the right automatic chicken coop door opener. The primary purpose of a chicken coop door is to keep the chickens inside while also keeping predators out.
As far as security, pull-string models can do an okay job when closing and opening the door to your chicken coop, but it may not do the best job in keeping out a smart raccoon from sneaking in at night. While you can also add a helpful one-inch material strip at the bottom of the door, which will stop predators from getting their fingers under it, but it's not necessarily enough of a solution.
If you use a sprocket-driven design, you have a better design than a string model due to their resistance to an animal that will try to move it manually. Some models will use strong actuator arms that will close and open the chicken coop doors that are strong enough to keep out a bear. So, it's safe to say it would keep out the type of predators that would be after your chickens.
Installation
If you happen to be a reasonably handy person, an automatic chicken coop door is pretty straightforward. But there are always a few things that can cause an issue. If you consider the pretty simple plug-and-play design, then you will only have to deal with very basic hardwiring that requires a basic skill set in wiring or the availability of a qualified electrician to help you.
A model that has a 12-volt electrical system will require either a 12-volt DC adapter or a 12-volt battery. Just make sure that you have both the panel and battery in place by the time the actual door is installed.
Door Mechanism
The mechanism that operates the door opener uses either a fully motorized close and lift mechanism or a motorized gravity close and lift mechanism. Both of these types of mechanisms will work well but remember that the gravity close feature can possibly harm your chickens when the door is closing and they are in the way. If the system has a timer that is programmable, the positive stop or electric eye will help to stop injury to your chickens.
Door Weight and Size
The size of the door can range between 10 and 12 inches, 13 and 10 inches, and 12 and 16 inches. These door types are typically found for most of the chicken breeds, but if you have a larger bird, you will need a bigger door.
It is also important to think about the door's weight. Fiberglass and aluminum is a great option since it offers a lighter design that won't put as many strains on the mechanism or the motor, so it will be able to easily close and open the door.
Controller Box or All-in-one Kit
You can purchase the control box on its own and install it on the existing door in your chicken coop. or, you can purchase an all-in-one-kit, which includes a door, the controller box, and everything you need for installation including the hardware.
Weatherproof Design
Most controller boxes and doors are designed to be used outside. This means that they should work in icy and snowy conditions that can cause gadgets to stop and seize up.
If you happen to live in one of these areas where you have a lot of snow and ice, you may want to think about getting a coop door that is able to withstand these conditions. When you use a controller with a waterproof seal inside a plastic box, it will keep the control panel and components protected from extreme temperatures and harsh weather conditions.
No matter which type or style automatic chicken coop door you choose, ultimately it will help to keep your chickens safe from predators and keep pests from eating their food. Either way, the right chicken coop door for your needs will help to save you money as well as a lot of sleep in the morning.
Best Automatic door on the market
Image
Product
Top rated

Solar Kit, No Battery




Automatic Coop Door Opener

Works on all Swinging Coop Doors from 16 inches to 30 inches wide
Battery Powered (12V battery is required for operation) or Solar Panel
Complete Kit includes everything needed to install


Check Price

Coop Accessory with 3 Year Warranty




Waterproof Automatic Chicken Coop Door Opener

Runs on 4 x AA alkaline batteries (included). Long battery life & Low battery warning
Comes with the new locking coop door kit! Door size: 10" x 12"
Simple to Setup - All in one design, no complicated wiring or cabling


Check Price

Coop Accessory




Electronic Chicken Coop Door

Includes a light sensor that signals when to open and close the auto coop door
Dyneema fiber pulley rope that is waterproof and resistant to UV light
Chicken door automatic opener provides a secure protection from raccoons, foxes, and other predators


Check Price
Read More from prestigequeen.com :
TOP rated Automatic Chicken Coop Door Reviews
Best Overall Automatic Chicken Coop Door Opener
ChickenGuard Automatic Chicken Coop Door Opener
Featuring advanced technology, the ChickenGuard Automatic Chicken Coop Door Opener gives you peace of mind with a durable and reliable product. Keeping your poultry safe, this door opener features easy controls and a convenient timer to control your automatic chicken door opener. Equipped with an integrated LCD, this chicken coop door opener is easy to program and use
Intuitive Use
Dependable and reliable, the ChickenGuard Automatic Chicken Coop Door Opener features expert construction with a simple to use design.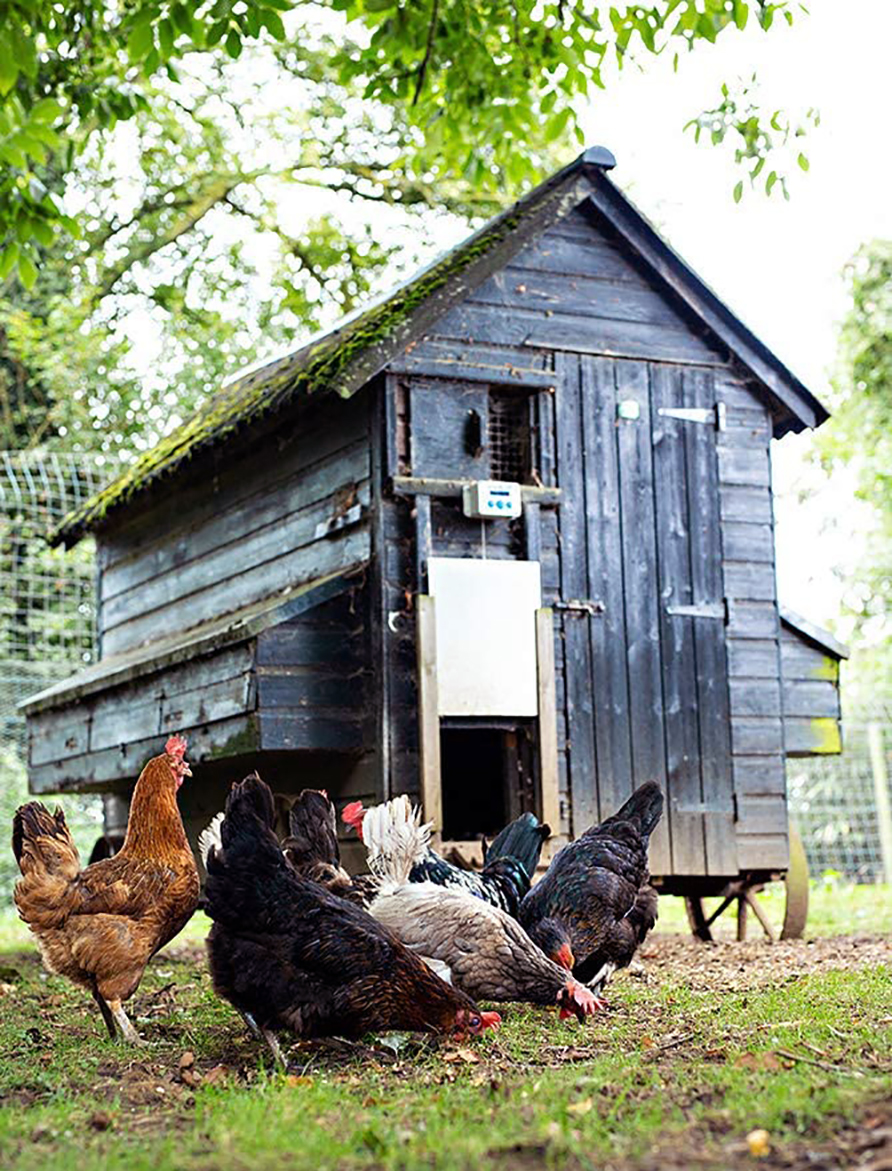 Providing a safe home for your chickens from sundown to sunup, this chicken coop door opener uses a high-end timer that allows you to set your preferred time for the door to lock and then open again in the morning. The opening and closing mode is easy to adjust with its intuitive controls.
Easy Installation
Offering increased flexibility, the ChickenGuard Automatic Chicken Coop Door Opener also allows you to choose how you want the door to open through either a manual or automatic setting. It is also easy to install with its all-in-one design that includes fittings and the handy detailed instructions that come in several languages.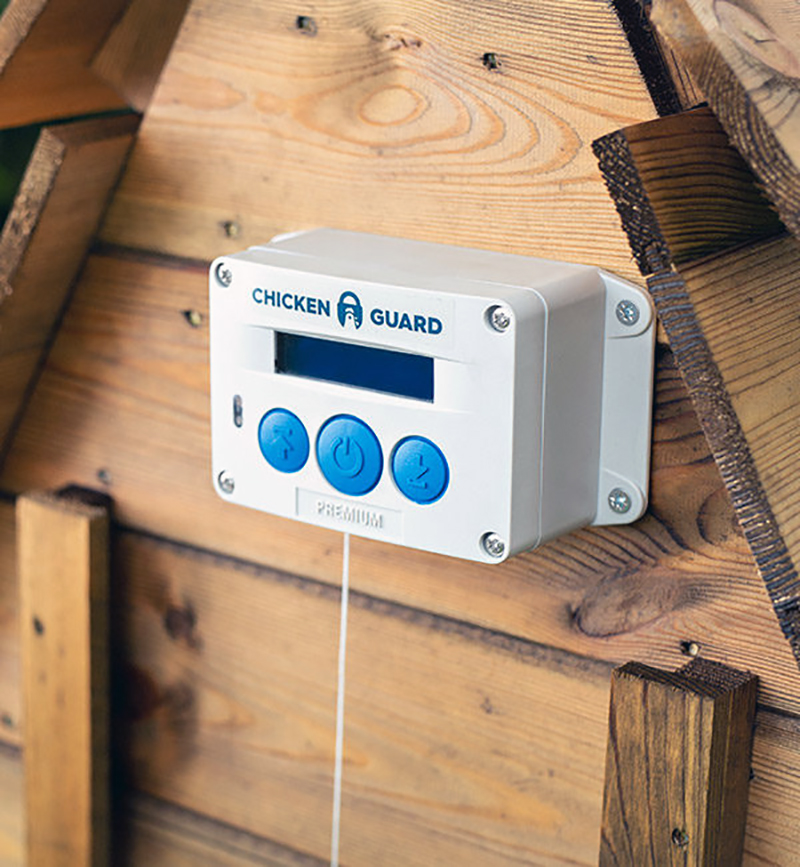 Great Battery Life
Battery life on the ChickenGuard Automatic Chicken Coop Door Opener can last up to six months of usage. The large LCD screen is very easy to use, and it also can tell you if the coop door is closed from 100 yards away thanks to the indicator. The unit also includes a manual button that allows you to open and close the door for times in between the automatic settings.
Saves Money
The overall best unit on our list unit can save you time as well as money by keeping your chickens safe and secure. Capable of lifting a door weighing up to 2.2 pounds, the Capable of lifting a door weighing up to 2.2 pounds, the ChickenGuard Automatic Chicken Coop Door does not have a maximum or minimum door height requirement, and the very durable cord has a breaking strain of 50 pounds.
Pros:
The included LCD screen is large and easy to use
You can either manually open the door or use the automatic feature
The timer is handy and simple to operate
Cons:
The batteries drain fast than advertised
The electronics can freeze up if the temperature gets below 25 degrees Fahrenheit
Best Swing Door Coop Opener Solar kit
Coop Controls Automatic Coop Door
This solar-powered coop door opener is reliable and handy if you own free-range chickens. The Coop Controls Automatic Coop Door is a great choice for backyard chickens that won't interrupt their day-to-day activities and make your day easier. This door opener is sold as a kit that can be adapted to most swing-type doors that you find on a commercial chicken coop.
Easy Installation
The Coop Controls Automatic Coop Door includes a photosensor that is triggered at sunrise to open the door and then again at sunset to close it.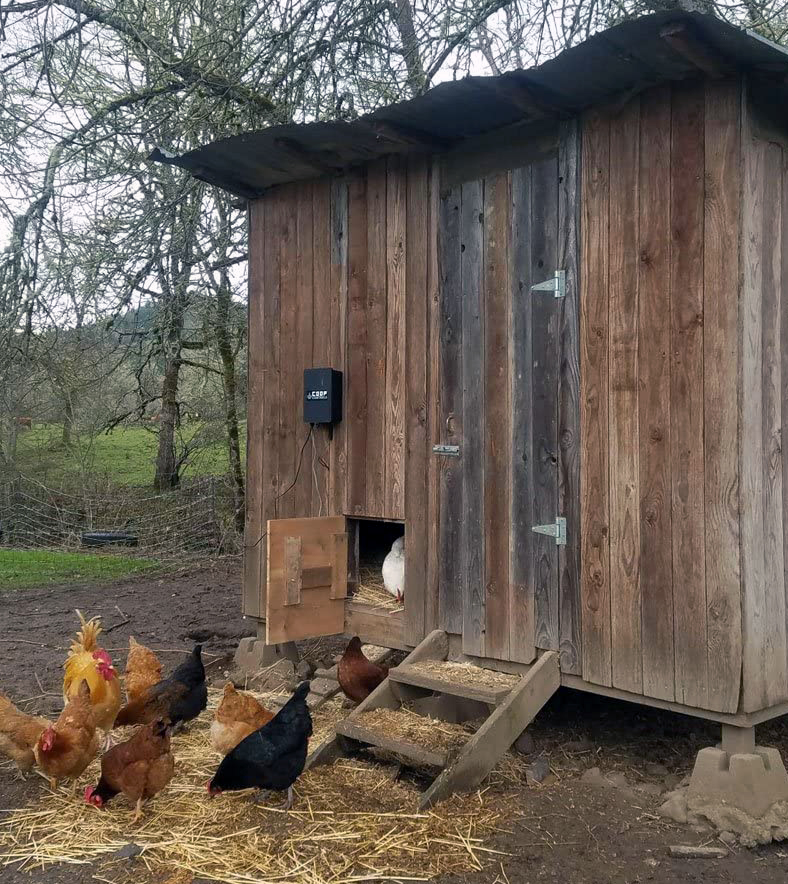 Seamlessly installing into most typical chicken coops, this system does not require that you replace your existing door or that you need to refurbish the main structure of the coop to automate the door. Including in the system are mounting hardware, a control box and control board, and an easy installation manual to follow, which only require commonly available hand tools.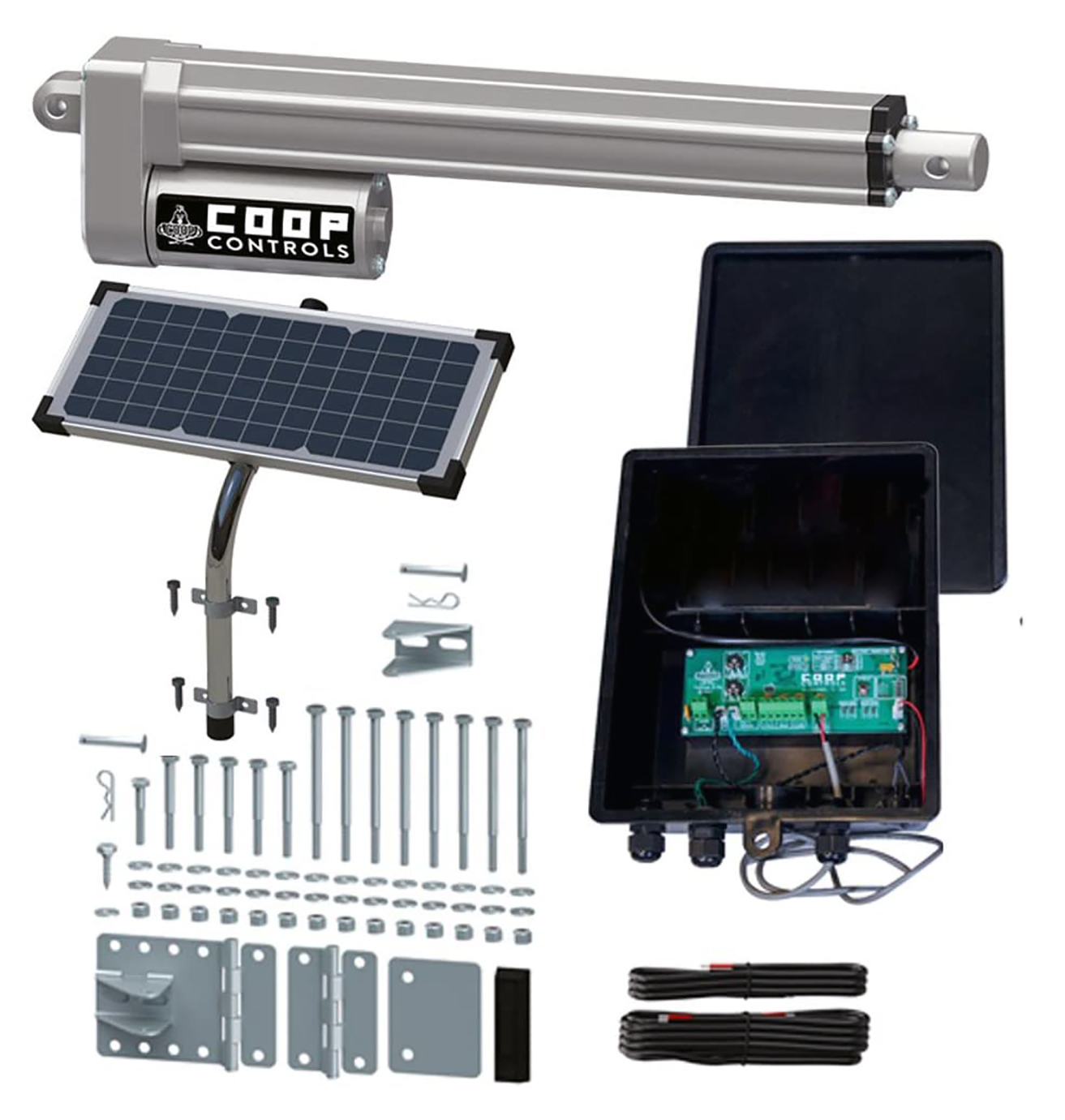 Simple Charging
Capable of working on any swing style door measuring between 16 and 30 inches wide. The Coop Controls Automatic Coop Door Opener is battery-powered, but you can also recharge with the solar panel or the UL Listed Transformer.
Easy Adjustments
The Coop Controls Automatic Coop Door has an easy-to-adjust system that allows you to change the opening and closing settings for up to 60 minutes for each. The included push-button also allows you to manually operate the door when you need to.
Pros:
This system is very sturdy and works well with existing doors
You can recharge the system with the included solar panel
The system is easy to adjust and maintain
Cons:
The 40-page instructions need to be downloaded and printed
The wire that attached the control box and arm is only three feet long limiting where you can put the control box
Best Light Sensor Coop Door Opener
Rural365 Automatic Chicken Coop Door
Equipped with a timer and light sensor, the Rural365 Automatic Chicken Coop Door lets you sleep in every morning. Providing all that you need to install the system, this automatic chicken coop door comes with a very detailed instruction diagram and manual. Using only four AA batteries, this door does not require wiring, solar panels, or extension cords.
Strong and Durable
Using a light sensor, this automatic chicken door is signaled when to close and open the door. The Rural365 Automatic Chicken Coop Door is equipped with a latch control box, which helps keep the pulley mechanism protected from the elements. Plus, it uses a strong, but thin Dyneema fiber pulley rope.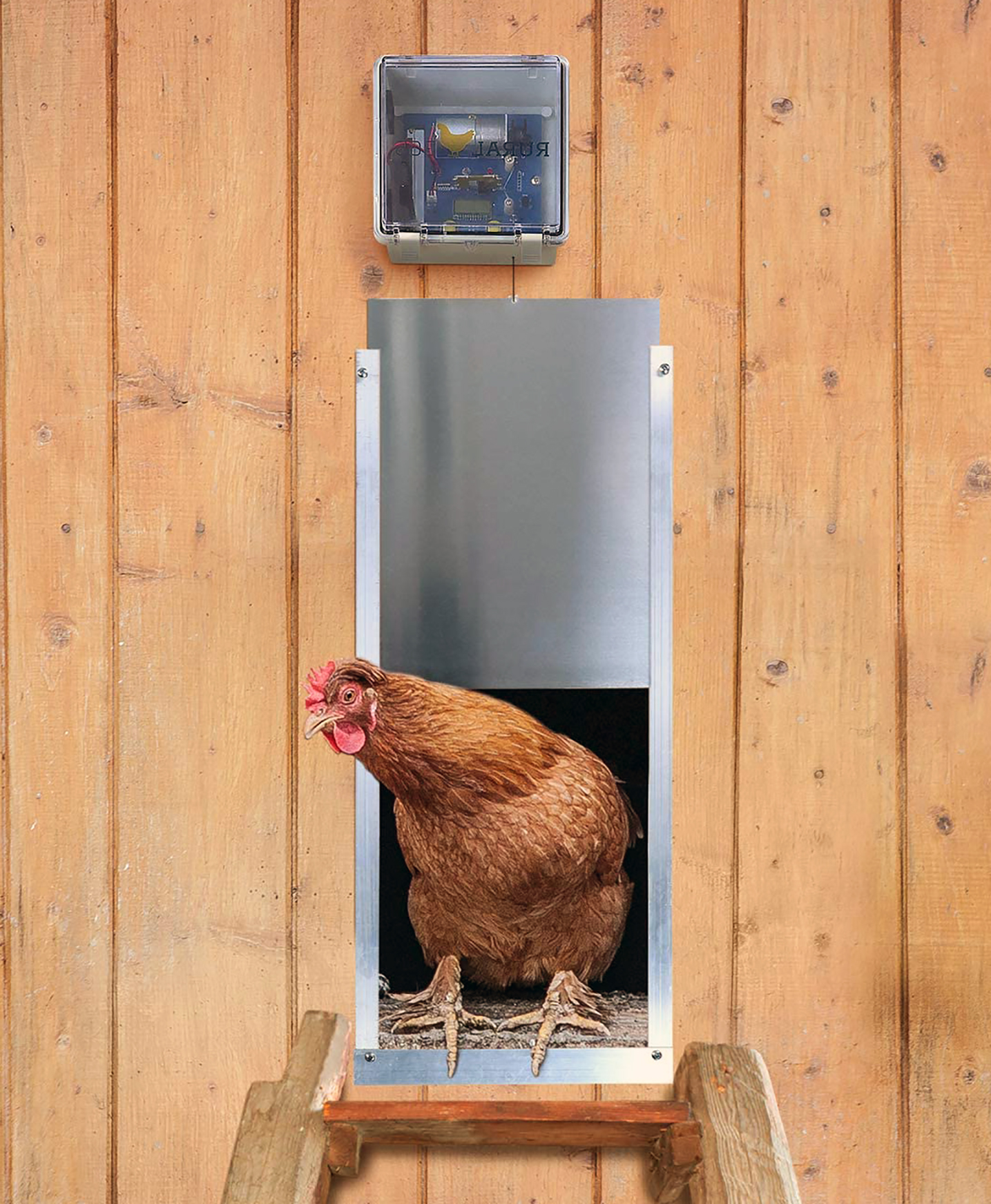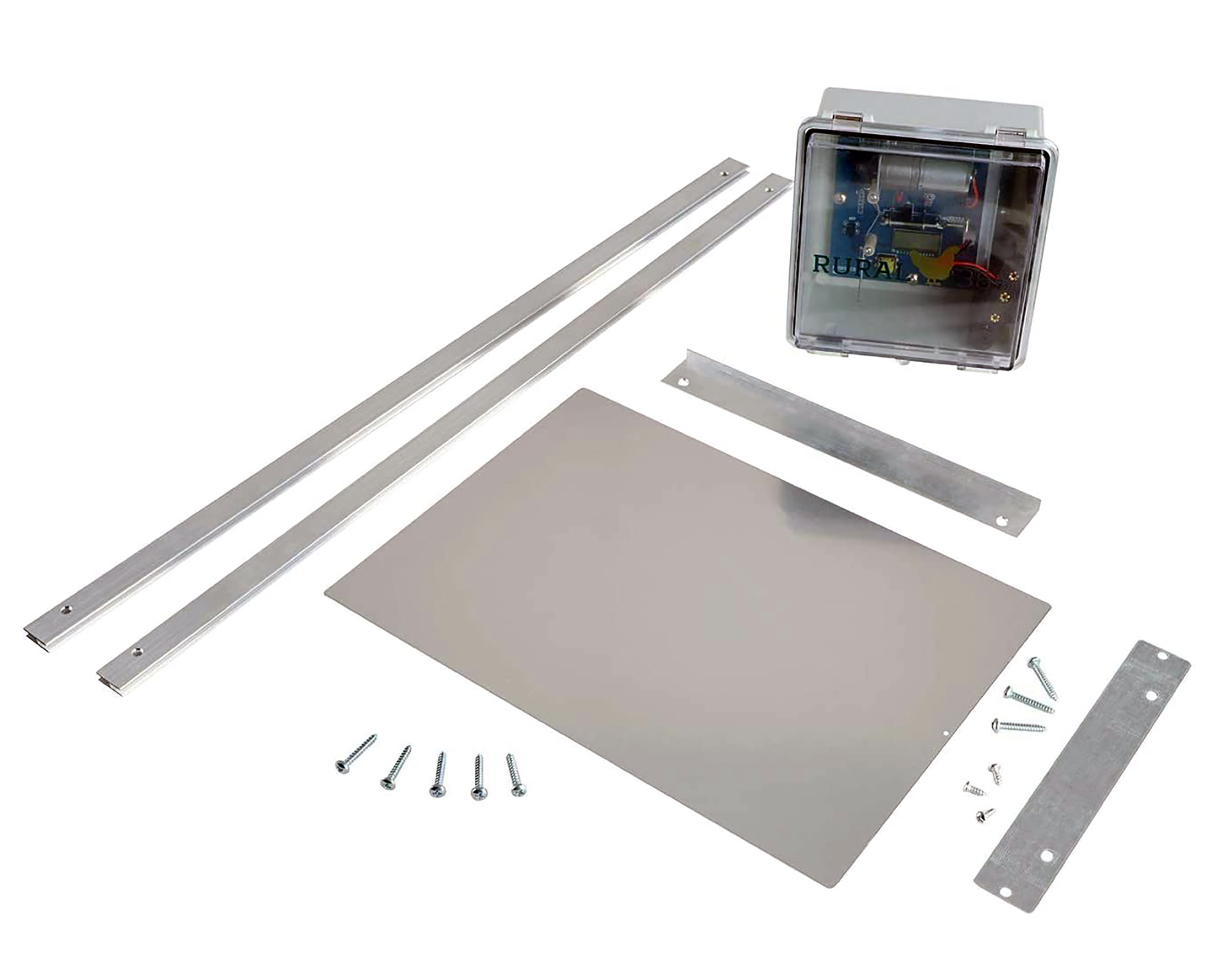 Water and UV-Resistant
Allowing you to sleep easier, this chicken coop door comes with a timer that offers both light or time options for opening and closing the door. This is a UV and water-resistant product that helps deter predators like foxes and raccoons that could hurt your chickens. Plus, it helps to keep your pellet feeder protected from pests like rats.
Pros:
The system is very easy to install
This unit is water and UV resistant
The door keeps predators and pests away from your poultry
Cons:
The assembly is pretty crude
Users were concerned about the durability of the cheap parts
Best Automatic Chicken Coop Door for Any Climate
AdorStore ADOR1 Automatic Chicken Coop Door
Complete with a battery, the AdorStore ADOR1 Automatic Chicken Coop Door is perfect for any climate. This unit gives you a complete door and designed for inside mounting but is also durable enough to be used outside. Easy installation makes this unit a great choice for placement on an inside wall, outside wall, or even a fence.
Smart Infrared Sensor
Equipped with an infrared daylight sensor, this unit processes data using an algorithm that will determine the time of the sunset and sunrise.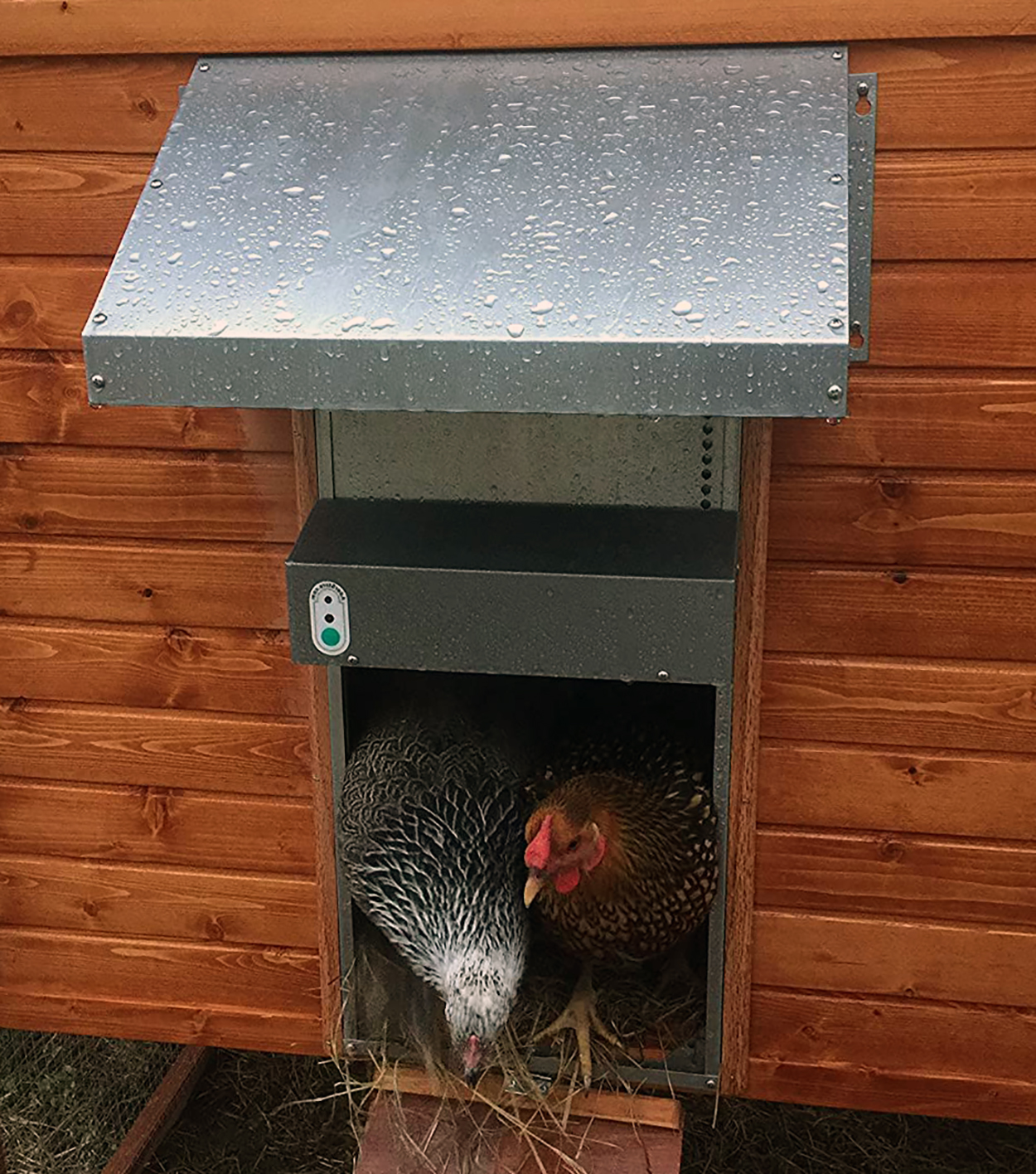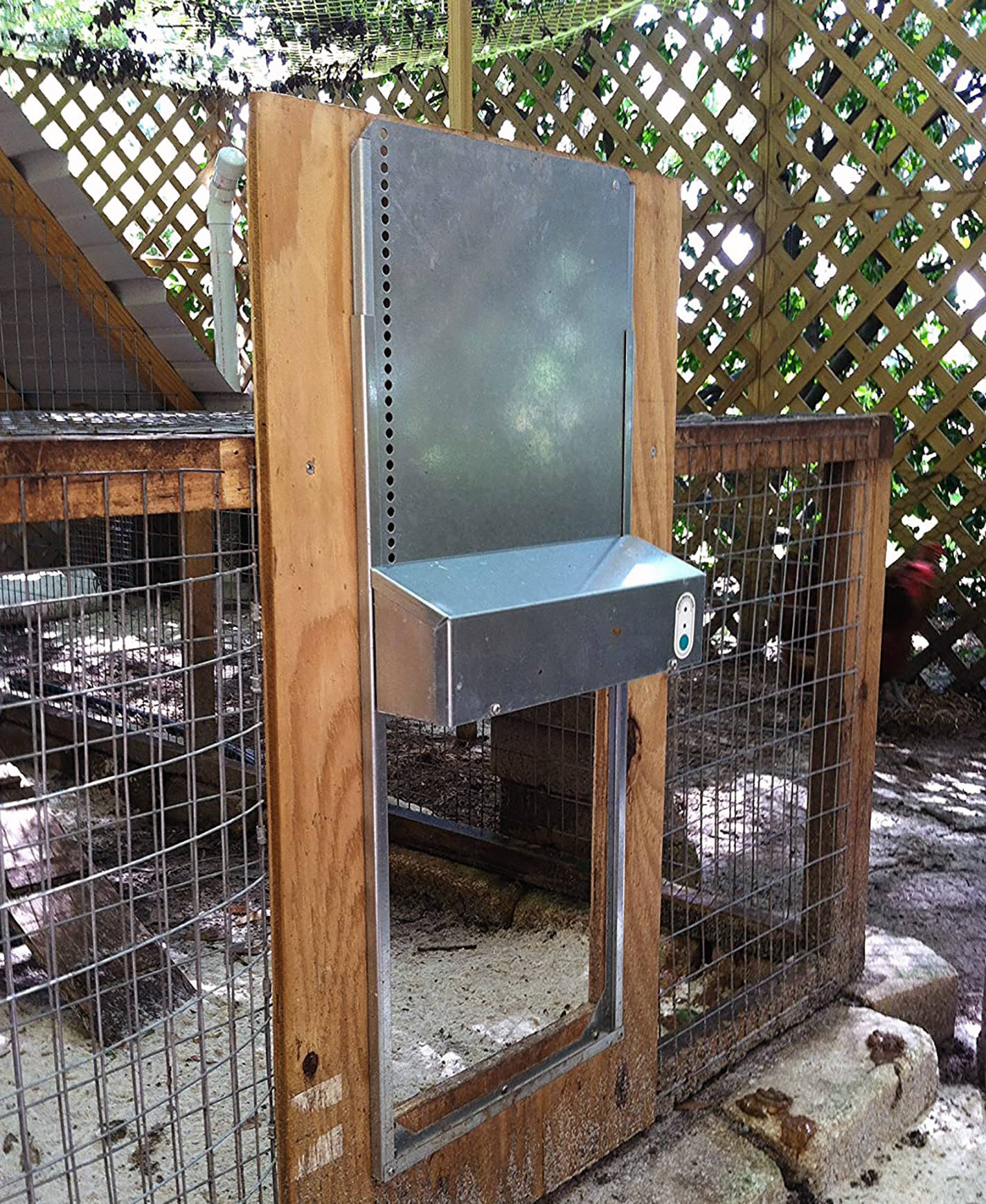 However, you can easily adjust the times as needed with the manual override. There is also an included LED status indicator on the front of the panel that lets you know if the door is open or closed.
Durable and Reliable
With durable steel construction, this unit uses a direct drive sprocket to keep the door shut, and it is made with galvanized steel, so it can withstand harsh weather. The AdorStore ADOR1 Automatic Chicken Coop Door is easy to use and maintain requiring no programming since it will self adapt to the seasons. Plus, you get a lifetime warranty on the unit's construction.
Pros:
This system self-adapts to the season, so you don't have to program it
The unit is very easy to install and does not use a string-puller
Galvanized steel provides heavy-duty construction
Cons:
The system is louder than you would expect
Best Automatic Chicken Coop Door Design
Run Chicken Model T40
Easy to adjust and assemble, the Run Chicken Model T40 is equipped with full aluminum doors and a light sensor. This safe door ensures that chickens will not get hurt as the door is closing. It also features a delay in the morning and evening opening timer when needed.
Easy Installation
This plug-and-play unit can be assembled in just 30 minutes. The Run Chicken Model T40 uses its lowest power value when closing the door so that whatever gets in the way as the door closes will feel almost zero force. It is also equipped with a direct drive sprocket that makes sure the door stays shut.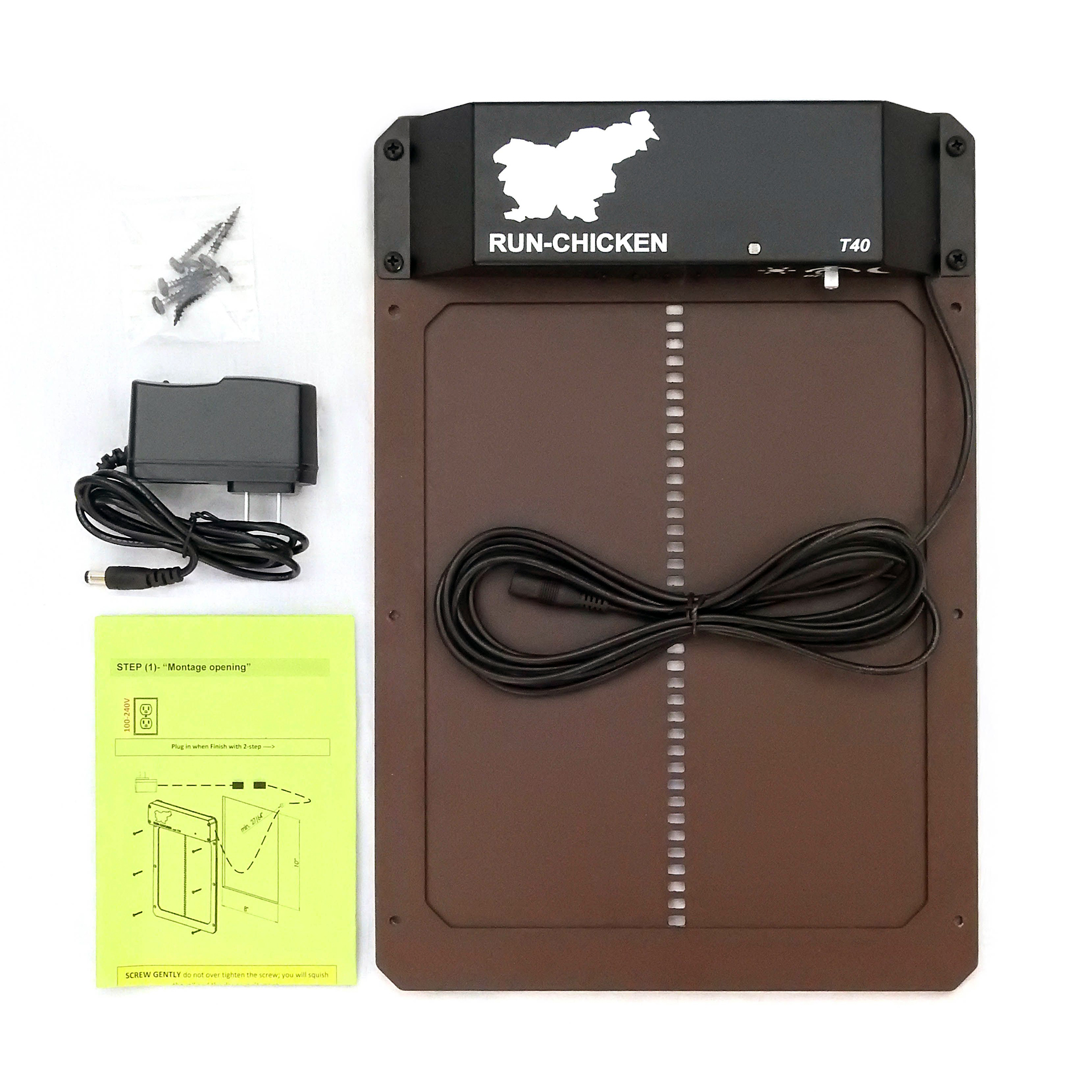 Simple Adjustments
Capable of delaying the opening and closing functions, you can set the delay to either 90, 60, or 30 minutes. This provides adjustable operation in darker areas where you won't need an external light sensor. The Run Chicken Model T40 provides safety for your chickens and allows you to sleep in every morning.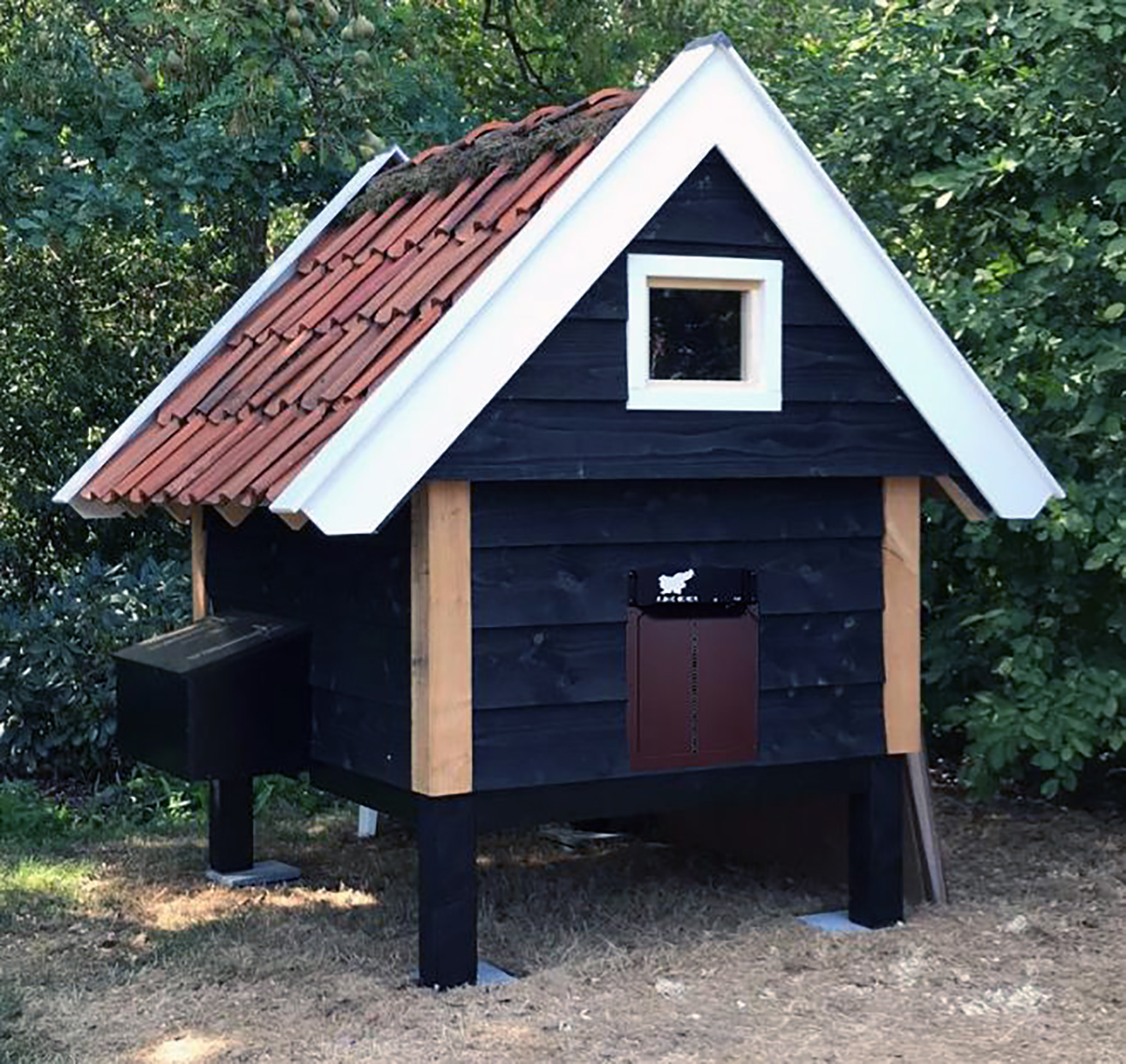 New Features
Newer features for the Run Chicken Model T40 include a push-in test button so that you can test the door with just a push of a button any time. The new drive motor offers a stronger gearbox and a longer lifetime. It also comes with a new easily adjustable light sensor and upgraded software that was developed according to input from customers, so it covers as many situations as possible.
Durable Construction
The Run Chicken Model T40 uses a CNC precision-machined, full aluminum door and a slide in one piece that has a high-quality powder coating in a fine structural color that is designed especially for harsh external environments. And it comes with a direct drive sprocket that ensures that the door stays shut. This unit also has an Ingress Protection grade of 66 and uses a 12-volt DC power adapter.
Pros:
This unit uses a direct drive sprocket to keep the door closed
The door uses upgraded software to cover all possible scenarios
You can adjust the times if needed
Cons:
The door is unable to sense something in its way and reverse course
The light sensor adjustment isn't consistent
Why Should You Get An Automatic Hen Coop Door?
Automatic Poultry Cage Door
The primary reason many people get an automatic door is ease.
Going outside in the snow as well as rainfall every morning, as well as evening, can come to be something of an annoyance for lots of people (especially as we get older). Likewise, individuals that have to rise at a certain time for a job can be busy in the morning and also forget to open up the cage.
A great automated door removes the early morning pressure.
Successive is vacations.
Some people do not consider an automatic door till they are vanishing vacationing.
It can be difficult getting a poultry sitter, a person who is willing to rise early, go to bed late and feed your birds.
Although you still have to locate someone to feed and also water them, having an automated door opener can make it simpler– your next-door neighbor only has to stop by once-daily currently, instead of 2 or three times.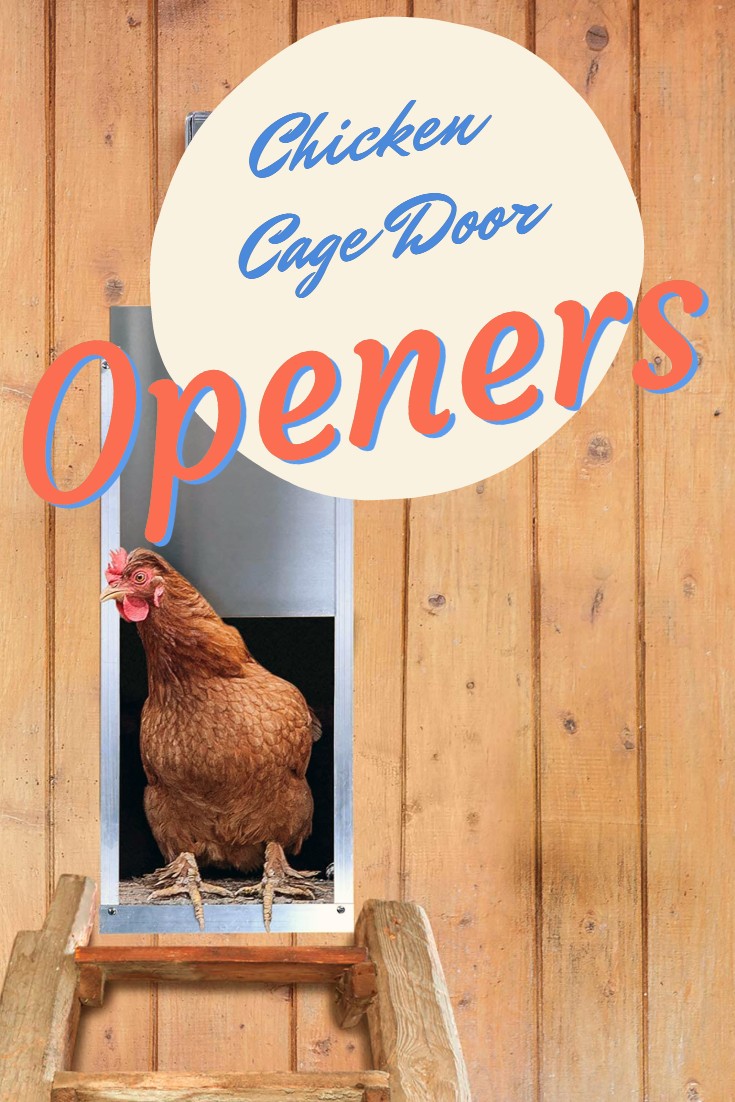 Have you ever been guilty of forgetting to secure the cage?
The majority of people have!
Often times absolutely nothing happens, however, if a predator occurs to be passing by an open coop is an invite for dinner. Opening and shutting the coop can occasionally obtain neglected, specifically if you are in a hurry or running late.
The automatic door will not forget to shut as well as will certainly maintain your flock secure.
Lastly, if you have wheelchair issues or are disabled, having an automatic door can be a true blessing.
What To Know Before Purchasing An Automatic Chicken Coop Door.
Whilst the selection of automated poultry cage doors might seem overwhelming, it is not really.
You just need to understand a handful of crucial points to purchase the correct door for your cage and also flock.
Chicken Cage Door Openers
Common Issues With Hen Coop Door Openers Automatic doors tend to have four typical issues
Malfunctioning components.
Security override stops working.
Utilizes great deals of batteries.
Undependable and intermittently shuts.
The majority of these troubles are usually resolved by seeing to it the door is set up correctly.
Always try to resolve a problem by checking via the instructions carefully. If you do not have any type of success with that said try customer care before you do anything to the unit.
Most of the producers are practical and will send substitute components rapidly.
One point to note is that wintertime can be troublesome for doors powered by battery systems- batteries do not hold a fee well under 32 ° F. Try to buy a package that has the capability to be transformed to mains electrical if required.
You need to examine the door grooves regularly and keep them free from dirt, debris, snow and ice. Any of these points can protect against the door from totally shutting.
Frequently Asked Questions
How do you install an automated door?
This will certainly depend entirely on which door you pick as every one is somewhat different. The only thing that follows every one of them is the requirement to cut out a doorway for the vehicle door to fit into. All systems come with directions as well as a couple of have YouTube help videos.
What size cage door do I require?
If you have only hens, after that you need to make use of at least a 12-inch square opening. Nevertheless, if you have ducks or turkeys you are absolutely mosting likely to require a bigger door!
Can you make use of the automated door during the winter season?
You can make use of the automatic doors all season. Although all of the products claim to work year-round, numerous individuals had trouble with their doors during extremely winter (battery or solar energy doors are one of the most bothersome). You would definitely need to keep the door grooves free from snow and also ice otherwise it would certainly freeze shut.
It states that the door is Wi-Fi enabled, what does that imply?
Some doors can be set into your smartphone using an application. This makes it easy to keep an eye on opening and also closing from anywhere you are. If you do not have Wi-Fi or a smart device do deny the item since they require a phone to configure them.
Recap
The kits we examined right here are a bit pricey, however you pay for the convenience of having something allow your give up for you!
Each door is relatively straightforward to mount and also the instructions are understandable.
The main point to keep in mind though is that they are all imperfect regardless of exactly how high their score or how much they cost.
So make certain to examine the door consistently to see to it is running as it must be.
Preferably, the door should open out into a fenced safe location instead of a complimentary range scenario, by doing this the birds have at least the safety of the locked compound if the door falls short to close.
My experience
Ever since we got the chickens. We've always had an automatic door opener. But again, and again, Time after time, we've had issues with it, where ultimately we've lost members of the flock. I don't advocate products that often, but when I do, it's because I really believe in them. And I think they're worth mentioning. And that's absolutely the case here with the chicken guard.
Automatic Chicken Coop Door Opener
The chicken guard is is is it the first chicken motor door opener that I've seen that is actually purely designed with chickens in mind. A lot of the other devices out there are other devices like drapery motors and so forth that were being used as openers, but not really designed for it.
So let me go through about four or five different things to explain to you why this door is so good. So if you're not familiar already, this is basically the industry standard for your Rube Goldberg backyard, urban and suburban chicken coop motor. It's known as a D 20 drapery motor, it was used for the open chicken doors, and it made life a heck of a lot easier. It runs off an AC power supply that's hooked to it your standard timer.
Now, this lacks many features of the chicken guard, but it has one massive flaw. And that is its inability to recognize the differences in days length as the sun continues to change across the sky during winter and summer.
For instance, let's say I set my timer to close the door every evening at 8pm. But springtime is approaching. And the days continue to get longer and longer. Before you know it at eight o'clock, it's still daylight, and the chickens stay out longer. And the next thing you know, the door closes behind them. And now they're trapped. This situation occurs very slowly during the course of the year several times and it happens in the morning and at night. And if you're not diligent to pay attention and continuously change the timer. What you see in front of you now is what happens.
A similar situation can occur if the powered happens to go out during the time that door needs to open or close. So beyond all the other features I'm going to get into as well. There's two right here, that there's no other reason to go any further.
And one is the is what you see right here, the light sensor, this system operates by light, it's hands down better than the dean d 20. ever could be. And the other part is that it runs by battery, and they've managed to design it. So it lasts a really long time. They say about a year. Yes, you probably want to change it a little bit sooner than that. But first of all, for 90% of the chicken owners who don't even have power, this is just a no brainer.
This is what you need to use because it doesn't need AC. And as a safety feature. When the batteries go low, this light here is going to light up and let you know that it's time to change the batteries. Alright, so I'm going to go over some of the key features here. I won't go into great detail. But what I will tell you it is very obvious that whoever designed this motor and timer system knows what they're doing has had chickens, and is really thought out a lot a lot of the problems here.
The other thing you'll notice over time is that everything is straightforward and common sense. And once you've learned it, you'll remember it. So this is how you run through the display you hit menu then and you can either use the Open button or the Close button to run through the settings you had open exit system test, set light levels, calibrate the door, set the time, close settings, that's basically it.
So speaking of light settings, I chose my chicken guard location for two reasons. One is because it's outside the pendant area and you can access it without stepping in chicken poop and other things. But additionally, I have it underneath the roofline so that it's protected from the weather. So having it under the roofline can give it a little more shade.
Plus all locations are different. This is why chicken guard had a great idea with being able to alter the light settings. So if you have a really dark area, or a very light area or you just wanted to open and close earlier or later, you can adjust it very easy, very simple, very helpful. But the chicken guard is far smarter than that.
If you want to go old school and just use it as a regular timer and set the times you can but you can also use this feature which is the locks feature and that is on the longest days of the year during the summer. It might have still be lighted about nine, maybe even 10 dependent upon where you're located. This sort of has like a double backup, you'll still use your your device your your light sensing device to close the door just like it would. But you can set a time that says, no matter what even if the light sensor hasn't shut, it'll still close at this time sort of getting the birds in, they'll actually be in already but closing the door earlier so that they're protected.
This also seems simple, but it's not with many other other products. If you want to open and close the door during just the routine day. When you do this with some setups, it will actually screw up the timing system here you want to open you want to close it, it doesn't affect anything.
Now I've always had this reflective tape on my door, hit it with a flashlight look from from an upstairs window, you can always see whether the door is open or closed. But again, with the chicken guard. It has its own light that blinks every 30 seconds to let you know that the door is closed at night.
So one last thing I'll show you is how I actually hooked the aluminum door up to the motor and chicken garden recommends that you use pulley systems when applicable. So here I use the bobbin I believe it's called from a sewing machine kit and a stainless steel screw and it acted as a pulley. So there you have it, take my advice and years of experience. Don't lose countless birds to an inferior automatic door opening system.
Solar powered chicken coop door
I just got my ladies first chicken door opener. This this is the new and improved, very similar to the old one, but the new one here has newer electronics in it. But same basic principle and we're going to install that my chicken coop and the old one I'm gonna put on my chicken tractor later.
It's not any different really than the old chicken door opener, the electronics were changed, it's got a new circuit board on the inside. Some of the functions for the opening close are a little different. But it's mechanically it's the same unit, same motors, same screw drive, solar panel, all that stuff, battery-operated and solar-powered. So basically just the circuit board has been changed.
It comes padded really nice with these foam pads around the edges here. So it doesn't get banged up in the shipping box here and in your box yet. Some wires and zip ties and clips and things like that. You have an override switch here. And this override switch allows you to manually close it when you want. Leave it on auto or open it when you want.
So and then inside here, you get your solar panel with about 15 feet of cable. And you get four Energizer batteries rechargeable, in the door itself here and this is the door here. So what we're gonna do, we got some tape here.
You have a switch also it says close auto and open. You'd want this on auto during normal function. You have here a limit switch so when the door as the door is raising here it'll hit the limit switch, and it'll stop. When it's fully open.
Here we have another type of switch. That is for in the event that something gets stuck in, the obstruction gets stuck in the doorway, your chicken gets stuck in there. What will happen is as it's coming down, it'll push out in the obstruction and the whole unit will raise
and it'll shut off, stop the door from operating. So that's a good safety feature right there. I like that.
Here we have a closed set button and an open set button. These are preset You shouldn't have to do anything with them. But if you want the doors to change at a different time, you can change that here. So for instance, if I want the door to close a little later I would wait to the chickens get in to the coop wait an extra 10 or 15 minutes and then push the close SET button. That way every day at that light level.
Comparison Chart
ChickenGuard Automatic Chicken Coop Door Opener; Item weight 0.2 kg; Battery Operated; Programmable Timer
Coop Controls Automatic Coop Door Opener; Item weight 12.52 pounds; Battery Operated; Light sensors
Rural365 Automatic Chicken Coop Door; Item weight 3.44 pounds; Battery Operated; Light sensors
AdorStore ADOR1 Automatic Chicken Coop Door; Item weight 9 pounds; Battery Operated; Light sensors
Run Chicken Model T40; Item weight 2.59 pounds; Battery Operated; Light sensors
Read More from prestigequeen.com :